Back to Auctions Home

234201213402
Seller: dogfark
(2382)
100.0% positive
Machynlleth, GB
Completed
:
Ended Nov 29, 2021 6:22:32 AM
Category: Books, Comics & Magazines:Antiquarian & Collectable
Buy-It-Now:
£1,295.00
Buyer: l***e (665)
Viewed 263 times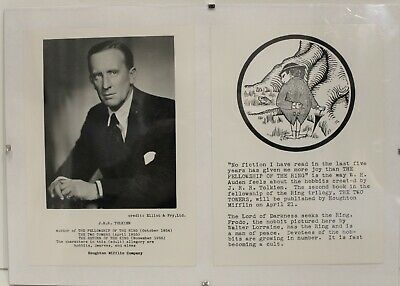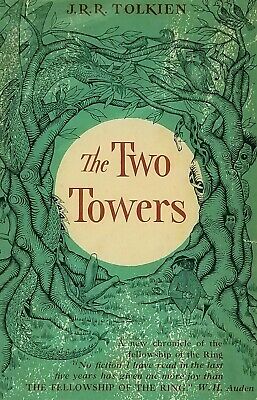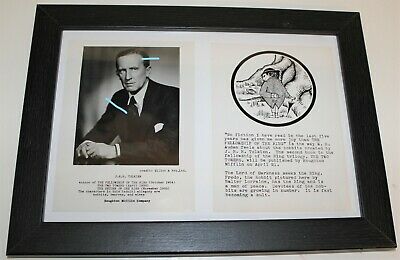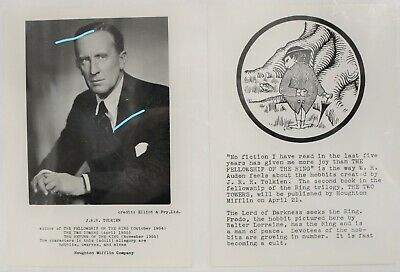 Condition: Used
An original promotional piece for the 1955 US edition of Two Towers from Houghton Mifflin. An excellent photo of Professor Tolkien at the age when The lord of the Rings was released and was still unknown. Most of common are when he was older. The photo is taken by Elliot & Fry, famous London photographer known for photos of Darwin and other famous British public figures. The review is part by Walter Lorraine, illustrator of the dust jacket covers of the Houghton Mifflin editions. No flaws, slight yellowing to white of paper. Shown in a black frame, included. Note, the second photo has a protective plastic cover sleeve, there is no distortion. "ink" marks have been edited onto the photo so it cannot be scanned. The original photo of a young Tolkien is valuable in itself. As a piece of Tolkien publishing history, invaluable. As a career marketeer, print and Tolkien expert, this piece looks to me like a marketing "mock-up" for internal use/circulation, not the final use artwork. The type on the image is an old typewriter with letter flaws. The text under the photograph looks like it was used from another source. My guess is an original photo and illustration were laid out, text added and photographed in a darkroom to produce a negative in which two 5 x 7 B x W photo paper prints were printed. As a final piece you would have otherwise produced an 8 1/2 x 11 for each piece, especially for better photo quality. I would guess that with the recent purchase of Houghton Mifflin by Harper Collins, old unwanted HM paperwork might have made it onto the market. Certainly 100% authentic, no matter it's use and we will provide our company COA. We have been a professional dealer for over 20 years. All our photos are the actual item! If you require additional photos, please ask. If there is a particular flaw affecting the value we will mention it in the description, otherwise our photos give the best reflection of the condition.