Back to Auctions Home

261214709158
Seller: dogfark (1683)
100.0% positive
Machynlleth, GB
Completed
:
Ended Jun 19, 2014 10:29:30 AM
Category: Books, Comics & Magazines:Antiquarian & Collectable
Best Offer Accepted:
£229.72
Buyer: e***9 (473)
Viewed 675 times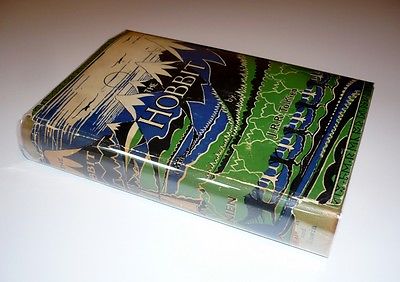 2nd edition, 1961 13th overall impression with 13th impression jacket. Lovely book and jacket. No marks on book, binding tight , slight fading/darkening to book spine. Jacket is nice, unclipped, paper loss to spine ends, slight darkening to spine colors and edges. Not noticeable in its protective mylar (sorry about the flash on the mylar). These 2nd editions are quite rare compared to the later 1966, 3rd editions where tens of thousands more copies were printed due to the popularity of the Lord of the Rings paperback release in the US. Please ask for photos. Tolkien specialist. For questions email markfaith@festivalartandbooks.com or visit festivalartandbooks.com Follow us on Facebook- http://www.facebook.com/pages/Machynlleth-United-Kingdom/Festival-in-the-Shire-A-celebration-of-all-things-Tolkien-inspired/149452046749 Restoration and other fake dust jacketsThese dust jacket have NOT been restored or altered in any way. We do not deal in facsimile or restored jackets. While a future buyer may decide to have it restored, we advise against it if they intend to resell it someday. A book without an original jacket is worth a fraction of one with. A restored jacket is worth a considerable less, even if the work was very minor. "Restoring" is nothing more than a deception to make something damaged look artificially new. It's a fake and most serious collectors and dedicated fans want an item as close to its original condition, any warts and all. It adds some value to a jacket-less book if the restoration is very, very minor, but nothing close to a book with an original unrestored jacket. Don't be deceived into buying restored jackets as buyers now trying to sell their restore jackets now have been. A fake is fake! The rule is simply the closer to the original condition, the better and more valuable. Adding anything artificial, even if undetectable, seriously reduces the value to serious collectors. Don't waste your money with false economy. Hold out and buy the best you can find! Normal 0 false false false EN-GB X-NONE X-NONE Please note, the free shipping option can take a week. If you want your item sooner, please choose one of the paid options. Important- Shipping Times this Xmas We do not share the Royal mail's exuberance on shipping packages. Namely it's the risk of them getting lost, not simply delayed over Christmas and New Year time. Items ordered for UK shipping this week, 9th-15th December, should arrive on time under the free option. Order now! Overseas customers should opt for the Fast Service at extra cost to be sure it arrives in time for Xmas if it's a gift. Next week 16th-22nd, UK orders should select the Fast service option if you want it in time, although we can't guaranty it if ordered later in the week. All orders received after December 20th will not ship until January 6th, again to reduce the risk of them getting lost in the mail. Most of our items are rare. You should still order them as soon as possible before they sell elsewhere. Thank you for your understanding.
Submitted by: