Back to Auctions Home

361254636315
Seller: mr.diggy
(8499)
99.6% positive
Schaumburg, Illinois, US
Completed
:
Ended Apr 4, 2015 1:19:20 AM
Category: Art:Art from Dealers & Resellers:Posters
$91.00
[11 Bids]
Buyer: r***l (2051)
Viewed 253 times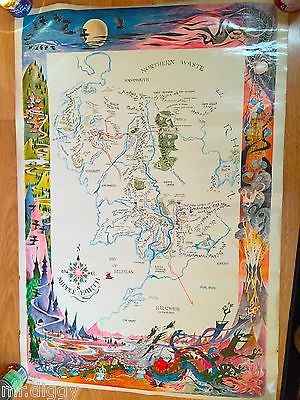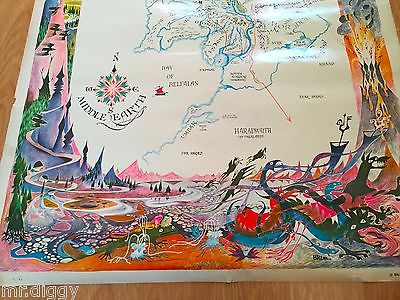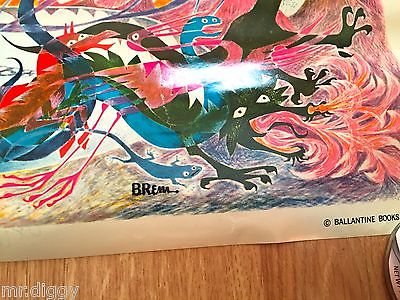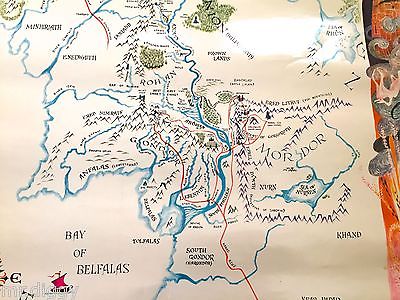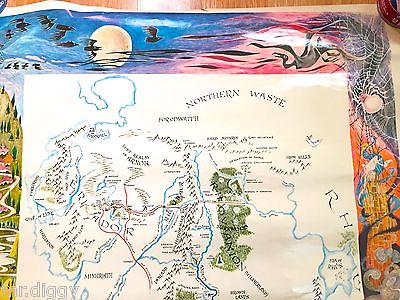 Condition: VG+/Fine, with a blacked out line of writing at the top of back side.
Scarce early 1970's MIDDLE EARTH poster, published by Ballantine Books, and sold at bookstores(see original $1.29 price at bottom). Tack holes to corners, otherwise very nice, bright unfaded.  A Map of Middle-Earth is the name of two color posters by different artists, published in the late 1960s and early 1970s by the American and British publishers of J. R. R. Tolkien's book The Lord of the Rings. Both posters were based on cartography by J. R. R. Tolkien and Christopher Tolkien to depict the fictional region of Middle-earth. None of these maps cover the whole continent of Middle-earth; instead they only portray the north-western part of the continent, where the story of The Lord of the Rings takes place. The earlier poster, signed "BRem" (Barbara Remington), was published in the 1960s by Ballantine Books[1] and features border images adapted from Remington's cover designs for the 1965 Ballantine paperback edition of The Lord of the Rings. The second version, by Pauline Baynes, was published in 1970 by George Allen & Unwinin the UK and Ballantine Books in the USA. It features ten small inset illustrations of important locations from the story. The poster is framed at the top by a row of nine figures representing the members of the "Fellowship of the Ring" setting out on their quest. At the bottom is an array of antagonists from the novel, including the nine Black Riders, Gollum, Shelob, and various Orcs.