Back to Auctions Home

380933351493
Seller: elmo-books (18007)
100.0% positive
Strood, GB
Completed
:
Ended Jul 3, 2015 11:56:09 AM
Category: Collectables:Fantasy/ Myth/ Magic:Lord of the Rings/ Tolkien
Buy-It-Now:
£300.00
Viewed 377 times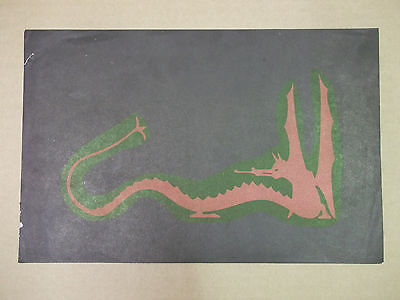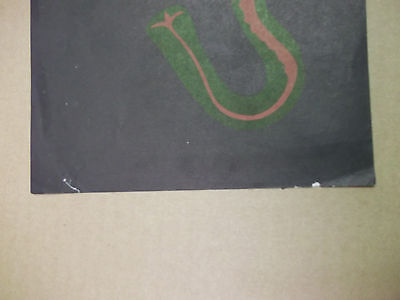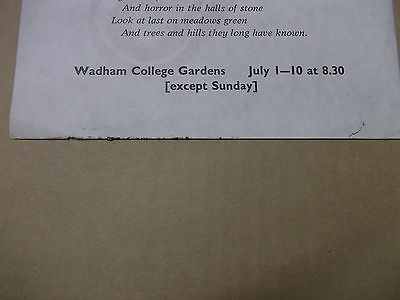 DETAILS OF ITEM This listing is for a very special item indeed – a single sheet flyer advertising what is claimed to be the first public performance of J.R.R. Tolkien's classic 'The Hobbit'. The performances were held at the University of Oxford in the Wadham College Gardens. Tantalisingly the dates stated are for the 1st to the 10th of July but no year is mentioned. There is a reference to Tolkien's trilogy 'Lord of the Rings' which was first published in 1954 and 1955 so this performance must be post 1955. It also states the performance time as 8.30 followed by 'except Sunday' in brackets (rather than Sunday's). This would suggest the year being either 1957, 1958 or 1959 as these three years would only have had one Sunday in them between the 1st and the 10th. The next available years for only one Sunday between the 1st and the 10th would be 1963, 1964 and 1965. The flyer is approximately 143mm x 220mm. The front side is a two colour (black and burgundy) image of the classic Smaug dragon logo. The back side is text only (as below) detailing the forthcoming performance – The Hobbit In a hole in the ground there lived a hobbit. Not a nasty, dirty, wet hole, filled with the ends of worm and an oozy smell, nor yet a dry, bare, sandy hole with nothing in it to sit down on or eat: it was a hobbit-hole, and that means comfort. This is the first public performance of J.R.R. Tolkien's classic 'The Hobbit', in which Bilbo Baggins' quest to recover the dwarves' lost gold leads him to the Lonely Mountain, Lair of Smaug, the dragon. 'The Hobbit' is a prelude to Professor Tolkien's famous trilogy, 'Lord of the Rings', in which the importance of the Ring worn by Bilbo from Gollum is finally revealed. The production is being presented in the attractive setting of Wadham College Gardens and has a strong cast of experienced Oxford actors. The text is based on an adaptation of the novel by the director, which has succeeded in retaining the magic of the original work. Mead will be served during the interval Roads go ever ever on Under cloud and under star, Yet feet that wandering have gone Turn at last to home afar. Eyes that fire and sword have seen And horror in the halls of stone Look at last on meadows green And trees and hills they long have known. Wadham College Gardens July 1-10 at 8.30 [except Sunday] Obviously this is a very scarce item and an absolute must for any Tolkien collector. The flyer is generally in good condition with expected discolouring for age. Lightly creased throughout and with heavier creasing on the right-hand side but this is not too bad as it has obviously been stored flat for some time. There are the odd small finger marks on the front side and on the left had side there is a small closed tear in the top quarter, approximately 10mm, and a small scuff in the bottom quarter where the colour is now missing (visible in photograph). On the back side of the tear and scuff there is a small black grubby mark running along the edge. Small flaws stated due to the value of this item but overall the flyer is in good condition. Free UK P&P – Overseas P&P £7.50 ABOUT US We specialise in out of print & secondhand football and motoring/motorsport books. Please browse our shop and add us to your favourites as we are constantly adding new titles. www.stores.ebay.co.uk/elmo-books PAYMENT METHODS For payment we accept the following;- · Personal cheques drawn on a UK bank. · UK Postal orders. · PayPal. We are sorry but we do not accept the following forms of payment:- · Cash in any currency · Personal cheques in US Dollars or any other currency other than Sterling. · Personal cheques that are in Sterling but that are drawn on a bank from outside of the UK. FEEDBACK Re: Feedback. Please note that we try to give all of our customers the same level of service. If you have any problems please contact us before leaving negative feedback rashly as we are very reasonable and will always try to help. NON PAYING BIDDERS We occasionally have problems with non paying bidders, please only bid if you are genuinely intending to buy. As full time eBayers we need to reclaim our lost eBay costs so we follow the following procedure for non paying bidders. 1) A reminder will be sent after 7 days. 2) A non paying bidder alert will be filed after 10 days. 3) A FVF credit will be filed after 20 days.