By
Trotter


---
Load previous replies


Halla

Jan 31, 2013

Khamul - If you know where I can get one far cheaper, please let me know. There is only one listed on Abebooks at the moment and as I said, I stopped bidding when the price passed that one. There was a cheap one listed a few months ago which sold within minutes of being listed. I tried to buy it but the seller had to email me to say that it had already sold and the impression I got was that I was not the only one who had unsuccessfully tried to buy it.

On another topic, am I the only one who is currently being redirected to blogs.fantasygifts.com when I try to get on the tolkienbooks.net site?

Khamûl

Jan 31, 2013

I don't really know; I just don't think you need to pay that much. And, as I said, how do you know it's a first? I bought my 1st imp. copy in 2006 (so long, long after publication) for £3.95 on
eBay
. John Howe signed it at the Edinburgh Book Festival a few years later. I have a 2nd & 3rd imp., but didn't pay much for them either. Keep an eye on "Interesting eBay Auctions" --one will be flagged up eventually.
For
tolkienbooks.net
issues: see other
thread
.
BH

Red

Jan 31, 2013


Khamûl

Feb 5, 2013

For those of you wanting to snap up a nice little paperback
Silmarillion
...
Voyager Classics - The Silmarillion,GOOD Book
Remember, it's only in "Good" condition...
BH


Jlong

Feb 5, 2013


garm

Feb 5, 2013

So, he messed around with a photo on his computer and he wants money for it? here's what he has to say -

"I was at an art fair and a Nice Guy from Mew York Came by and commissioned "something Lord Of The Rings" so this is what I came up with and then made some prints to share the love. Ive read all the books, and have always been a fan, so Im very glad this piece was commissioned."

Feb 7, 2013

Way over the top price, I seem to remember that these were less than £50 when first issued.
http://www.ebay.co.uk/itm/J-R-R-Tolki ... ks_UK&hash=item4d0965599f


"
ONE OFF(sic) THE BOOK HAS A FACSIMILE DUSTJACKET
"
"
GREAT FOR FANS OF TOLKIEN AND MAJOR COLLECTORS. I HAD THEM VALUED AT £1200
"
£550 for "
THE HOBBIT 1956-1959-1961-1961-1966
" with no dust-jackets the spines have suffered quite a lot. They are starting to look more like US Hobbits



http://www.ebay.co.uk/itm/J-R-R-TOLKI ... ks_UK&hash=item337faf87c1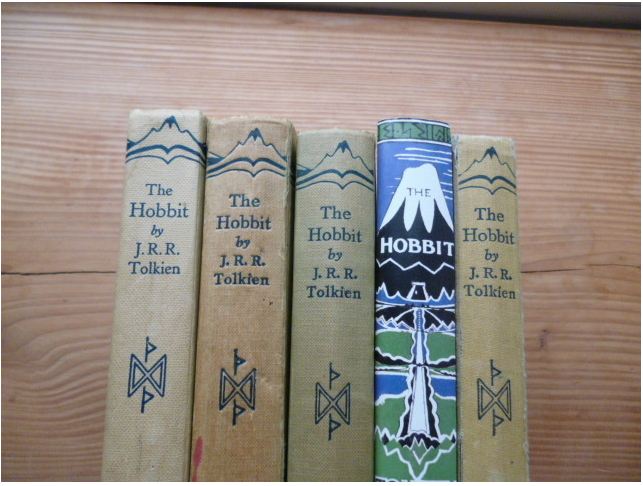 Laurin666

Feb 8, 2013

Do we believe in the authenticity of the signature? I don't think so, and therefore it is a very expensive drawing.
http://www.ebay.co.uk/itm/Original-Co ... tings&hash=item35c442fe0d


Feb 8, 2013

Bit of a bidding war going on on this one, very, very sad Dust-jacket for this age Hobbit



http://www.ebay.co.uk/itm/J-R-R-Tolki ... ks_UK&hash=item5652a62553


Load more