1979 Tolkien Enterprises Chess Set with Original Board on eBay
By
Tolkien1979


---
I am putting up for Bid a 1979 Tolkien Enterprise Chess Set - Lord of the Rings.
•Great condition.
•Made in 1979.
•Authorized by Tolkien Enterprises.
•Handmade of crushed stone and resin.
•Pieces range in height from 4.5" to 6".
•Diameter of Chess Set Board is HUGE: 23 3/4 inches squared.
•Some pieces are missing horns (see picture).
•I bought this when stationed in West Germany in 1980 and have kept it in storage ever since.
•This set is older and more unique than most of the other sets offered for sale. I have seen a few chess sets but without the board and not the 1979 version. Very unique for the right collector.
Click Here for eBay Link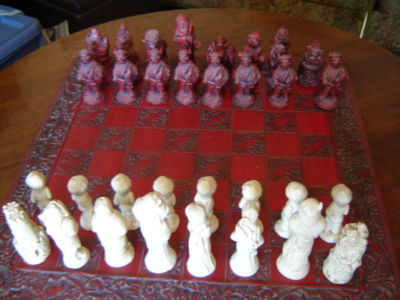 By
D&TR


---
Curious if this chess set sold. I have exact set and am looking to sell.

T.R.
By
laurel


---
If you follow the relistings you will see it sold for $127?
This was 5.5 years ago though !