The Hobbit HmCo 1966 pirated edition?
(1)
2
---
Do you know the following copy of the Hobbit?
http://www.tolkienlibrary.com/tolkien-book-store/CLP0052.htm
It reminds me of the Taiwanese editions, but is not the same...
Just mentions HmCo on the jacket, printed by Houghton Mifflin and a 1966 date.
Further has something that looks like Chinese characters... but no other info.
The red boards are similar to a Fellowship of the Ring copy I hold, that also shows the same Chinese characters and no further info either.
Is this some kind of pirated edition? The paper is of extreme low quality
and the book is very thin (like the taiwanese hobbit).
Got one reaction so far from Wayne Hammond and Christina Scull:
"We haven't seen this edition, but agree that it appears to be a Chinese pirate."
By
Khamûl


---
I've a copy of The Silmarillion (lacking the DJ unfortunately) which is similar & which, I think, I've mentioned here before. Like this H, it's not a GA&U pirate; and although it doesn't state anything on the title page regarding the publisher (unlike the Bookcase Shop UK pirate editions), it's a HMCo pirate as it states "First American Edition" (see pictures). Covers, although also red, aren't the same though; your H looks cloth bound.

BH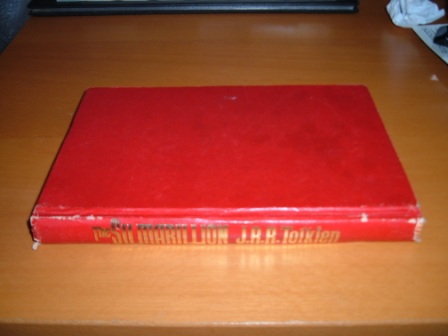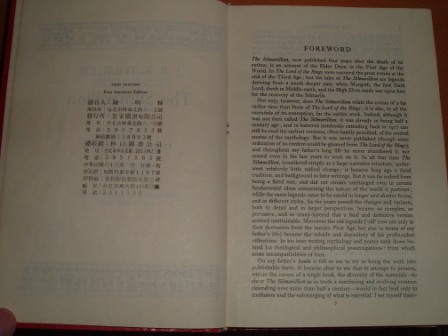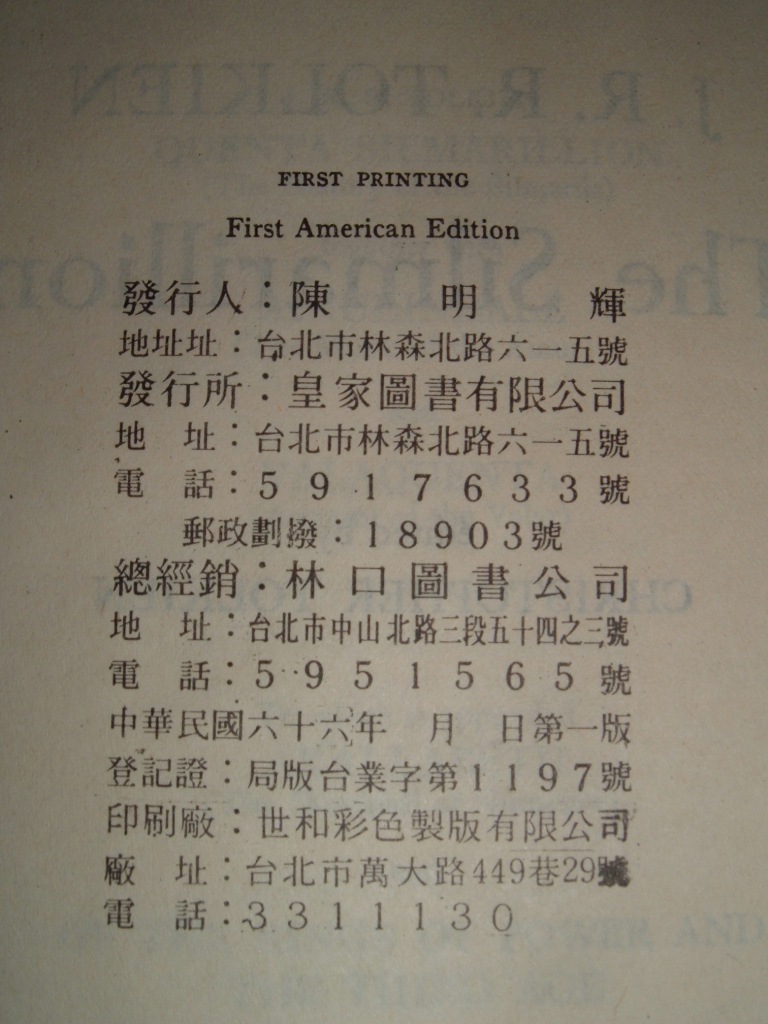 _________________
You drive a hard bargain – you can have it for £10 all-in – one consolation (for you) is that you do not have to hear the cries of my children, for bread...
---
If only we could read Chinese... if it is chinese... @Jeremy can't you ask one of your friends to tells us what is written here?

I do hold a Fellowship of the Ring, same binding, dustjacket, and also HmCo pirated edition.
---
Hi!

Yes, the characters are Chinese, and it's indeed a Taiwanese (Republic of China, as opposed to People's Republic of China, that is) edition, published in 1970. And it's definitely pirated, because the first licensed editions of "The Hobbit" appeared much later.

Cheers,

felagund
---
This (I'm now referring to Khamul's "Silmarillion") is also a Taiwanese pirated edition, publication date is 1977.
FWIW, the publisher's name (rendered in Pinyin) is Huang Jia Publishing House Ltd., and the book was distributed by Lin Kou Book Company.
The imprint also contains info on the printer, addresses, etc, the usual stuff.
There is not, however, any further information about the original publisher beyond what's written above in English, but yes, has to be HM.

felagund
(1)
2