By
Trotter


Aug 24, 2019
(edited)
2019/8/24 12:51:25 (GMT) Greenwich Mean Time, London, Dublin, Lisbon, Casablanca, Monrovia
---
Please post any new notable translations of Tolkien in this thread.
These are all
The Hobbit
translations from
http://www.evertype.com/tolkieniana.html
Der Hobit, oder Ahin un Vider Tsurik
By J.R.R. Tolkien, translated into Yiddish by Barry Goldstein
2015. ISBN 978-1-78201-120-0. ISBN 978-1-78201-119-4 (paperback)
Di dozike balibte klasishe fantazye far leyener fun ale eltern hot tsu ton mit a hobit vos hot geheysn Bilbo Bagins, vos iz avekgekhapt gevorn oyf an umgerikhte nesie fun Gandalf dem mekhashef un a khevre draytsn shretlekh. Der Hobit iz a mayse ongefilt mit shpanendiker aventure, untergenumen fun a khevre shretlekh zukhndik nokh drakon-bavakht gold. An umviliker shutef in dem o sakonedikn zukhenish iz Bilbo Bagins, a nit-ambitsyezer hobit vos hot lib bakvemlekhkeyt, vos iz a khidesh tsu zikh aleyn afile tsulib dem eygenem hamtsoedikeyt un bekies vi an araynbrekher. Bagegenishn mit troln, goblins, shretlekh, elfn, un rizike shpinen, shmuesn mit dem drakon Smaug, un gor an umvilik bayzayn bay der Shlakht fun di Finf Armeyen zaynen bloyz a teyl fun di avantures vos trefn zikh mit Bilbo. Bilbo Bagins hot dem eygenem ort tsvishn di reyen fun di umshterbelekhe in beletristik far kinder. Geshribn fun Profesor Tolkin far di eygene kinder, hot Der Hobit teykef bakumen kritishe loyb ven ersht aroys fun druk. Itst kent ir dos ershte mol gefinen ot dos bukh in lataynishe oysyes in a prekhtiker iberzetsung fun Berish Goldshteyn. Dos bukh nemt arayn di ale tseykhenungen un kartes fun dem mekhaber.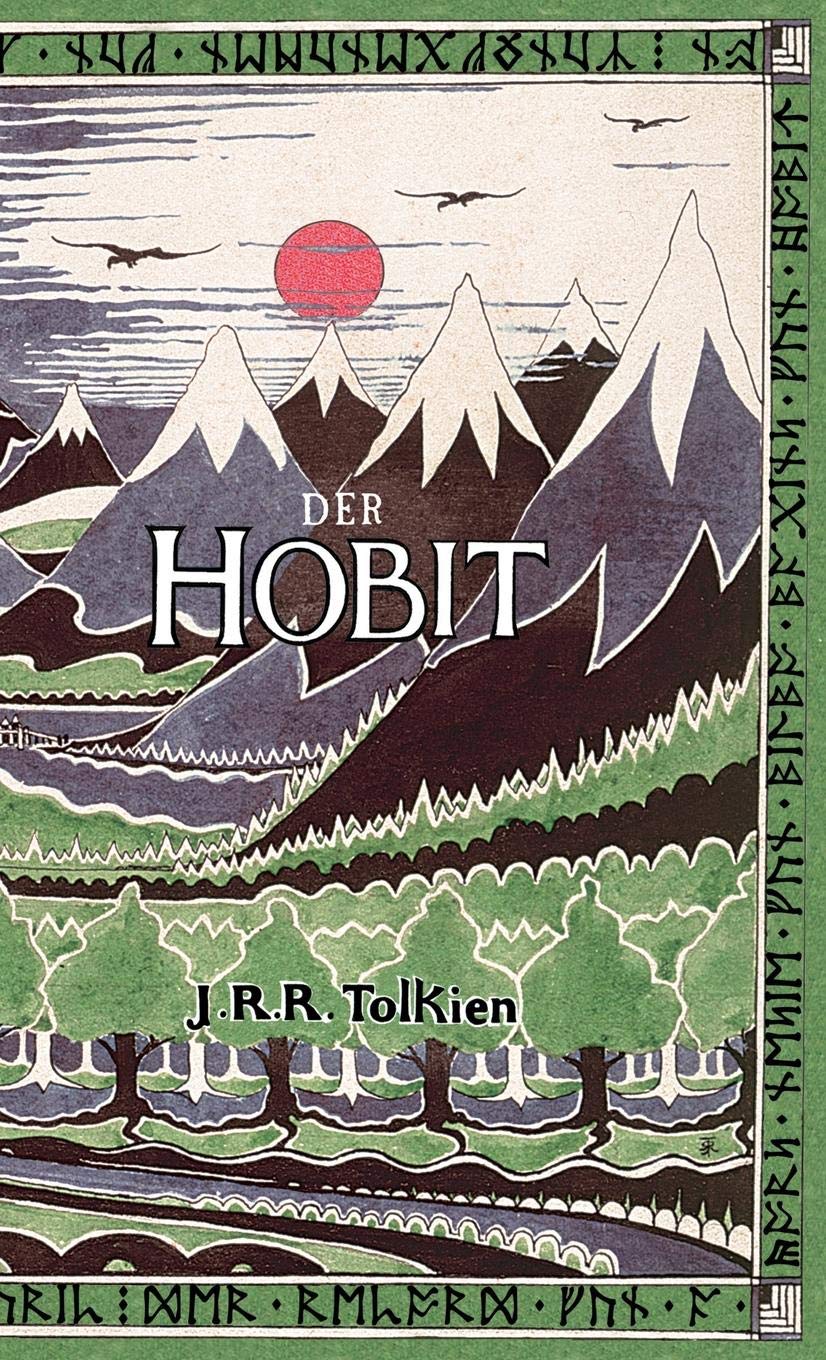 La Hobito, aŭ Tien kaj Reen
By J.R.R. Tolkien, translated into Esperanto by Christopher Gledhill. Edited and Revised by Patrick H. Wynne.
2015. ISBN 978-1-78201-110-1. ISBN 978-1-78201-109-5 (paperback)
Tiu ĉi amata fantasta klasikaĵo por legantoj ĉiuaĝaj temas pri hobito nomata Bilbo Bagins, kiu estas forportata en neatendita vojaĝo de la sorĉisto Gandalf kaj kompanio da dek tri gnomoj. La Hobito estas rakonto pri granda aventuro entreprenita de la gnomoj por serĉi oron gardatan de drako. Hezitema partoprenanto en tiu ĉi danĝera ekspedicio, Bilbo Bagins unue estas komfortama kaj senambicia hobito, sed li eĉ surprizas sin mem per sia elturniĝemo kaj rompŝtelista lerteco. Renkontoj kun troloj, goblenoj, gnomoj, elfoj, kaj gigantaj araneoj, konversacioj kun la drako Smoleg, kaj iom nevolonta ĉeesto ĉe la Batalo de Kvin Armeoj estas nur kelkaj el la aventuroj kiuj okazas al Bilbo. Bilbo Baggins estas alpreninta sian lokon inter la senmortaj personoj de porinfana fikcio. Verkite de J.R.R. Tolkien por liaj propraj infanoj, La Hobito ricevis tujan kritikistan aklamon kiam publikigita. La libro inkluzivas ĉiujn ilustraĵojn kaj mapojn de la aŭtoro.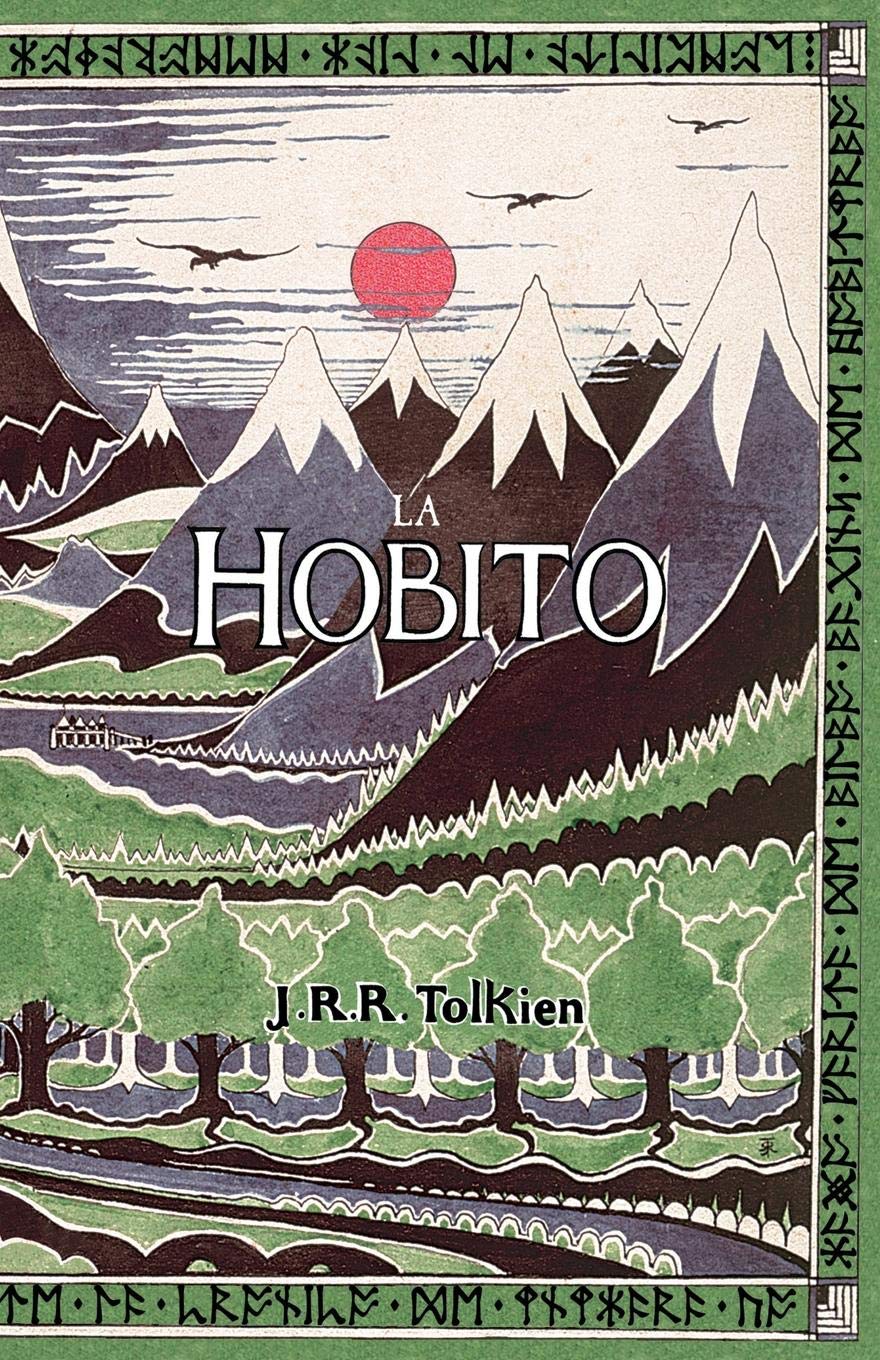 Ka Hopita, a i ʻole I Laila a Hoʻi Hou mai
By J.R.R. Tolkien, translated into Hawaiian by R. Keao NeSmith
2015. ISBN 978-1-78201-092-0. ISBN 978-1-78201-091-3 (paperback)
He moʻolelo moemoeā kēia i haku ʻia a ua hele ā laulā loa kona kamaʻāina ma waena o nā kānaka o nā pae makahiki like ʻole. Ua pili ka moʻolelo i kekahi hopita i kapa ʻia ʻo Bilbo Baggins a kāʻili ʻia ʻo ia e ke kāula, ʻo Gandalf, a me ʻumi kumamākolu mau peke, e hele pū i kekahi huakaʻi kupaianaha i ka ʻimi i kekahi puʻu kula aʻiaʻi i kiaʻi ʻia e kekahi kelakona. He kuʻihē kēia Bilbo Baggins i ka hele pū ma muli o kona kānalua i nā mea weliweli, a he kuʻihē nō hoʻi ʻo ia i kona koa iho a me kona akamai i ka ʻaihue ʻana. Hālāwai ʻo ia me nā hakua, nā ʻoaka, nā peke, nū mūwao, a me nā nanana pilikua, a pāpāleo ʻo ia me ke kelakona, ʻo Smaug kona inoa, a me kona makemake ʻole loa nō naʻe, komo akula ʻo ia i loko o ke Kaua o nā Pūʻali ʻElima. ʻO ia kekahi o nā hana a ua Bilbo nei. I kēia wā, ua kamaʻāina ka inoa ʻo Bilbo Baggins ma ke ʻano ʻo ia kekahi o ka poʻe meʻe o nā moʻolelo kū kamaliʻi o ke ʻano. Ua kākau ʻia ua moʻolelo nei e Polopeka Tolkien no kāna poʻe keiki ponoʻī nō, a ma ia hope mai, ua hoʻomaikaʻi laulā loa ʻia ʻo Ka Hopita i kona wā koke iho nō i puka ai. ʻĀnō, ua loaʻa ua puke nei no ka manawa mua ma ka ʻōlelo Hawaiʻi a ua mikioi ka hana a R. Keao NeSmith ma ka unuhi ʻana. Hui pū ʻia i loko o ua puke nei nā kiʻi a me nā palapalaʻāina i kaha ʻia e ka mea kākau.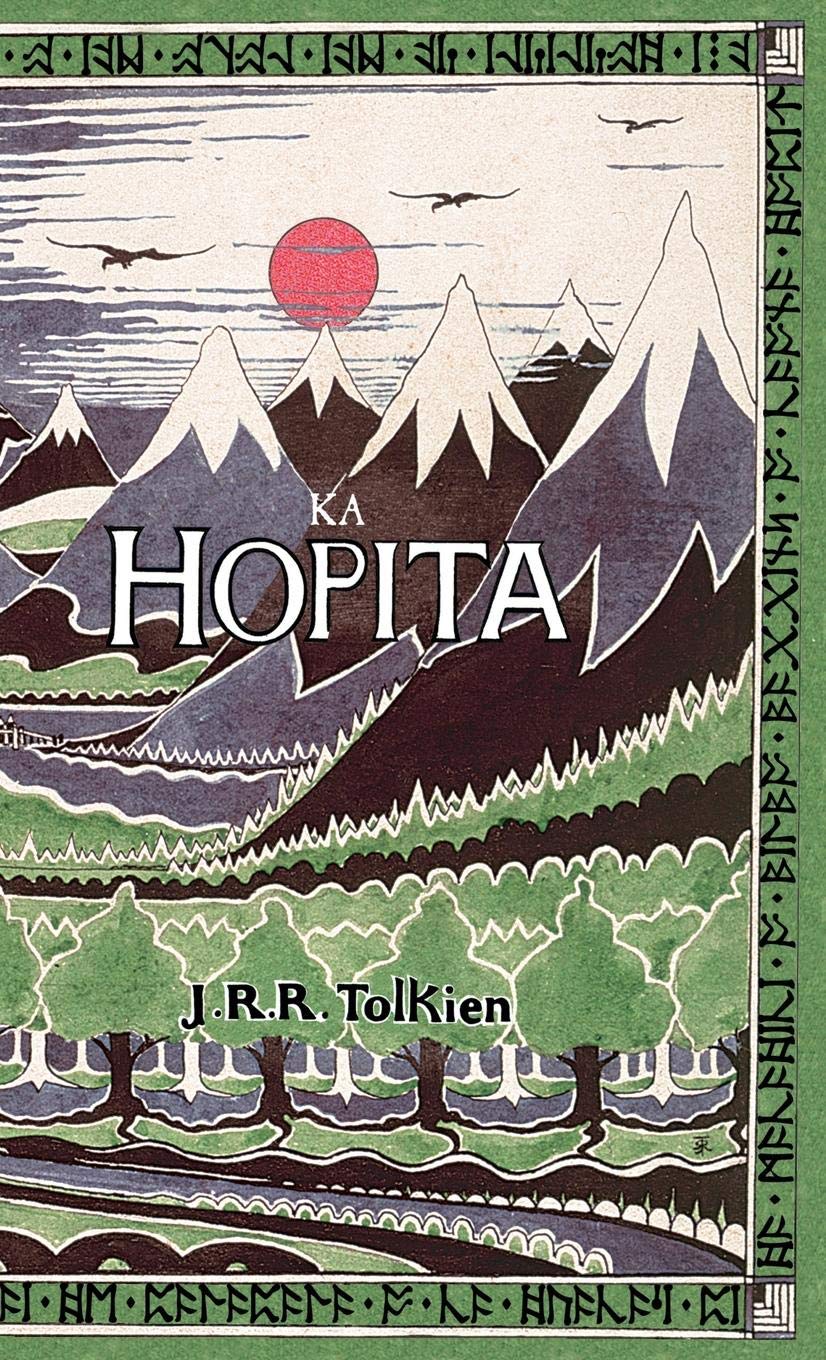 An Hobys, pò An Fordh Dy ha Tre Arta
By J.R.R. Tolkien, translated into Cornish by Nicholas Williams
2014. ISBN 978-1-78201-090-6. ISBN 978-1-78201-089-0 (paperback)
An fantasy meurgerys-ma a vydn plêsya redyoryon a bùb oos. Yma an lyver ow terivas an story a hobys gelwys Bylbo Baggyn, neb yw scubys in kerdh wàr viaj heb y wetyas gans Gandalf pystrior ha company a dredhek corr. Whedhel yw an Hobys a aventurs pygus gwrës gans bagas a gorras usy ow whelas owr in dadn with a dhragon. Coweth oll a'y anvoth gansans i'n whelas peryllys-ma Bylbo Baggyn, hobys heb uhelwhans ha rës dhe gonfort, a vydn sowthanas pùbonen ha'y honen kefrës der y injyn ha'y skentoleth avell lader nos. In mesk y aventurs y hyller bos reknys metyansow gans trollow, bùckyas, corras, elvow ha kefnys cowrek, kescows gans Smawg, an dhragon, ha presens anvodhek in Batel an Pymp Ost. Bylbo Baggyn re gemeras y le in mesk an persons dyvarow a lien an flehes. An Hobys a veu screfys gans an Pendescador Tolkien rag y flehes y honen, ha kettel veu dyllys, an grytycoryon a'n recêvas gans gormola vrâs. Yma an lyver dhe gafos lebmyn in Kernowek, in trailyans bryntyn dhyworth an Pendescador Nicholas Williams. Y fëdh gwelys i'n lyver-ma oll an delînyansow ha mappys a wrug an auctour y honen.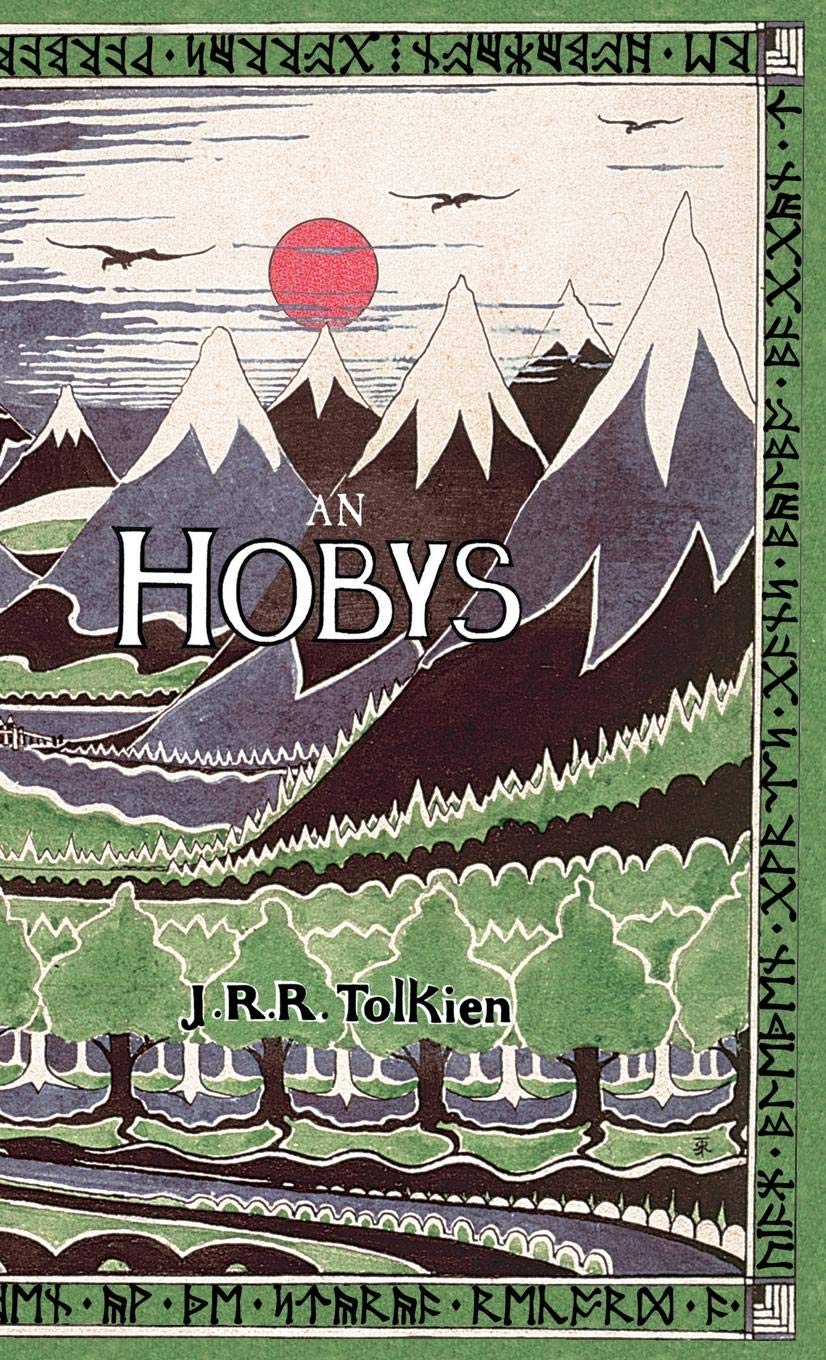 An Hobad, nó Anonn agus Ar Ais Arís
By J.R.R. Tolkien, translated into Irish by Nicholas Williams
2012. ISBN 978-1-904808-90-9. ISBN 978-1-78201-033-3 (paperback)

Bhí gnaoi an phobail riamh leis an sárscéal fantasaíochta seo faoi hobad darb ainm Biolbó Baigín agus é á sciobadh chun siúil gan choinne ar eachtra fhada in éineacht le Gandalf Draoi agus le trí abhac déag. Is scéal An Hobad faoi thuras a dhéanann Biolbó i gcuideachta na n-abhac le teacht ar thaisce ór a bhfuil dragan i seilbh uirthi. In aghaidh a thola ar dtús a ghlacann Biolbó Baigín páirt sa tóraíocht chontúirteach, mar is hobad gan uaillmhian é, atá an-tugtha do chompord an tsaoil. I ndeireadh na dála, áfach, cuireann sé iontas air féin lena sheiftiúlacht agus lena scil amhail buirgléir. I measc eachtraí eile buaileann Biolbó le troill, le púcaí, le habhaic, le heilbh agus le damháin alla ollmhóra, déanann sé comhrá le Smóg Dragan, agus bíonn sé i láthair go han-drogallach ag Cath na gCúig Arm. Tá Biolbó Baigín le háireamh i measc laochra neamhbhásmhara litríocht na bpáistí. Is dá pháistí féin a scríobh an tOllamh Tolkien an scéal an chéad lá agus bhain an bunleagan Béarla cáil dhomhanda amach a thúisce is a foilsíodh é. Anois tá leagan Gaeilge le fáil den chéad uair riamh in aistriúchán den scoth leis an Ollamh Nicholas Williams. Feicfear sa leabhar na pictiúir agus na léirscáileanna uile a rinne an t-údar féin.