By
Trotter


13 Apr
2023/4/13 13:47:25 (GMT) Greenwich Mean Time, London, Dublin, Lisbon, Casablanca, Monrovia
---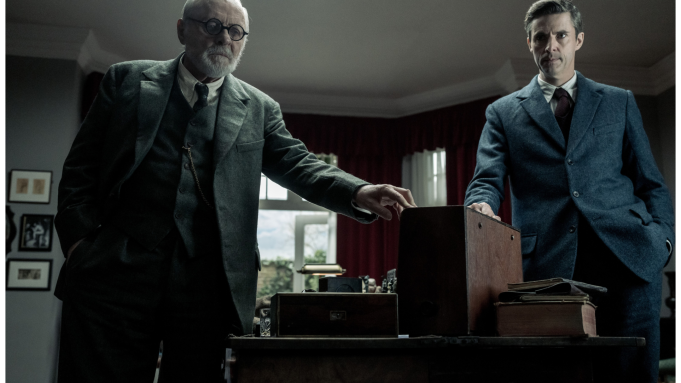 Westend Films has released the first image of Anthony Hopkins and Matthew Goode in Freud's Last Session, as the legendary psychoanalyst Sigmund Freud and writer and academic C.S. Lewis, prior to his Chronicles Of Narnia fame.

Filming is in its final stages in Ireland.

Set on the eve of the Second World War, the film revolves around a meeting between Freud and Lewis, at the psychoanalyst's London home, during which they debate the existence of God.

The film also explores Freud's unique relationship with his daughter Anna, played by Liv Lisa Fries (Babylon Berlin, Hilde With Love) and Lewis' unconventional relationship with his best friend's mother.

The film is directed by Matthew Brown (The Man Who Knew Infinity) and was written by Mark St. Germain (The God Committee) with revisions by Brown, based on the play of the same name.

Producers are Alan Greisman (The Bucket List), Rick Nicita (Hacksaw Ridge), Meg Thomson (Racing Hearts), Brown, Hannah Leader (Blinded by the Light), and Robert Stillman. Irish producers are Tristan Orpen Lynch and Aoife O'Sullivan of Subotica Productions (Aisha).

Further cast members Jodi Balfour (The Crown, For All Mankind), Stephen CampbellMoore (The History Boys, Masters of the Air), Jeremy Northam (The Crown, Gosford Park) and Orla Brady (Star Trek: Picard, Rose Plays Julie).

WestEnd Films and CAA Media Finance are overseeing sales for the film.

As previously announced, Sony Pictures Classics has acquired all rights for North America, the Middle East, Turkey, India, Eastern Europe, (excluding CIS) Asia (excluding China, Korea and Japan) and Latin America and worldwide airlines.

WestEnd has also struck deals for Australia (Sharmill Films), Scandinavia (Scanbox), Italy (Adler), Benelux (Just Entertainment), Portugal (NOS), Israel (United King) and Greece (Spentzos).

The Film is an official Irish / UK Co-production made with support from Screen Ireland and the UK Global Screen Fund.
https://deadline.com/2023/04/first-ima ... -last-session-1235321753/