Back to Auctions Home

133321662538
Seller: sethkaller (198)
100.0% positive
White Plains, New York, US
Active
:
Ends Feb 29, 2020 4:11:52 PM
Category: Collectibles:Autographs:Historical
Buy-It-Now:
$22,000.00
Viewed 227 times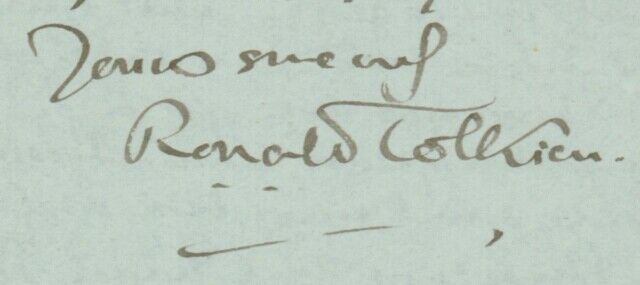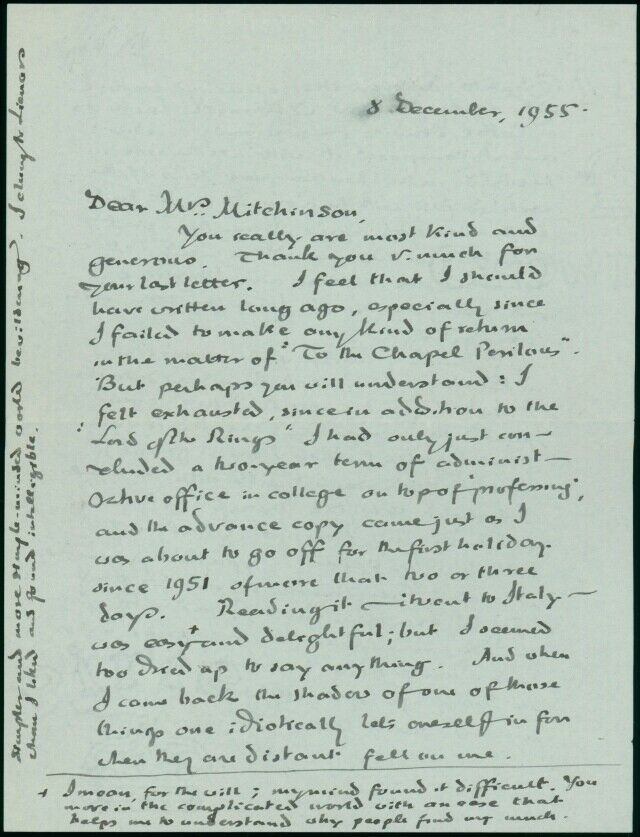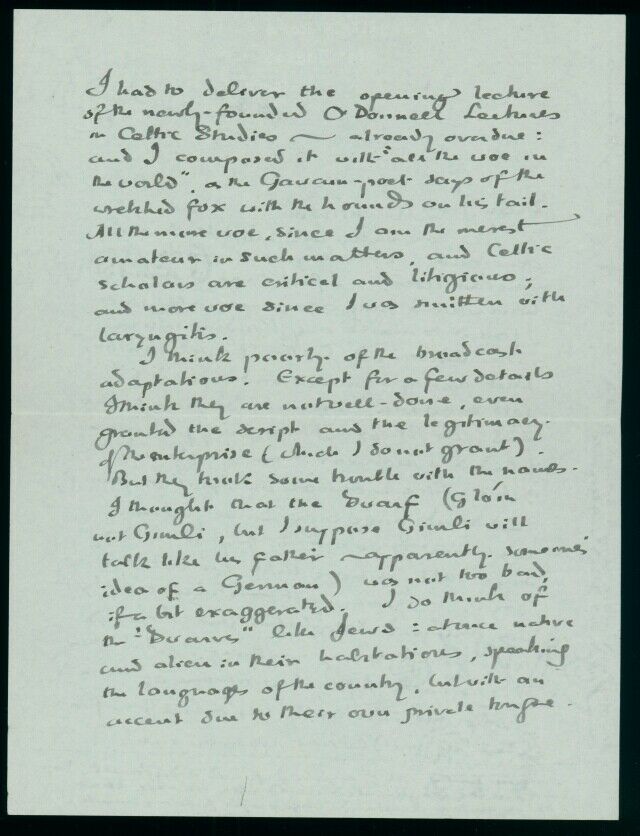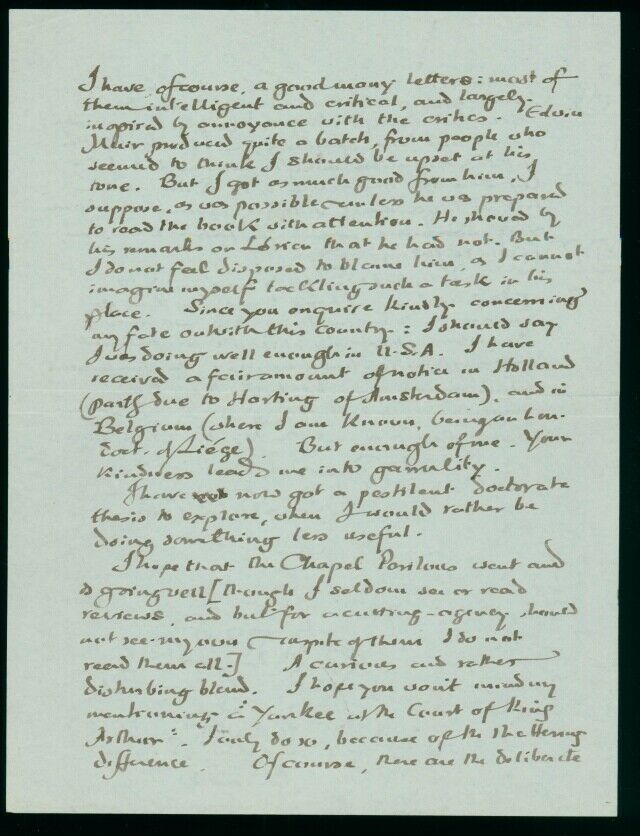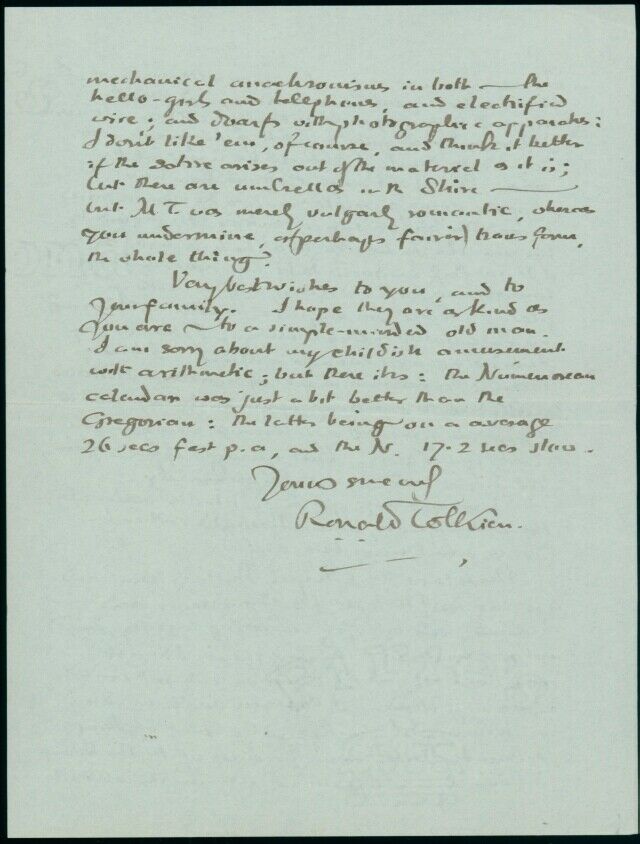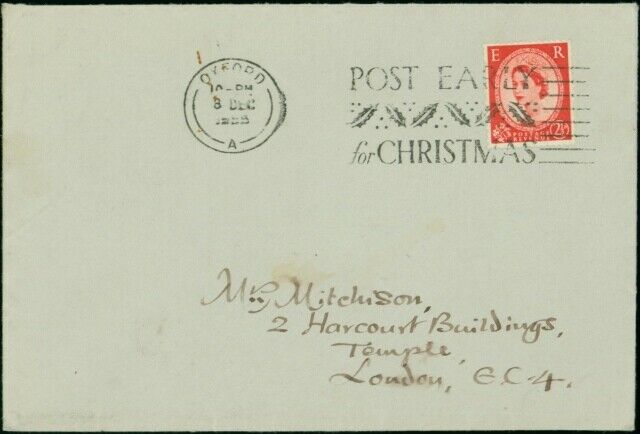 J.R.R. Tolkien Writes his Proofreader with a Lengthy Discussion of the Lord of the Rings, Including Criticism of Radio Broadcasts of his Work In a letter peppered with references to Middle Earth and its inhabitants, an exhausted Tolkien takes his first lengthy holiday in four years—in Italy. He returns and writes to Naomi Mitchison, a fellow novelist and his proofreader, for failing to provide feedback for her novel, To the Chapel Perilous. Tolkien discusses the demands on his time, ranging from his teaching load, thesis advising, and publishing, to reading critical reviews. Tolkien's dissatisfaction with radio adaptations of Lord of the Rings occupies a prominent place: I think poorly of the broadcast adaptations. Except for a few details I think they are not well done... I thought that the dwarf (Gloin not Gimli, but I suppose Gimli will talk like his father...) was not too bad if a bit exaggerated. I do think of the "Dwarves" like Jews: at once native and alien in their habitations, speaking the language of the country, but with an accent due to their own private tongue. The balance of the letter discusses literary critics, reviews of Mitchison's book, and anachronisms in her latest offering as contrasted to Mark Twain's A Connecticut Yankee in King Arthur's Court. J.R.R. TOLKIEN. Autograph Letter Signed, to Naomi Mitchison. Headington, Oxford, England, December 8, 1955. 4 pp on 2 leaves of wove paper with Pirie's/ Crown Bond watermark. 5 5/16 x 7 1/8 in. (13½ x 18 cm). The first page is embossed "76 Sandfield Road/ Headington/ Oxford." With original autograph addressed envelope. Inventory #23221 Transcript You really are most kind and generous. Thank you so much for your last letter. I feel that I should have written long ago, especially since I failed to make any kind of return in the matter of "To the Chapel Perilous." But perhaps you will understand I felt exhausted, since in addition to the "Lord of the Rings" I had only just concluded a two-year term of administrative office in college on top of professing, and the advance copy came just as I was about to go off for the first holiday since 1951 of more than two or three days. Reading it – I went to Italy – was easy * and delightful; but I seemed too dried up to say anything. And when I came back the shadow of one of those things one idiotically lets oneself in for when they are distant fell on me. [Written at bottom and continuing up left margin]: *I mean for the will; my mind found it difficult. You move in the complicated world with an ease that helps me to understand why people find my much simpler and more simple-minded world bewildering. I cling to Lienaro whom I liked and found intelligible.
I had to deliver the opening lecture of the newly-founded O'Donnell Lectures in Celtic Studies—already overdue: and I composed it with 'all the woe in the world,', as the Gawain-poet says of the wretched fox with the hounds on his tail. All the more woe, since I am the merest amateur in such matters, and Celtic scholars are critical and litigious; and more so since I was smitten with laryngitis. I think poorly of the broadcast [radio] adaptations. Except for a few details I think they are not well done, even granted the script and the legitimacy of the enterprise (which I do not grant). But they took some trouble with the names. I thought that the dwarf (Gloin not Gimli, but I suppose Gimli will talk like his father – apparently someone's idea of a German) was not too bad if a bit exaggerated. I do think of the "Dwarves" like Jews: at once native and alien in their habitations, speaking the language of the country, but with an accent due to their own private tongue. I have, of course, a good many letters: most of them intelligent and critical, and largely inspired by annoyance with the critics. Edwin Muir produced quite a batch, from people who seemed to think I should be upset at his tone. But I got as much good from him, I suppose, as was possible – unless he was prepared to read the book with attention. He showed by his remarks on Lórien that had not. But I do not feel disposed to blame him, as I cannot imagine myself tackling such a task in his place. Since you enquire kindly concerning my fate outside this country: I should say I was doing well enough in the U.S.A. I have received a fair amount of notice in Holland (partly due to Hasting of Amsterdam) and Belgium (where I am known, being an hon. poet of Liége. But enough of me. Your kindness leads me into garrulity. I have now got a pestilent doctorate thesis to explore, when I would rather be doing something less useful. I hope that the Chapel Perilous went and is going well [though I seldom see or read reviews, and but for a cutting agency should not see my own – In spite of them I do not read them all] A curious and rather disturbing blend. I hope you won't mind my mentioning "a Yankee at the Court of King Arthur." I only do so, because of the shattering difference. Of course there are the deliberate mechanical anachronisms in both. the hello–girls and telephones, and electrified wire; and dwarfs with photographic apparatus: I don't like 'em, of course, and think it better if the satire arises out of the material as it is; but there are umbrellas in the Shire—but M.T. [Mark Twain] was merely vulgarly romantic, whereas you undermine, or (perhaps fairer) transform the whole thing. Very best wishes to you, and to your family, I hope they are as kind as you are to a simple-minded old man. I am sorry about my childish amusement with arithmetic; but there it is: the Númenorrean calendar was just a bit better than the Gregorian: the latter being on average 26 secs fast p.a., and the N. 17.2 secs slow. Yours sincerely Ronald Tolkien Tolkien's letters are scarce. When Paul Richards catalogued the letter in January 1989, he called this "one of the finest, and longest, to appear on the market." Naomi May Margaret Mitchison (1897-1999) was a Scottish novelist and poet. She was appointed CBE (Commander of the Order of the British Empire) in 1981. She wrote many books, including The Chapel Perilous, published in 1955. She was a proofreader of the Lord of the Rings. Condition ExcellentSETH KALLER, INC.Historic Documents and Legacy Collections For over 20 years, Seth Kaller has been one of the country's largest buyers of important historic documents and artifacts. More than 10,000 rare manuscripts, documents, maps, and books handled by Kaller are now in institutional and private collections including working drafts of the United States Constitution, Lincoln-signed copies of the 13th Amendment and Emancipation Proclamation, and rare prints and broadsides of the Declaration of Independence. Kaller is a member of the Antiquarian Booksellers' Association of America (ABAA), the Professional Autograph Dealers Association (PADA), the American Antiquarian Society, the Manuscript Society, the New-York Historical Society's Chairman's Council, and the Papers of Abraham Lincoln Advisory Board.Authenticity Guaranteed Everything we sell comes with our absolute guarantee that it is original and authentic. If this is ever proven not to be authentic it may be returned for a full refund.History You Can Own Whether you're interested in the Founding Fathers, Documents of Freedom, Battles and Leaders, the Civil War, African-Americana, World History, Science, or a particular hero or villain, we can help you explore opportunities to take ownership of history.Build Your Own Collection We can coordinate every aspect of the process for you, from searching for individual items to building entire world-class collections for your home, business, foundation, or favorite museum. We can handle the pre-acquisition research, physical inspection and purchasing, auction representation, authentication, inventory, accounting reports, framing, and display.Help Your Favorite Institution Build a legacy by preserving history for generations to come. Through donations and loans to your favorite museum, library, or university, you ensure the survival of these important documents and act as a steward for personalities and ideas that shaped the world. We handle all the arrangements including insurance, transit, and proper acknowledgement for you. Donating can also bring substantial tax benefits. We have considerable experience working with tax attorneys and accountants to help maximize your benefit or minimize your cost as you promote your passion for history.