Back to Auctions Home

203019756037
Seller: alan-53 (29358)
99.9% positive
Walnut, California, US
Completed
:
Ended Jul 4, 2020 6:06:57 PM
Category: Books:Fiction & Literature
Buy-It-Now:
$125.00
Buyer: 2***c (7)
Viewed 154 times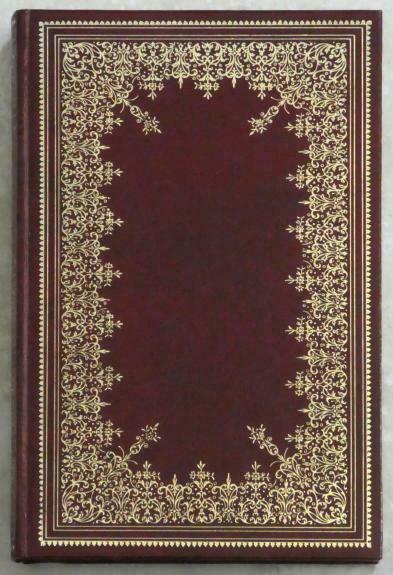 Condition: Very Good
NO RISK PURCHASE! See Below** THE SILMARILLION by J.R.R. Tolkien~ LEATHER GIFT EDITION ~This picture is for reference only and not of the physical item being sold although the covers and content are the same. Please see physical description below... THE BOOK: The Silmarillion, considered to be Tolkien's most important work, is the story of the creation of the world and the happenings of the First Age, clearly setting the stage for all his other works. It is to this ancient drama that the characters in The Lord of the Rings so often look back to. Before the world began, the startling beauty of the Holy Ones awakened into song. The sound, like countless choirs, became an ever-changing melody. It was the music of the Ainur that set the world spinning within the endless habitation of space. Music filled the earth with air and fire and water; stone and silver and gold; vast halls and spaces. And Music it was that caused the Children of Invatar, Elves (the first born), Dwarves (the second born) and Men to be born. Of the Elven races, it was the Noldor, the most skilled of Elves in Earthlore, who first achieved the power of making gems. And it was the great Elf Feanor who made the Silmarils, the fairest of all gems: for kept within the Silmarils was the glory of the light of the Two Trees of Valinor. Long after the Trees themselves were poisoned by the greed of the first Dark Lord Morgoth. These three great living jewels were hallowed so no mortal flesh nor anything evil may touch them. But deep within His fortress underground, the Dark Lord lusted after them. The peaceful days of Valinor were numbered as Morgoth stole the gems and the first great war of Middle-earth was waged over them. It was Morgoth who created the first great worm, Glaurung the Mighty Dragon and in this tale, Sauron is Morgoth's 1st Lieutenant. This tale of biblical magnitude is every bit as awe inspiring as The Lord of the Rings, albeit nowhere near as popular. It is however, the story that all of the songs of old and poems recounted in The Lord of the Rings are told here in full. If you have not read this, then you are in for a real treat. This is one of the nicest limited editions ever published. Originally printed in 1978 by Guild Publishing in London, this is leather bound with spectacular gold embellishments to the cover and spine. It contains all of the same two color illustrations by Tolkien himself found in all other editions as well as all of the original maps. It is a spectacular edition worthy of any fine library or discriminating Tolkien collection. And if you are looking for a nice gift for a Tolkien collector, there is a good chance they don't have this as it is not very common! Couple it with the matching copy of The Hobbit and Lord of the Rings and I'll pay the shipping anywhere within this USA via Media Mail!! A true collectors delight and now, very, VERY hard to find! Don't believe me? Try to find another one! A physical description follows...This is one of many unusual editions I have listed this week along with the other dozens of items including many early printings. To see all other Tolkien items I am selling CLICK HERE!! SPECIAL OFFER: This is one of MANY GIFT EDITIONS I am selling including special editions of Harry Potter and Lord of the Rings books. If you buy any combination of 3, I will ship them all free of postage via media mail, anywhere in the USA! To see all the gift editions that qualify, CLICK HERE or go to the ADVANCED SEARCH in eBay and copy and paste the word ALANSGIFTEDITIONS into the eBay search box, and then check the SEARCH TITLE AND DESCRIPTIONS box. TO GET THE FREE SHIPPING, FOLLOW THE INSTRUCTIONS BELOW! If you don't, I can't go back and fix it later! For any of the literally hundreds of other items, there are links above and below and if you have any requests, by all means let me know and if I have it, I'll list if for you right away~ (No off-eBay Sales) Regarding Auctions & the Item... I have been collecting books and music for over 35 years and have amassed an enormous collection. I do not subscribe to "grading" as it is so subjective and most of the "graders" truly have no clue! Therefore I'll simply describe things in normal English! *This offering is for a gently handled and previously read hardcover leatherbound book showing minimal amount amount of shelfwear. The binding is tight and solid and all pages are crisp none loose. There is a bit of chipping along the edges of the covers. It is a QUITE SCARCE copy these days. If you doubt it's rarity, try to find one in any condition! This is a book club edition. It is a VERY nice copy. Enjoy! This would make a welcome edition, or addition, to ANY Tolkien collection. A FEW WORDS ON TOLKIEN COLLECTIBILITY...I have been collecting Tolkien books for over 30 years and it really galls me to find people selling items for ridiculous prices claiming they are "rare" or "highly collectible"; and what's worse is, naive people are paying it~! The fact is, there are relatively few "RARE" Tolkien items on eBay and most of the stuff claimed as such, just isn't. Granted, some may be hard to find, but not rare. In order to be a VALUABLE collectible, the books need to be immaculate or close to it, a scarce or extremely early printing of an early edition and if it comes with a dust jacket, that too should be close to fine. Otherwise, they are just common items not worth much, but people are paying gobs of cash, caught up in the frenzy. Before you pay high bucks on a RARE or COLLECTIBLE edition, ask questions and demand to see a picture. Even though the copyright may say 1966 for example, it can still be a 1981 or even 1997 printing, but the copyright was last renewed in 1966 so it is being sold as such. I've even seen 1960's paperback copyright being sold for unreal prices, and they are actually a 23rd or such printing! I don't believe all sellers are trying to be dishonest, some just don't know any better... Please be careful and bid wisely. If you have any questions regarding it's authenticity or collectibility, check it out and be certain you are bidding on what you THINK you are bidding on. For over a decade, I have sold tens of thousands of items on eBay and have only received a handful of complaints about the accuracy in my descriptions. Having met eBay standards for excellence in trading, you may bid with confidence knowing you will get what you THINK you are bidding on! Please check my feedback. It is a record I am very proud of... I have LOTS of music items, and tons of books available for purchase. Please check my other offerings to see if there is anything else you might be interested in for combined shipping. There are links above and below and why not bookmark my site to make it easier to find at a later date! PAYMENT TERMS: Pretty simple. Pay me, I send it, BUT ONLY TO A REGISTERED ADDRESS! Please do not ask to have it sent to an alternate location as I won't be able to comply per eBay policy. See below.. Why Are My Shipping & Handling Costs a Bit Higher than Other Sellers? Please Read on... GUARANTEED DELIVERY OR YOUR MONEY BACK! I really DO CARE about when and how your product gets to you. Because the post office is so incredibly inept, I ONLY SHIP domestic packages INSURED, which is AUTOMATICALLY INCLUDED in the shipping cost, and that is not free as the post office charges for it. If your parcel gets lost OR damaged in freight, your item will be replaced if one is available OR you will be completely refunded! IMPORTANT MONEY SAVING TIP! If you are buying more than one of my items and would like to SAVE MONEY by COMBINING SHIPPING costs, I will be happy to do so, but eBay has now made it more difficult to get discounts by confusing people with "Buy it Now" and "Add to Cart" options on non-auction style pages. If you are buying one item from a seller use the Buy it Now. BUT IF YOU WANT COMBINED or FREE SHIPPING, DO NOT USE THE BUY IT NOW button! Instead, select ADD TO CART. Then use your BACK button on your browser and select the other items you want that qualify using ADD TO CART each time. When you are finished, look for the shopping cart icon at the top right corner of your eBay page and click on it. Find the blue button which reads COMMIT TO BUY & SEND REQUEST. Once done, the items will be held and I will create a single invoice with either combined or free shipping. NOTE: I cannot retroactively go back and combine items that are not purchased in this manner so PLEASE PAY ATTENTION. Once you receive your invoice, payment is expected promptly! All of the payment info you need will be listed including multiple shipment options. Since I am a legitimate business, California deliveries will require sales tax. PAYMENT OPTIONS:I accept Credit Cards, eChecks and electronic transfers with .Unfortunately, direct bank transfers are not offered due to cost and security concerns.As I reside in the USA, all payments must be made in US Dollars & Cents. SHIPPING ADDRESSES: IMPORTANT!! I can ONLY SHIP to the address as noted in PAYPAL'S "TRANSACTION DETAILS". If you want it shipped to an alternate location, you will need to register that address BEFORE paying or it will be shipped to the registered address. SHIPPING COSTS: Shipping costs will be determined by weight & destination! You may click on the SHIPPING & PAYMENT tab found at the top of the page, just under the item's picture for all shipping options to all destinations both domestic and international. There you will find drop down boxes for your location and you can then use the shipping calculator to determine the correct cost for where you live. REALLY, REALLY IMPORTANT INFO ABOUT SHIPPING TIMES: Media Mail (once known as 4th class mail) is a special class of postage for books, music, videos and other printed media available within the US and territories. It is far less expensive than Priority Mail, but - it ..... is ........... slooowwwww!!!! Despite USPS claims of 3-9 day delivery times, MEDIA MAIL CAN actually TAKE UP TO 3 WEEKS to arrive, and their tracking info is frequently not updated until it actually arrives, making that feature pretty useless! PLEASE remember this when you leave feedback scores as the choice is yours and not my fault if it takes a long time to get there! If you want it in a week or less, you are going to have to bite the bullet and pay for Priority Mail which will get it there in 2-3 working days, 99% of the time, but it is more expensive. Basically, the choice is yours, but if you choose media mail, please don't write to me in 5 days asking where your package is, because the post office will have it and most of the time, they don't have a clue! International deliveries usually arrive within 1-2 weeks but CAN take up to a month! Faster shipping is available on request, but expensive.Import duties, taxes and charges are not included in the item price or shipping charges. These charges are the buyer's responsibility. You can check with your country's customs office to determine what these additional costs will be prior to bidding/buying. Finally, we do not mark merchandise values below value or mark items as "gifts"; it is illegal and immoral. Questions? Ask and I'll try to answer... Please check out the other "lovely" items I have just waiting for you by CLICKING HERE! Thanks so much for looking and bidding on my items ~Alan.