Back to Auctions Home

254139704901
Seller: diverjbks (3092)
100.0% positive
Miami, Florida, US
Completed
:
Ended Feb 26, 2019 4:19:07 PM
Category: Books:Antiquarian & Collectible
Buy-It-Now:
$2,145.00
Viewed 29 times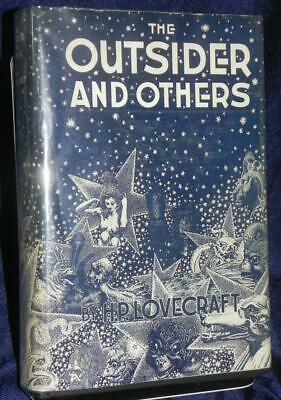 The Outsider and Others H.P. Lovecraft 1939 1st Ed w Dust Jacket! The Outsider and Others Written by H.P. Lovecraft Published by: Arkham House Printed in: 1939 ----- Features ----- · Gilt lettering on the spine · Rare Original Dust Jacket · 37 stories by H.P. Lovecraft Condition The book is in very good condition. There are no bookplates, signatures or markings of any kind. The gilt lettering to the spine is bright and unrubbed. The book is clean and free of any foxing. The dust jacket is in good condition. There is some wear to the spine. This is the First edition, printed by Arkham House in 1939. A rare find complete with it's dustjacket. Index This edition contains some of the most well-known stories by H.P. Lovecraft. Titles include: Dagon The Outsider The Cats of Ulthar The Tomb The Shunned House The Haunter of the Dark The Call of Cthulhu The Colour Out of Space The Dunwich Horror The Shadow Over Innsmouth and Many More! ---------- About the Author---------- Howard Phillips Lovecraft (1890–1937) was an American author of horror, fantasy, and science fiction, known then simply as weird fiction. Lovecraft's major inspiration and invention was cosmic horror, the idea that life is incomprehensible to human minds and that the universe is fundamentally alien. Those who genuinely reason, like his protagonists, gamble with sanity. Lovecraft has developed a cult followingfor his Cthulhu Mythos, a series of loosely interconnected fiction featuring a pantheon of human-nullifying entities, as well as the Necronomicon, a fictional grimoire of magical rites and forbidden lore. His works were deeply pessimistic and cynical, challenging the values of the Enlightenment, Romanticism, and Christian humanism.Although Lovecraft's readership was limited during his life, his reputation has grownover the decades, and he is now commonly regarded as one of the most influential horror writers of the 20th century. ---------- Return Policy---------- If you are unsatisfied with your purchase for any reason, a FULL refund will be issued so long as I am notified within 14 days after you receive your purchase. The buyer is responsible for return shipping costs. A great chance to own a rare First Edition copy of Lovecraft's classic work. If you have any questions or you want more pictures please feel free to email. Overseas bidders only Paypal accepted Get images that make Supersized seem small.Tailor your auctions with Auctiva's Listing Templates! THE simple solution for eBay sellers.