Back to Auctions Home

352882717023
Seller: nordicpix (26425)
99.4% positive
Reykjavik, IS
Completed
:
Ended Jan 6, 2020 6:28:19 PM
Category: Collectibles:Photographic Images:Contemporary (1940-Now):Other Contemporary Photographs
Buy-It-Now:
$14.90
Viewed 37 times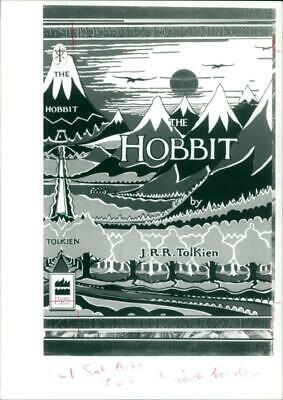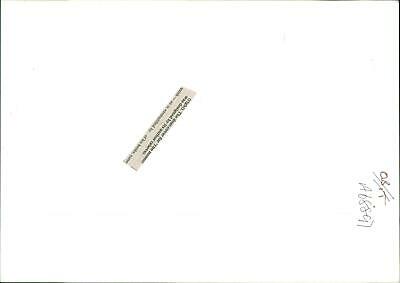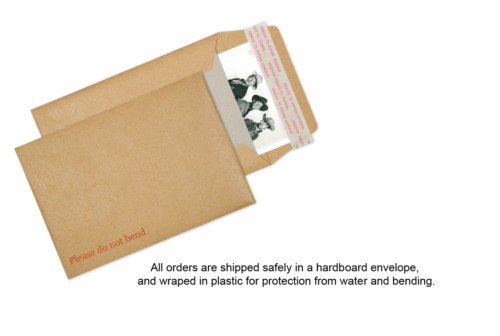 Condition: This is an original press photograph. This photo is from a newspaper archive thus concede routine physical imperfections that can include production flaws, hand placed editorial notes, and paste residue. These details can be seen in the auction photo which shows front and back. Also creasing, border chips and minor paper loss can occur. View all photos thoroughly prior to bidding.
IMS VINTAGE PHOTOS THIS IS AN ORIGINAL VINTAGE PRESS PHOTOONLY THIS ONE COPY AVAILABLE ORDER SOON SO YOU DON'T MISS OUT Vintage photograph of The dust cover for the hobbit Tolkien professor JRR. Size of photo 8.2" x 11.6" Front and back of the image: Front of photograph Back of photograph , Product ID: imsvintagephotos-1207691 Foldername: tele-10_14_a - 5 Certificate of Authenticity Every order comes with a Certificate of Authenticity from IMS Vintage Photos. We guarantee that all our images are not reprints, they are original photos from a press archive, the youngest photos we have are 30 years old and the oldest over 100 years old. This photograph originates from a press photo archive. IMS Vintage Photos is selling photos that come from editorial press photo archives in Europe and dating back to the early 19th century. The archives are in great condition and have been in storage for a long time and the images in the collection are now being sold off one by one. The images archive where distributed in most cases in maximum only 10-15 copies around the world at the time and many copies have been lost or damaged during time, each copy from the collection is therefore very rare and unique. This kind of rare images are not only a great thing to own but also a great investment. Own a piece of history with this great photography memorabilia. Learn more about our unique photographs by watching the video here below: WE ARE UNLOCKING THE PRESS PHOTO ARCHIVES! - YouTube [isdntekvideo] So many great reasons to buy Vintage Press Photographs UNIQUE there is only one copy of each, each photo is completely unique, these are not reprints. What you will buy from us has a true historical value and authenticity. All these photos have a story to tell and come from a reliable source. THE BACKSIDE many times the pictures will present stamps, dates and other publication details - these marks attest and increase the value of the pictures. PIECE OF HISTORY this photographs was stored for decades and used in a newspaper press archive. It is a piece of history. COLLECTIBLES / MEMORABILIA. Vintage photographs are a great collectible. For those collecting certain interests you can most likely find a vintage press photo in our collection from that subject and add to your collection. A moment in history is a great addition to any collection. WALL DECOR. An original photos is a great wall decor, an original piece of history in your home or your office. We also recommend two sided glass frames for display on tables, as you can then see the back of the photo also. The back of the photo has sometimes stamps, writing and text that makes the photo even more historical and unique. PERSONAL GIFT. Who is your father's sports idol? or your mothers rockstar? In what town did grandpa grow up? Photographs that have been locked away in a newspaper archive for decades and are now for the first time available to the public are the perfect gift. There is only one copy of each so each image is totally unique. Each image contains original stamps, scribble from journalist and captions making the photo very authentic and historic. A moment in history as a gift. Search for a subjects that fits the person you are giving or find just a beautiful photo to enjoy. A vintage photograph is suitable for all occasions whether its a christmas gift, valentines, fathers day, mothers or just as a surprise gift to make someone's day. INVESTMENT. Many predict that the price and value of vintage photographs will increase in the future and might be the next valuable paintings of our times. Vintage press photographs are certainly not growing in numbers as they stopped making them 30 years ago. Many have been lost in fires or water damages already. Take good care of your vintage photograph as it might be very valuable in the future. A MOMENT IN HISTORY. One of the best reasons to on a vintage photograph is to enjoy the moment, the moment in history when the photo was taken. From the times when you could not snap as many frames you wanted, and just delete and upload. From the times you maybe only had one shot, and could not see the image until days later after developing it. Its from these times when the moments are so much more precious and not mention more rare as the more years we go back in history, fewer and fewer images are of moments and events that exist. IMPORTANT WHEN BUYING FROM US: All our photographs are LIMITED ARCHIVE ORIGINALS - not reprints or digital prints. Since the photos are REAL PRESS PHOTOGRAPHS they may have scratches, lines or other signs which just underlie the authenticity of the original photo. All the original pictures are sold WITHOUT THE WATERMARKS that you see on the digital version. By purchasing a photo from IMS Vintage Photos, COPYRIGHT DOES NOT TRANSFER. We are selling these photos as collectibles only and no copyright is implied. SAFE SHOPPING - we have over 20.000 happy customers. We sell to clients all over the world and each items are shipped in strong cardboard envelope to ensure safe delivery and wrapped in plastic sheet. WE ACCEPT ALL MAJOR CREDIT CARDS and Paypal. Please contact us if you would like to make a bank transfer. Please note that you do not need to have a PayPal account to pay using PayPal, just a valid debit or credit card. SHIPPING TIME We aim to dispatch the same day or the next working day.We are in a fantastic location for shipping, in Iceland right between USA and Europe and from Latvia on mainland Europe - shipping has proven to be faster from us than local shipping in some countries like USA. We dispatch using Iceland Post 1st Class or UPS Express delivery. We do COMBINE SHIPPING if the order is shipped from the same location. We are based both in Iceland and in Latvia. Optical character recognition and image recognitionText Frame it or give it in a nice box!Contact us about information regarding frames and boxes for the original photos. We sell, frames, glass boxes and filt boxes About IMS Vintage PhotosIMS photos started in 1946 as a photo service for publishing housed in Sweden. Over the years it developed into a digital photo agency. In 2014 IMS started with just one scanner trying out different methods of digitising archives. This evolved over time and now IMS Vintage Photo project is a company of its own with offices in Reykjavik, iceland and Riga Latvia. With a team of 60 people IMS is digitizing thousands of photographs every day, cataloging them and thereby preserving these great historical moments. IMS has developed a unique technology allowing it to take on very large archives. IMS is working with many of the worlds most renowned newspapers archives. FAQsQ: Is this photo a reprint, a photo that you print from a digital file on demand?A: Absolutely not! What we are selling are the actual original images that come from press archives. What you get is the actual copy from the archive. On the back of most photos you can see, stamps, writing and notes made over time as these photos were used in the publications. The archives stopped using prints like this in 1995, so the youngest photo we have is over 30 years old and the oldest over 100 year old. You are getting a real, authentic piece of history, every photograph is unique and there is only one copy of each photo.Q: Where do all these vintage photos come from that you are selling?A: These original vintage photographs are from various news paper archives in Europe, mostly from United Kingdom and Scandinavia. We work with these archives preserve all these great moments in history by digitizing them. By selling the original copy after it has been scanned, we can help pay for this very important project. This project creates this ones in a lifetime opportunity for the public to buy these images that have been locked away for up to 100 years in the archives. Q: How where these photos used before, what's the story of these photographs?A: From 1900-1995 the photo archives of all the newspapers where in either print or film format. Most of them used the prints. The prints were given to the printer who used them to setup the newspapers and print it and then the print was returned back to the archive. Commonly the newspapers would stamp the dates when it was used in the newspapers and many photographs were used multiple times. After 1995 they started using digital cameras and slowly the archives shifted over to the digital photo. The press archives stopped growing and slowly over time the archives used them less and less. Now with the help of IMS Vintage Photos, they are able to scan all their archives and get access to them digitally and at the same time, the public can see many of them for the first time, and buy the original copies.Q: How do you package the photos so they are shipped safely?A: We package each order in sturdy cardboard envelopes to prevent them from being bent, and then we wrap them in plastic sheet to prevent them from moisture and water. We have shipped hundreds of thousands of photos to most countries in the world and it is a very rare exception if something is damaged on the way. Q: The IMS watermark that i can see on the photo, is that on the actual photo that I will buy?A: No. This is a digital watermark used to protect our images. It is not printed on the actual photo.Q: Can I download the digital version of this photo and keep it instead of buying the original?A: No, we are only selling the actual vintage originals and do not make or distribute any digital copies. We think owning a screen size digital copy with a watermark is also much less interesting compared to owning the actual original copy of the image.Q: When do you ship the orders?A: We ship within one business day after the payment has been made. You should receive a confirmation from us when we ship the order. If you don't get that, please contact us.Q: Do you combine shipping and invoices?A: We are based in both Iceland and Latvia. We can combine all orders we can ship from the same location. We can not combine shipping if the images have to be shipped from different locations.Q: What are your office hours?A: We are open 9-17 (GMT). We also have customer service after hours helping out with all the basics. Q: Can I use this photograph in a publication I am doing, such as book, documentary or website?A: Please do not use any of our photographs before contacting us first. For some images it is an absolute no, for some it might work as we have an agreement with the copyright holder. Please contact us and we will be glad to help figure that out.ONLY THIS ONE COPY AVAILABLE ORDER SOON SO YOU DON'T MISS OUT