Back to Auctions Home

371025743858
Seller: alan-53 (22296)
99.7% positive
Walnut, California, US
Completed
:
Ended Nov 19, 2014 12:24:22 PM
Category: Collectibles:Fantasy, Mythical & Magic:Lord of the Rings:Posters, Prints
Buy-It-Now:
$49.98
Viewed 391 times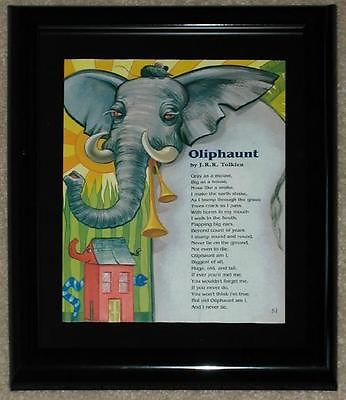 NO RISK PURCHASE! See Below...   OLIPHAUNT A Poem by JRR TOLKIEN READY FOR HANGING! This is a kick! If you read The Lord of the Rings, then you might remember the first time Sam saw an Oliphaunt. He stood up and recited the poem that he remembered from his old gaffer, which is herein written down. This came from a children's book back in the 60's or 70's. It was not a very popular book and somebody bought a bunch of them and cut out this page, and resold them on eBay about 10 years ago. I bought 10 of them, and this is one of the last one's I have! I would not have cut ANYTHING out of ANY book, but it was already done, so there we are... A physical description follows... For any of the other hundreds of items I have available use the link at the bottom of the page. And if you have any requests, by all means, send me an email; if I have it, I'll list it right away for you (no off eBay sales...) About Me & This Item... I am a private collector of art, books, music (10,000 records alone!) and "stuff" and am very picky about what I buy. I don't like surprises when I buy things from auctions any more than you do. I promise everything there is to know about this item is in this description. I also do not subscribe to "grading" as frankly, grading is totally inconsistent and most of the "graders" TRULY have no clue, so I will use plain English if it is OK with you... *This is a really fun piece of art! Framed in a black light weight frame, the image, is compression fit into the frame, place atop the black paper background that came with the frame. You could glue or tape it down if you wanted, but I will leave that to the next owner... Frame is for an 8"x10 portrait, so that gives you an idea of the image itself. Ready to be hung! Enjoy... For over a decade, I have sold tens of thousands of items on eBay and have only received a handful of complaints about the accuracy in my descriptions. Having met eBay standards for excellence in trading, you may bid with confidence knowing you will get what you THINK you are bidding on! Please check my feedback. It is a record I am very proud of... I have LOTS of music items, and tons of books available for purchase. Please check my other offerings to see if there is anything else you might be interested in for combined shipping. There are links above and below and why not bookmark my site to make it easier to find at a later date!  PAYMENT TERMS: Pretty simple. Pay me, I send it! Why Are My Shipping & Handling Costs a Bit Higher than Other Sellers? Please Read on... GUARANTEED DELIVERY OR YOUR MONEY BACK!I really DO CARE about when and how your product gets to you. Because the post office is so incredibly inept, I ONLY SHIP domestic packages INSURED, which is AUTOMATICALLY INCLUDED in the shipping cost, and that is not free as the post office charges for it. If your parcel gets lost OR damaged in freight, your item will be replaced if one is available OR you will be completely refunded! IMPORTANT MONEY SAVING TIP! If you are bidding on more than one of my items and would like to SAVE MONEY by COMBINING SHIPPING costs, I will be happy to do so, BUT, YOU MUST WAIT until everything you are bidding on finishes and I send you a combined invoice BEFORE you complete checkout. Once you complete checkout on an item, I cannot go back and combine it with anything else as eBay considers it a closed deal. TRUST ME, I will send you a combined invoice at the end of each item with updated and combined shipping costs and any deal discounts that may apply. WHEN YOU ARE DONE BIDDING, winners agree to pay promptly once they receive a final invoice. All of the payment info you need will follow. California deliveries will require sales tax. PAYMENT OPTIONS:I accept Credit Cards, eChecks and electronic transfers with .Unfortunately, direct bank transfers are not offered due to cost and security concerns.As I reside in the USA, all payments must be made in US Dollars & Cents. SHIPPING INFO: IMPORTANT!! I can ONLY SHIP to the address as noted in PAYPAL'S "TRANSACTION DETAILS". If you want it shipped to an alternate location, you will need to register that address BEFORE paying or it will be shipped to the registered address. Shipping costs will be determined by weight & destination. You may click on the SHIPPING & PAYMENT tab found at the top of the page, just under the item's picture for all shipping options to all destinations both domestic and international. There you will find drop down boxes for your location and you can then use the shipping calculator to determine the correct cost for where you live. All International deliveries all go by Priority Mail and usually arrive within 1-2 weeks. BE AWARE, you may need to pay Customs fees over which I have no control! Questions? Ask and I'll try to answer... Please check out the other "lovely" items I have just waiting for your bids by CLICKING HERE! Thanks so much for looking and bidding on my auctions~ Alan.