Original art from Hildebrandt's and Alan Lee at Heritage Auctions
By
Urulókë


Apr 20, 2018
---
Two pieces of original artwork are open for bidding in the
Comics & Comic Art Signature Auction - Chicago #7187
ending May 12, 2018 that may be of interest here.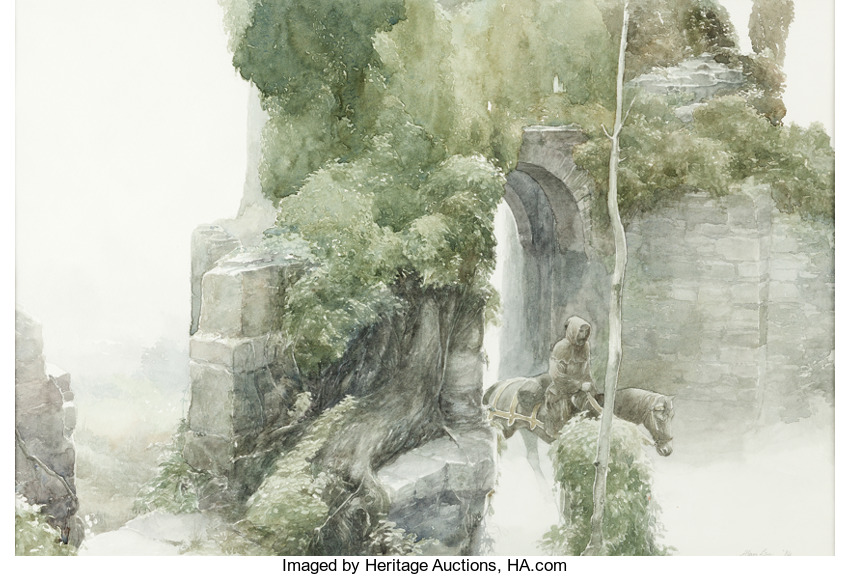 Alan Lee Castles Illustration Original Art (1984). This gorgeous painting by Lord of the Rings artist Alan Lee features a hooded rider that looks suspiciously like Strider. Painted many years before his reputation was cemented as the pre-eminent Tolkien artist. Produced in watercolor on heavy paper. Matted and framed out to 23" x 16" with an inner mat opening of 16" x 11". Signed and dated by Lee in pencil. In Excellent condition.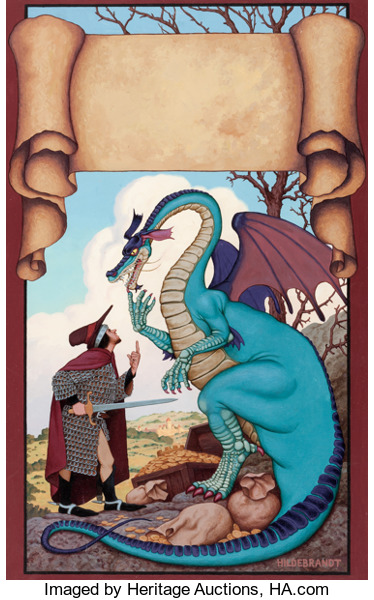 Greg Hildebrandt and Tim Hildebrandt Smith of Wootton Major and Farmer Giles of Ham Paperback Cover Original Art (Ballantine Books, circa 1974-75). For fantasy fans, the names of Greg and Tim Hildebrandt will forever be linked to the works of fantasy author J. R. R. Tolkien, thanks to the brothers' world-famous visual interpretations of the Tolkien characters. Here, the Brothers Hildebrandt present a wonderfully whimsical scene based on J. R. R. Tolkien's story, "Farmer Giles of Ham" for what was their first published, Tolkien-inspired work. This delightful cover illustration, with its superb artistic nod to the style of classic illustrator Maxfield Parrish, captures the mood of Tolkien's ribald mock-heroic tale perfectly. "When a 'cunning, inquisitive, greedy, well-armored but not overly bold' dragon invades the kingdom, a most unwilling Farmer Giles is chosen to slay the dragon... a dragon who refuses to fight!" This fabulous piece has an image area of 12.5" x 21.5", and the art is in Excellent condition. The illustration was signed at the lower right.