1 ... 86 87 (88) 89 90 ... 162
By
garm


---
So, he messed around with a photo on his computer and he wants money for it? here's what he has to say -

"I was at an art fair and a Nice Guy from Mew York Came by and commissioned "something Lord Of The Rings" so this is what I came up with and then made some prints to share the love. Ive read all the books, and have always been a fan, so Im very glad this piece was commissioned."
_________________

---
Way over the top price, I seem to remember that these were less than £50 when first issued.
http://www.ebay.co.uk/itm/J-R-R-Tolki ... ks_UK&hash=item4d0965599f

---
"
ONE OFF(sic) THE BOOK HAS A FACSIMILE DUSTJACKET
"
"
GREAT FOR FANS OF TOLKIEN AND MAJOR COLLECTORS. I HAD THEM VALUED AT £1200
"
£550 for "
THE HOBBIT 1956-1959-1961-1961-1966
" with no dust-jackets the spines have suffered quite a lot. They are starting to look more like US Hobbits



http://www.ebay.co.uk/itm/J-R-R-TOLKI ... ks_UK&hash=item337faf87c1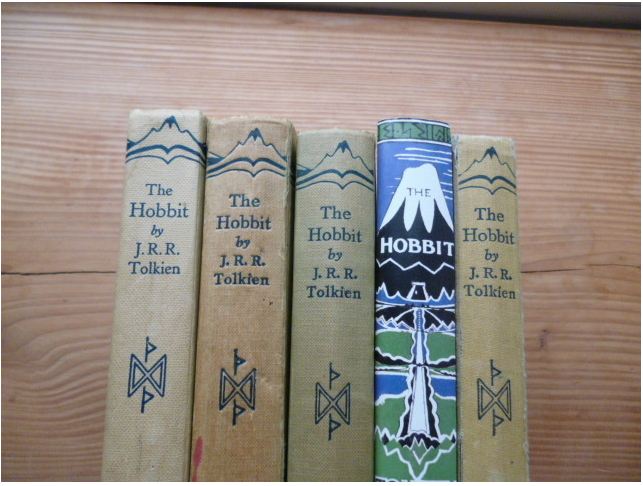 By
Laurin666


---
Do we believe in the authenticity of the signature? I don't think so, and therefore it is a very expensive drawing.
http://www.ebay.co.uk/itm/Original-Co ... tings&hash=item35c442fe0d

_________________
Ernest Hemingway said:
"You needn't bother going anywhere else. I can tell you: you can't beat Munich, everthing else in Germany is a waste of time".
---
Bit of a bidding war going on on this one, very, very sad Dust-jacket for this age Hobbit



http://www.ebay.co.uk/itm/J-R-R-Tolki ... ks_UK&hash=item5652a62553


---
Madness, £100,000 starting price, but you can snap it up for £150K.
"J R R Tolkien lived at 76 Sandfield Road, Headington, Oxford during the years 1953-1968. We all know about the 'Lord Of The Rings' and the recent huge film success, but he also had 'The Two Towers' and 'The Return Of The King' published (1954) (sic) whilst living there. As part of the C S Lewis Tour that I once operated, I would visit the former home with visitors for photographs. On one such occasion I was offered the Fireplace surround that had been removed from Tolkiens Master Bedroom as pictured and now offered for sale. This grey fleck/burgundy coloured tiled fireplace surround is a once only opportunity for lovers of JRR Tolkien to own a part of our history that is so radically different, unique and an investment that can never be repeated! More detailed information can be seen at http://www.picturesofengland.com/oxfo ... a/tolkienmemorabilia.html

I have the original letter of authenticity from the owners of the property, who removed the surround whilst carrying out refurbishments. The document will naturally go to the new owner of the fireplace surround with the sale.

This Fireplace surround was previously offered for sale on Ebay at $250,000 which today equates to approximately £158, 207.00

Starting Price £100,000.00 Buy it Now £150,000.00 applies for the fireplace surround."
eBay Item #150993518773

By
laurel


---
It was originally put on for a 1000 then seller changed to 1000000 _ maybe he forgot the zeros first time around

_________________

---
Why all the bidding?
http://www.ebay.com/itm/J-R-R-TOLKIEN ... 253D&orig_cvip=true&rt=nc
You can just order a copy from the website for $10:
http://www.firsts.com/BackIssues12.html

_________________

By
Khamûl


---
My thoughts exactly. Also, from previous experience, Firsts is woeful, from a bibliographical perspective. This will have nothing in it you don't already know. (Plus, it only claims to contain: An Annotated Checklist of the Posthumous American First Editions. One would assume it touches upon some UK editions, what with it having a picture of a UK edition on its cover. But you never know.)

BH
_________________
BH
You drive a hard bargain – you can have it for £10 all-in – one consolation (for you) is that you do not have to hear the cries of my children, for bread...
1 ... 86 87 (88) 89 90 ... 162