Confused by movie tie-in editions
(1)
2
3
---
Okay, before Christmas I bought the latest paperback movie tie-in edition of The Hobbit. My understanding was that this is also available in a box set with the current movie tie-in editions of The Lord of the Rings. However, as I didn't currently have the previous year's movie tie-in Hobbit, I decided to buy the box set containing that version. That way I figured I would end up with one copy of each book.

When my box set arrived today, however, I was slightly surprised to find that the books are a different size. The copy of The Hobbit I bought individually is in B-format, whereas the box set books are in the smaller A-format. I've attached some photos to illustrate.

This leaves me wondering whether there are two versions of all of the books. Does anyone else have any of these books and can they confirm this?

Looking at the HC website, each of the books is listed individually as well as in a LOTR box set and the two Hobbit/LOTR box sets. However, none of the descriptions mention size. Also, the ISBN numbers for my box set books don't appear to match those quoted by HC for the individual volumes, and the page counts are higher.

TolkienBooks.net doesn't cover any of the LOTR books or the box sets. However, the page for The Hobbit has recently been updated and shows both the 2012 and 2013 movie tie-in paperbacks. In fact, it shows two versions of the 2013, but only one of the 2012.

Here's what I think. All five books are available individually in B-format. As far as I can see, the LOTR box set is also B-format. However, it appears that both Hobbit/LOTR box sets contain A-format versions of the books, and that these aren't available individually. This would imply that the only way to get both Hobbits in A-format is to buy the same LOTR books twice.

Anyone know if I'm right?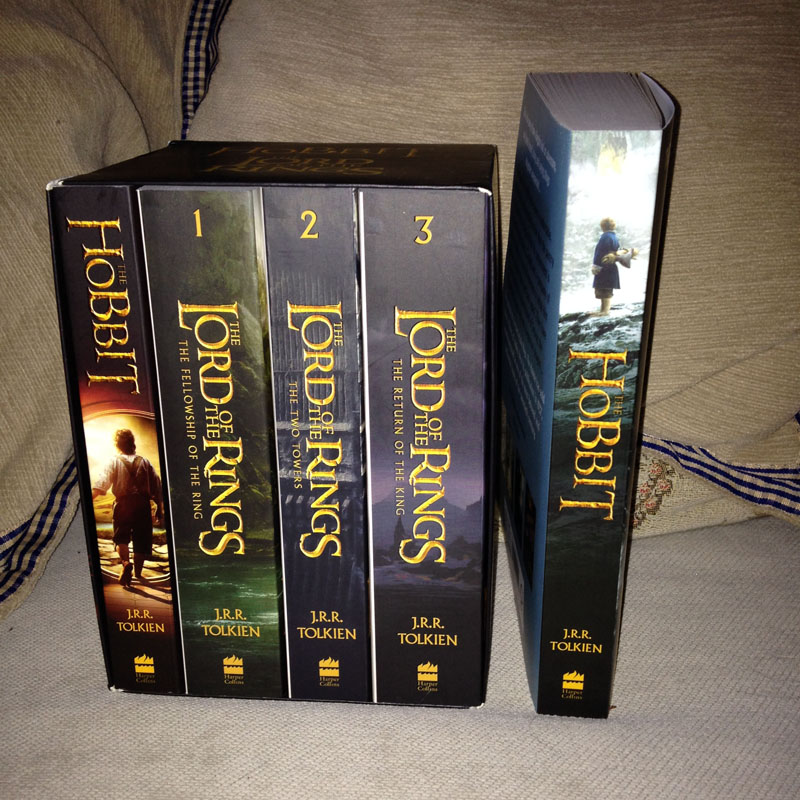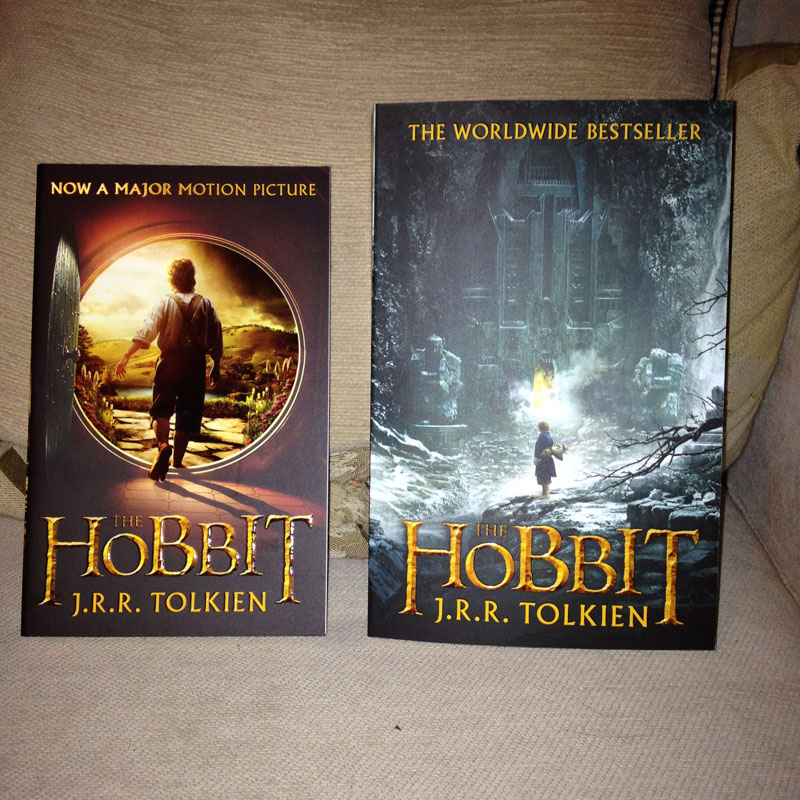 ---
I am working on adding these 3 volume LR paperback editions to TolkienBooks.net at the moment and can confirm that they do appear in both 'A' and 'B' format. The 2013 film tie-in Hobbit also appears in both formats.

I have not got a copy of the 2012 film tie-in Hobbit in the larger 'B' format yet and was wondering if HarperCollins had omitted this in favour of the 2-volume Hobbit, but now I have had another look at the ISBNs, I see that there are two on Amazon:

'B' Format
Paperback: 400 pages
Publisher: HarperCollins; Film tie-in edition edition (30 Aug 2012)
Language: English
ISBN-10: 0007487282
ISBN-13: 978-0007487288
Product Dimensions: 20 x 12.8 x 2.8 cm

'A' Format
Paperback: 400 pages
Publisher: HarperCollins; International Film tie-in edition edition (30 Aug 2012)
Language: French
ISBN-10: 0007487290
ISBN-13: 978-0007487295
Product Dimensions: 17.6 x 11 x 3.2 cm

"Language: French" is a database error I think.
---
Thanks, Deagol.

Yes, the ISBN for the A-format matches the one from my box set. I've reserved a copy of the B-format at Waterstones, so I'll post an update when I've got it.

That still leaves me the 2013 A-format to get hold of. Do you know if this can be sourced individually, or does it only come in a box set?
---
I bought the 2013 'A' format Hobbit from Amazon.
They call it an "International Film tie-in edition".
---
My copy of the 'B' format 2012 film tie-in edition arrived today.
Details added at
TolkienBooks.net
(1)
2
3