1 ... 122 123 (124) 125 126 ... 162
By
Morgan


---

Seller: alan-53 (22296)
Ended Nov 19, 2014
Buy-It-Now:
$49.98
Anyone knows in which book this version of "Oliphaunt" was published?
The auction just says that it "came from a children's book back in the 60's or 70's".
eBay Item #371025743858
---

Seller: artbooksetc (398)
Ended Aug 7, 2014
Buy-It-Now:
$4,800.00
---
Trotter, I agree. I almost posted that one. After all, it doesn't even have the dust jacket.
_________________

---

Seller: dalmioportatile (45)
Ended Jul 15, 2014
$39.99
[0 Bids]
_________________

By
garm


---

Seller: goodstufff (3430)
Ended Jul 16, 2014
$39.98
[0 Bids]
_________________

---

Seller: mjtbooks (1371)
Ended Aug 6, 2014
Buy-It-Now:
$50.00
Probably not worth anything at all with pages missing.
"
Please Note: pages 1057 to 1088 are missing in this copy. This is a binder's error, the pages were not removed and there is no evidence that they are gone until one does a close collation of the book.
"
eBay Item #131240751013
---

Seller: tomjangle88 (7)
Ended Jul 24, 2014
£11.49
[7 Bids]
Not a 1976 Deluxe Hobbit.
eBay Item #331261790772
"
This book is in near perfect condition, the only sign of wear is a slight fading of the authors name on the spine which can be seen in the photos.

The book comes without a box which has unfortunately been lost. There is no damage to any of the pages and the hard cover is free from dents/scratches.

This is a rare 1st edition collectors item, please see the link for an example of this edition on the jonkers rare book site: https://www.jonkers.co.uk/products/detail/productid/5185

Please contact me if you have any questions or would like to see more photographs, happy bidding. Please note: There is a fixed reserve of £50 on this item.

Official description:

"Deluxe edition. First edition in this deluxe format. Black buckram with dragon embossed on upper cover in white, gold and red. Colour frontis, 7 colour plates and 6 black and white plates. Double page map"

I reserve the right to end this auction early/at any time.
"
The copy of the page below gives it away, not from 1976, the link to Jonkers appears to be a 1976 Hobbit, not the 4th Impression 1986 Hobbit as in the case.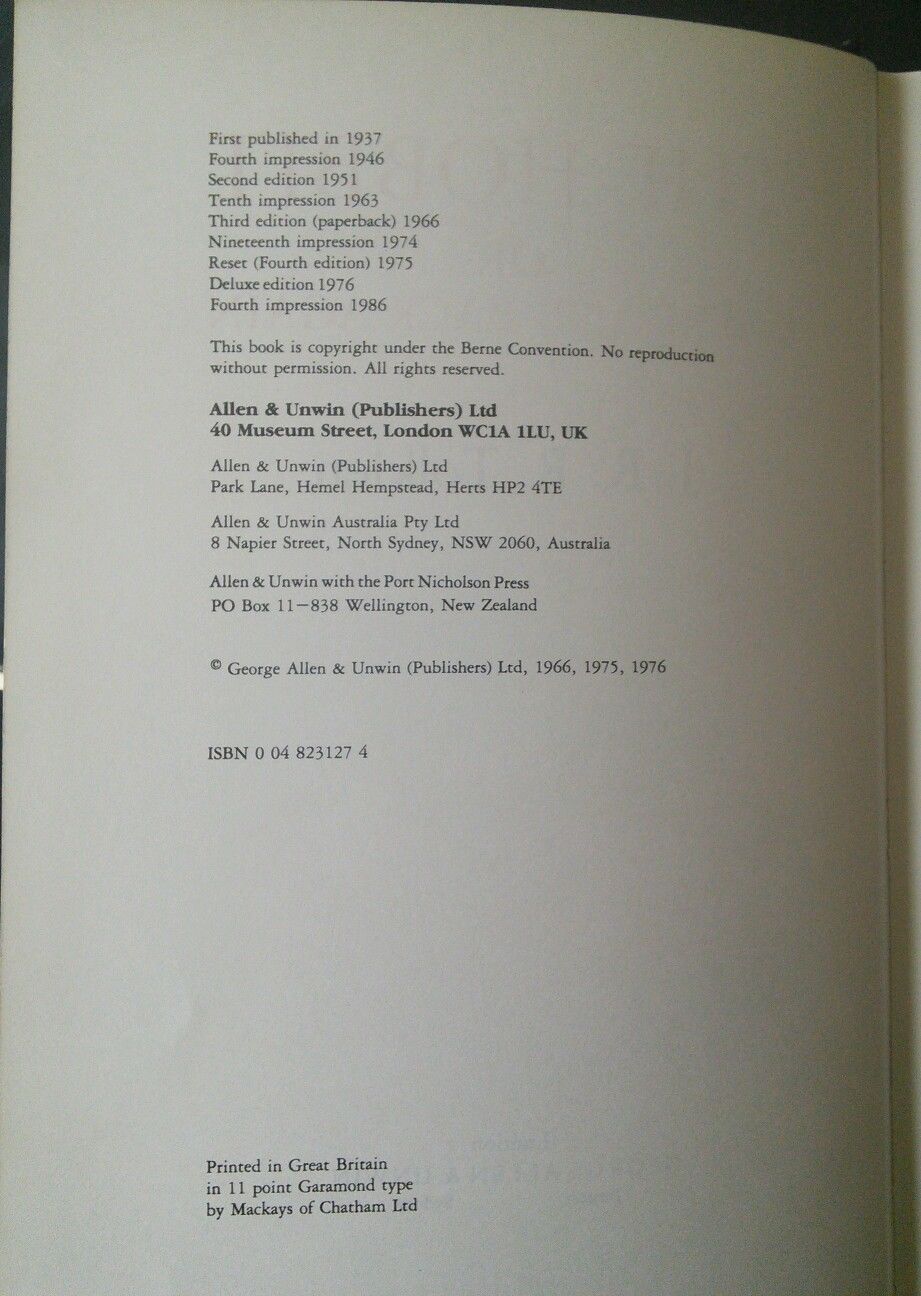 By
Stu


---
That copy of the 1984 Deluxe Hobbit has been annoying me for the last couple of weeks in my eBay searches. I almost sent the guy a message suggesting he made his listing a bit more accurate, but couldn't be bothered in the end. I figured anyone would look at the copyright page picture before buying (even though it was only in "tinyvision" when I looked).
By
Khamûl


---

Seller: *0cult0* (4563)
Ended Jul 20, 2014
Buy-It-Now:
£50.00

Seller: vcfvcs (247)
Ended Jul 28, 2014
£150.00
[24 Bids]

Seller: shell_d1990 (390)
Ended Jul 2, 2014
£11.75
[4 Bids]
_________________
BH
You drive a hard bargain – you can have it for £10 all-in – one consolation (for you) is that you do not have to hear the cries of my children, for bread...
---

Seller: worldofbooks08 (1192741)
Ended Jul 28, 2014
Buy-It-Now:
£2.99
or if you did not get the bargain above in the three times it was sold, how about this, third time you sold it would be over £1000.
eBay Item #141360857964
1 ... 122 123 (124) 125 126 ... 162