1 ... 31 32 (33) 34 35 ... 116
By
Khamûl


---
Okay, cheers
Stu
; I ain't missed one then!

BH
_________________
BH
You drive a hard bargain – you can have it for £10 all-in – one consolation (for you) is that you do not have to hear the cries of my children, for bread...
---
Just got the pocket The Adventures of Tom Bombadil, and at the back of the book Mr Bliss is listed as being in the same series i.e. pocket editions. The current Mr Bliss is not a pocket edition, so unless it is a mistake we should see a pocket Mr Bliss as well.
By
Karl


---
I get the feeling that it is a mistake based on the description which matches the current Mr Bliss:

"Published here for the first time with Tolkien's own colorful illustrations integrated into his comical story, this book also includes the original handwritten version of the story printed in facsimile at the back, giving readers of all ages two ways of enjoying this remarkable book."

Though if this is the case, then why not include Mr Bliss's companion Letters from Father Christmas in the series? Who knows? Personally, I'd be surprised if they did a pocket Mr Bliss.
By
Turambar


---
I see the latest Hobbit movie tie-in paperback has been published. I've just ordered what appears to be a B-format version. I know there has also previously been an A-format equivalent, described as an 'International edition'. Anyone found one this year?

Also, for the past two years there has been a non-movie paperback with an illustrated cover, with the caption 'International children's bestseller'. Has anyone spotted an equivalent this year?
---
Really looking forward to this from Wayne G. Hammond & Christina Scull.
"
Only now can we say that our latest Tolkien project – which has occupied much of our time this summer and early autumn – is The Art of The Lord of the Rings by J.R.R. Tolkien. With the 60th anniversary of the first (U.K.) publication of The Return of the King coming next year, HarperCollins asked us for a Lord of the Rings companion to our successful Art of The Hobbit by J.R.R. Tolkien. We quickly agreed, then took time to think about what the new book should contain and how we should approach the subject.
"
http://wayneandchristina.wordpress.co ... olkien-projects-part-two/
By
laurel


---
Wow now that looks nice.
_________________

---
Now that is something to look forward to!

Which means my decision to purchase no more new books after 2014 already has an exception.
By
Onónion


---
Is HarperCollins planning to reissue the HoMe deluxe series in a single slipcase? Or does anybody know something about this HoMe edition?

(photo comes from HC's "The Hobbit" Facebook page)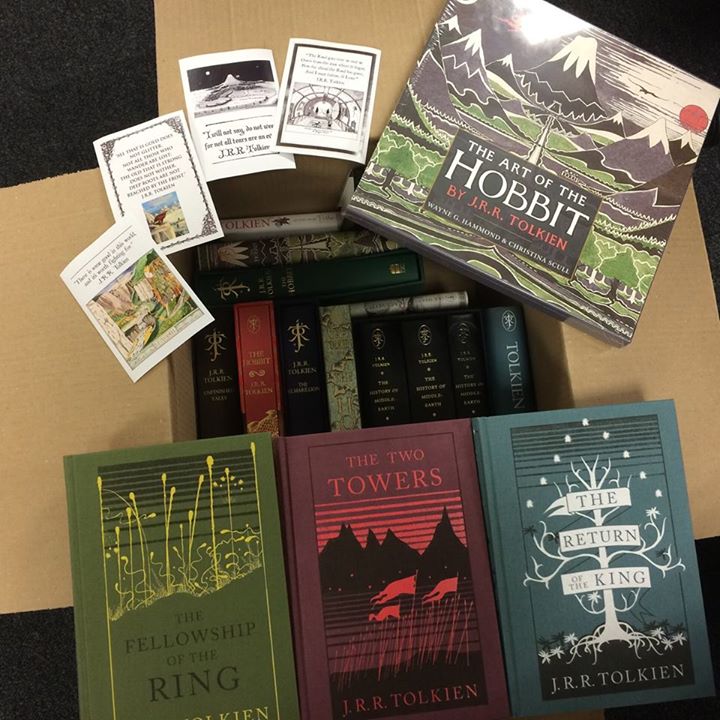 _________________
'Love not too well the work of thy hands and the devices of thy heart; and remember that the true hope of the Noldor lieth in the West, and cometh from the Sea'
1 ... 31 32 (33) 34 35 ... 116