By
Trotter


Dec 19, 2020
(edited)
2020/12/19 17:33:11 (GMT) Greenwich Mean Time, London, Dublin, Lisbon, Casablanca, Monrovia
---
On Line Auction that has some Tolkien Items
Lot 614: * Tolkien (John Ronald Reuel, 1892-1973).
Description


Tolkien (John Ronald Reuel, 1892-1973). English Writer, Poet, Philologist, and Academic. Autograph Letter Signed, 'JRR Tolkien', 1 Alfred Street, St. Giles, Oxford, 17 March 1920, to Miss Duncan, enclosing a 'mixed bag' of 50 possible examination questions on the Old English period and lamenting his general lack of time for anything, 'They are not intended to be models of clear questioning, but to suggest enquiries. The easily available critical writings that might help are all too few. I hope some time to make out something like a select bibliography, but I am enormously pressed for time this vacation...', neatly written in blue ink, light horizontal fold crease, 2 pp., small 8vo (14.5 x 11 cm), together with the 3-page folio typescript referred to, entitled 'Old English Literature Questions (miscellaneous)', with many annotations by Tolkien in his holograph, upwards of 37 words together with numerous minor emendations correcting mistyping and adding accents to various old English words, one annotation in an unidentified hand, a little creasing and marks to upper left corners where previously stapled, 3 leaves, 4to


Qty: (2)
Notes

This early letter was written 3 months before Tolkien was interviewed and ultimately appointed as reader in English language at Leeds University; a post that was later converted into a professorship.
Auction Link
Estimate: £2000-£3000 (GBP)
Sold for
£11500
The envelope is being sold separately for this item as part of Lot 630, sold for
£860
Auction Link
Lot 891: Tolkien (J.R.R.) The Hobbit, 2nd edition, 5th impression, 1951

Description

Tolkien (J.R.R.) The Hobbit, 2nd edition (5th impression), London: George Allen & Unwin, 1951, colour frontispiece, illustrations, map endpapers, top edge green, original green pictorial cloth, dust jacket, spine a little toned, a few small chips and tears, 8vo

Notes

A good copy of the 2nd edition, the 5th printing overall, and notable for the revisions by Tolkien to chapter 5, 'Riddles in the Dark'. As Tolkien was writing The Lord of the Rings he became aware of the inconsistencies in the character of Gollum, who originally was less demented and corrupted by his association with the Ring, and therefore at odds with his desperate obsession with the Ring in Lord of the Rings, hence the substantial revisions to chapter 5 in this present edition.
Auction Link
Estimate : £500-£800 (GBP)
Sold for
£1800Lot 897: Tolkien (J.R.R.) The History of Middle-Earth, 12 volumes, 1984-1996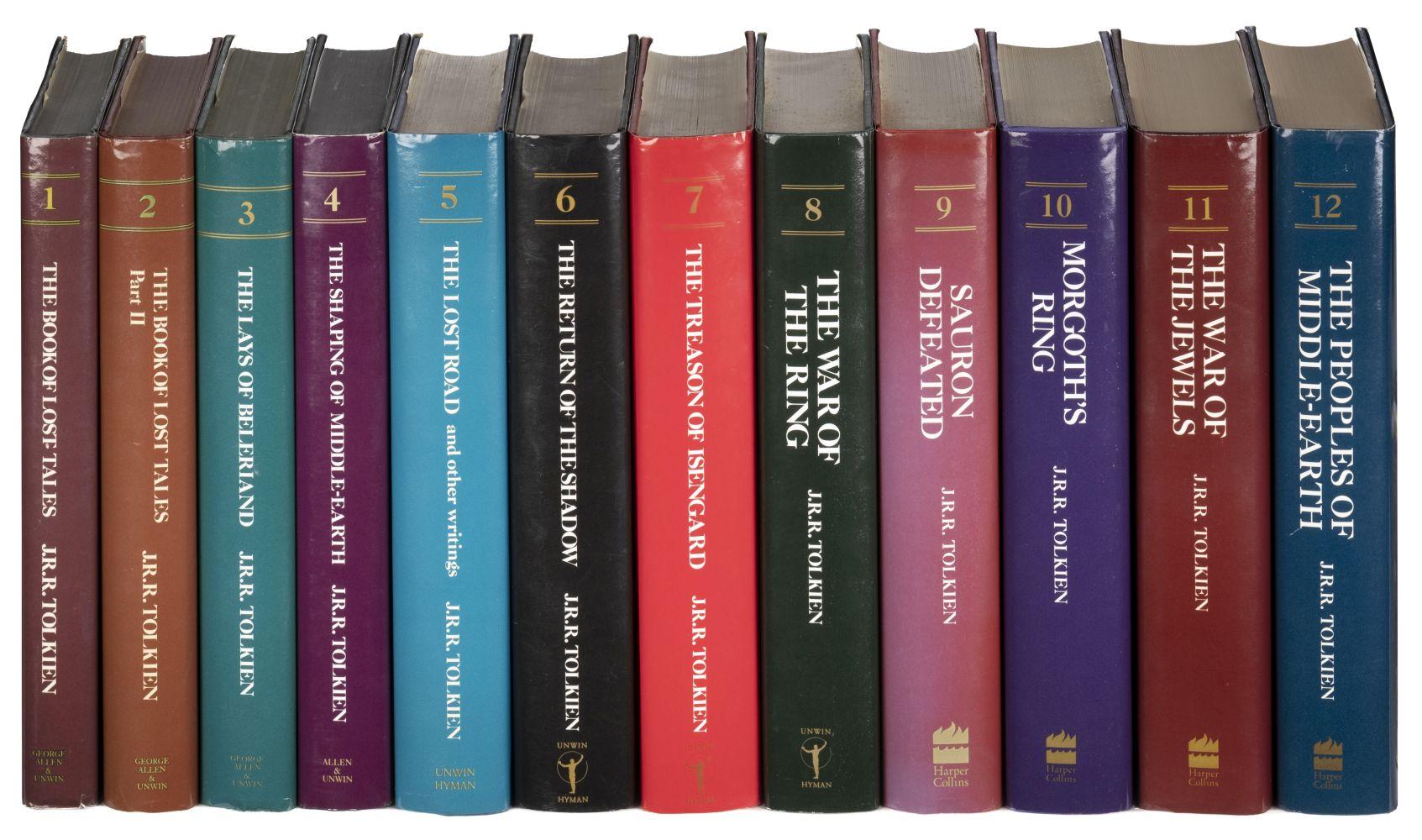 Description

Tolkien (J.R.R.) The History of Middle-Earth, edited by Christopher Tolkien, 12 volumes, London: George Allen & Unwin/Unwin Hyman/HarperCollins, 1984-1996, comprising volume 1 4th impression, volumes 2-12 1st editions, original cloth, dust jackets, printed price to front flaps of volumes 3 & 5-12, slight fading to a few spines, 8vo, together with duplicates of volumes 1, 2, 4 & 6-9 all 1st editions (except volume I, 7th impression, 1988)
Auction Link
Estimate : £300-£500 (GBP)
Sold for
£1000