By
Trotter


15 Sep, 2021
2021/9/15 15:18:14 (GMT) Greenwich Mean Time, London, Dublin, Lisbon, Casablanca, Monrovia
---
Lot 385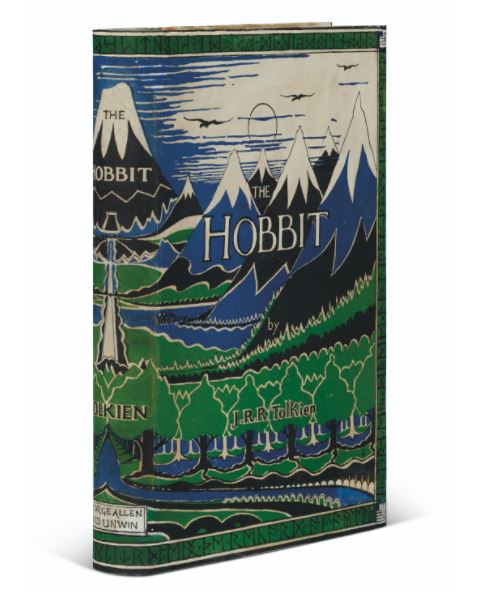 TOLKIEN, J.R.R (1892-1973). The Hobbit. London: George Allen & Unwin Ltd., 1937.

First edition, first impression of what was "the world's best-selling single work of fiction" (J.R.R. Tolkien, Life and Legend, p.45), until Harry Potter. "In this Tolkien invented an entirely new mythological race of 'hobbits' who, like their representative Bilbo Baggins, are solid, respectable, anachronistically English, and, as appears when Bilbo is sent off by the wizard Gandalf to help recover the lost treasure of the dwarves from the dragon Smaug, capable of unsuspected resource. The Hobbit began as an amusement for the Tolkien children, and reached print rather unexpectedly, a typescript of it having been shown to Stanley Unwin by a former pupil of Tolkien's. Once published, however, it was an equally unexpected success" (ODNB). This is the first state of the jacket, with the "e" in Dodgeson lined-through by hand on the lower flap. Currey 476; Hammond A3a.

Octavo. Original pictorial cloth, map endpapers; pictorial dust jacket, both after the drawings of the author (mild sunning to cloth; jacket restored at edges and folds with two small areas of the spine panel in facsimile, front flap with lower corner replaced where price-clipped); custom quarter morocco clamshell box.

Please note this lot is the property of a private individual.
Auction closes on the 17th September 10AM (EDT)
Estimate
USD 20,000-USD 40,000
Sold for
USD 68,750
https://onlineonly.christies.com/s/exc ... oN-zmQcNtUtZTRQRElYbU9OY0
Serious issues with the dust-jacket restoration have been pointed outLot 386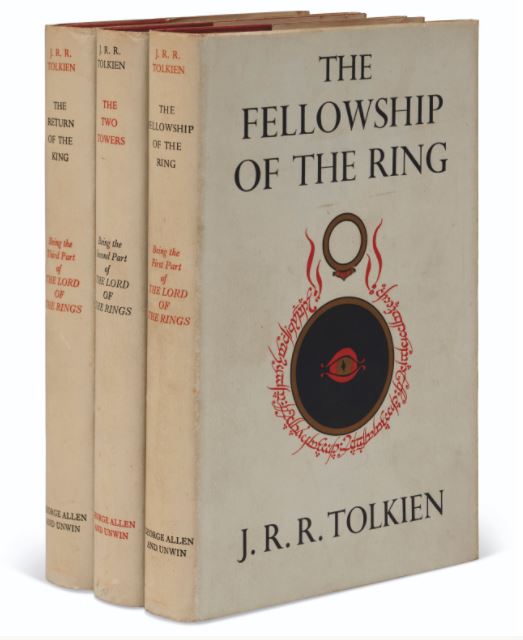 TOLKIEN, J.R.R (1892-1973). The Fellowship of the Ring. London: Allen & Unwin, 1954. [With:] – The Two Towers. London: Allen & Unwin, 1954. [And:] – The Return of the King. London: Allen & Unwin, 1955.

First edition of the greatest fantasy trilogy of the modern era. C.S. Lewis wrote of it: "no imaginary world has been projected which is at once as multifarious and so true to its own inner laws; none so seemingly objective, so disinfected from the taint of an author's merely individual psychology; none so relevant to the actual human situation yet so free from allegory." Tolkien, a noted scholar of Old English, conceived the idea for his tales set in "Middle Earth" while in the trenches of the First World War; its immense influence has been felt ever since. This copy is the second state of Return of the King, with the signature mark "4" present on page 49 and lines of type sagging in the middle. Hammond and Anderson A5.a.i-iii.

Three volumes, octavo. 3 folding maps after Christopher Tolkien, printed in red and black. (Minor foxing to text block and offsetting to endpapers.) Original red cloth (vol. 2 with faint soiling to front cover); pictorial dust jackets printed in red, black, and gold (spine panels a little toned, a touch of soiling along folds). Provenance: B.D. Tarr (ownership inscription to vol. 1) – Foyles's London (bookseller ticket to endpaper).

Please note this lot is the property of a private individual.
Auction closes on the 17th September 10AM (EDT)
Estimate
USD 12,000-USD 18,000
Sold for
USD 37,500
https://onlineonly.christies.com/s/exc ... ellowship-ring-386/126689