By
Trotter


8 Jul, 2022
2022/7/8 11:09:46 (GMT) Greenwich Mean Time, London, Dublin, Lisbon, Casablanca, Monrovia
---
Two upcoming auctions
19th July 2020 Books, Manuscripts and Music from Medieval to Modern
Lot 329
- J.R.R. Tolkien | Autograph letter signed, to Tony Hall, September 1968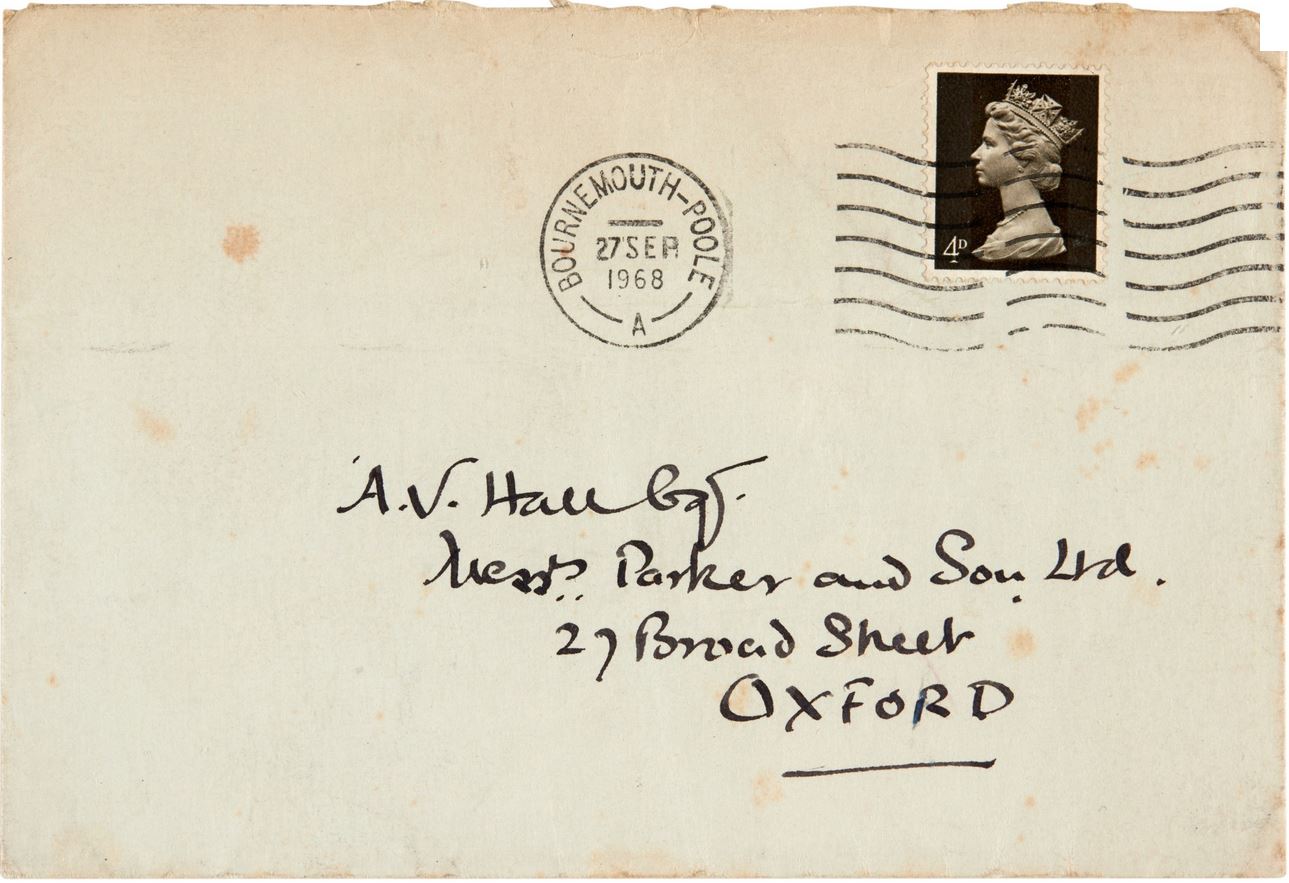 J.R.R. Tolkien

Autograph letter signed, to Tony Hall explaining that he no longer lives in Oxford for "some freedom from interruption and some time for writing", describing an accident and subsequent treatment for injuries that he sustained, providing his home address to the bookseller in confidence, concluding that although press and fans have "made my life impossible", he wishes to remain in retirement in the country, 2 pages, 8vo, Poole, Dorset, postmarked 27 September 1968, some minor creasing, light spotting to envelope


A TOUCHING LETTER WHICH GIVES AN INSIGHT INTO THE AUTHOR'S LATER LIFE.


Tony Hall was a bookseller working at Parker's Bookshop at Nos. 26 and 27 Broad Street in Oxford. The bookshop operated in Oxford from 1731 until 1993, when it was taken over by Blackwell's.
Estimate
1,200 - 1,800 GBP
Lot sold for
17,640 GBP
https://www.sothebys.com/en/buy/auctio ... etter-signed-to-tony-hall
July 21st 2020 Fine Books and Manuscripts, Including Americana. Part 2 (New York)
Lot 1104
- Tolkien, J.R.R. | "May the wind under your wings bear you where the sun sails and the moon walks"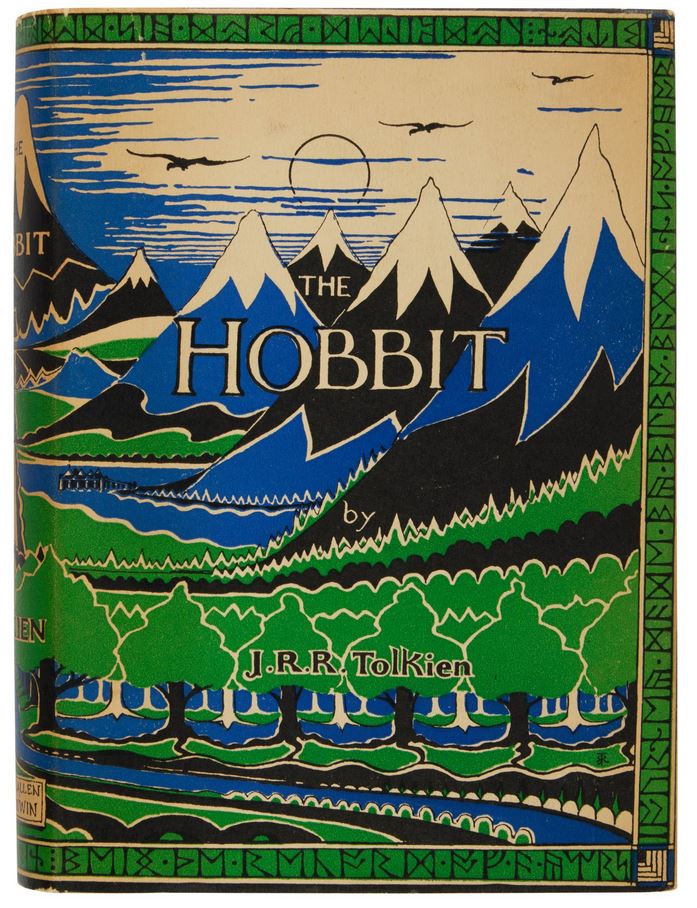 Tolkien, J.R.R.

The Hobbit or There and Back Again. London: George Allen & Unwin, Ltd., 1937

8vo (190 x 135 mm). 10 illustrations and cartographical endpapers in red and black by the author, 2pp. of publisher's advertisements at end; scattered light foxing. Publisher's illustrated cloth, after the author's designs, top edge green; spine slightly cocked, stray brown spots to cloth, edges foxed. Original pictorial dust-jacket after the author's design and illustrations, hand correction to rear flap denoting first issue; lightly toned, tiny nicks at head of spine and short closed tear at tail, short closed tear to front and rear panel each. Housed in a quarter leather folding case.

First edition, first issue of the first book in Tolkien's saga of Middle Earth. Tolkien began writing The Hobbit, or There and Back Again, as a Professor of English Language and Literature at Oxford University. Tolkien's creative perspective was born from a childhood spent briefly in South Africa and then rural England, a short but wretched tour during World War I, and an avid fascination with German philology.

Although it was originally billed as a children's book, The Hobbit attracted a varied audience and has been wildly popular since its initial publication. Tolkien built upon the tradition of fantasy literature developed by George MacDonald, Lewis Carroll, and the folk tales of Arabian Nights by inventing a new language—Elvish—and making it accessible for modern-day readers. Such creativity brought rave reviews for The Hobbit, which sold out its original print run of 1,500 copies three months after publication, leading the publishers to order more novels from Tolkien.

Author C.S. Lewis, fellow Oxford don and close friend, commented on this reception. "For it must be understood that this is a children's book only in the sense that the first of many readings can be undertaken in the nursery ... The Hobbit will be funnier to its youngest readers, and only years later, at a tenth or twentieth reading, will they begin to realize what deft scholarship and profound reflection have gone to make everything in it so ripe, so friendly, and in its way so true. Prediction is dangerous; but The Hobbit may well prove a classic."

An unrestored copy of this masterpiece of twentieth-century fantasy, rare in this condition

REFERENCE:
Hammond A3a
Estimate
50,000 - 70,000 USD
Sold for
88,200 USD
https://www.sothebys.com/en/buy/auctio ... d-under-your-wings-bear-2