By
Trotter


2 Aug, 2022
(edited)
2022/8/2 8:00:39 (GMT) Greenwich Mean Time, London, Dublin, Lisbon, Casablanca, Monrovia
---
Fine Books and Manuscripts
9 November 2022, 13:00 GMT
London, Knightsbridge
Lot 362
TOLKIEN (J.R.R.) The Lord of the Rings, 3 vol., FIRST EDITION, FIRST IMPRESSIONS, George Allen and Unwin, 1954-1955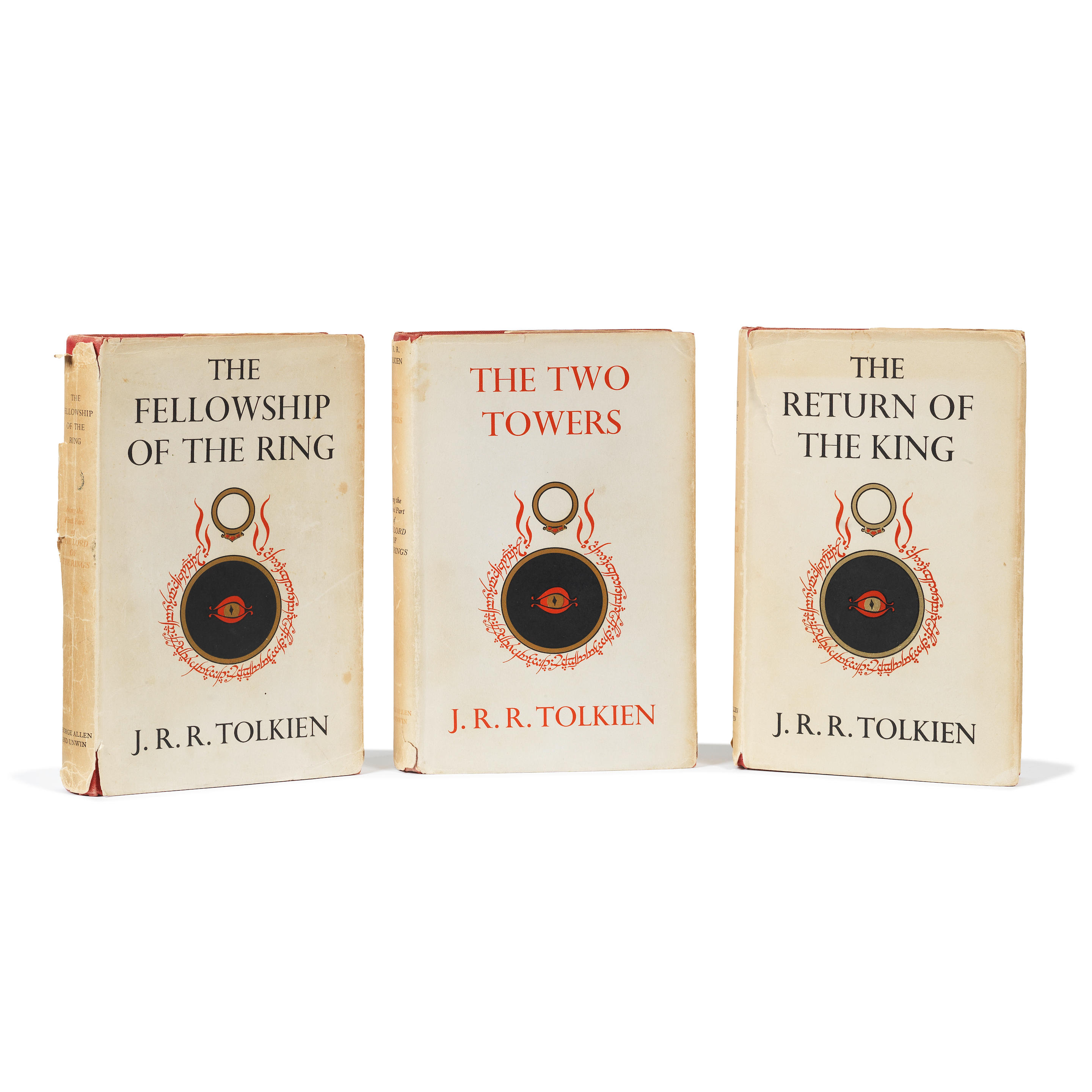 TOLKIEN (J.R.R.)
The Lord of the Rings, 3 vol., FIRST EDITION, FIRST IMPRESSIONS, without "sagging text" and signature mark "4" on p.49 of 'The Return', each with a folding map printed in red and black, bookseller's label ("Blackwell's, Oxford, England") inside upper cover of "The Fellowship", publisher's red cloth ('Fellowship' with small single damp spot on spine, 2 on lower cover and light white mark and pencil mark on upper cover), dust-jackets (unclipped, age soiling to spines, "Fellowship" frayed at spine extremities with small loss to lettering "J.R.R." at head, splitting at lower joint; "Two Towers" with short tear at foot of spine and small loss to blank head of spine, small old tape remnants inside cover at spine ends; "Return" with tear - approx. 65mm. to blank area of upper cover, spine ends frayed with small loss not touching text), 8vo, George Allen and Unwin, [1954-1955]

Footnotes

Provenance: Ian B. Bishop, inscription dated September 1954 inside upper cover of The Fellowship, and October 1955 inside upper cover of The Return. Bishop (1926-1990) studied Literature at Oxford University and was Barker Exhibitioner. Tolkien was one of his supervisors, and supported Bishop joining Bristol University, where he specialised in the teaching of Medieval literature; by descent to current owner.
Estimate
£15,000 - £20,000Sold for £19,125 inc. premium
https://www.bonhams.com/auction/27375/ ... llen-and-unwin-1954-1955/
Lot 363
TOLKIEN (JOHN RONALD RUEL(sic)) Autograph letter signed (Ronald Tolkien) to Rosfrith Murray (My dear Rosfrith), Merton College, Oxford, 29 April 1956

TOLKIEN (JOHN RONALD RUEL(sic))
Autograph letter signed ("Ronald Tolkien") to Rosfrith Murray ("My dear Rosfrith"), apologising for not replying sooner to her queries about Shakespeare and The Tragedy of Gowrie ("...far more to do than the hours of a 'day' will stretch to, even stealing from the night..."), expressing a lack of interest in drama ("...I am thankful that it doesn't come under the official cares of my 'chair', which stop being 'literary' with the Middle Ages..."), but promising to find an expert such as F.P. Wilson to help her if he remembers, ending "...I can only say that I am glad that James was unsuccessful in his efforts to extirpate the Ruthvens...", 2 pages, dust-staining and marks, creased at fold, 8vo (175 x 115mm.), Merton College, Oxford, 29 April 1956

Footnotes

'I KNOW NOTHING (OR NEARLY NOTHING) ABOUT THE STAGE': TOLKIEN ON DRAMA.

Despite professing in this letter to his good friend Rosfrith Murray that he has no interest in drama or indeed Shakespeare, Tolkien is known to have enjoyed frequent visits to the theatre, and wrote and took part (supposedly enthusiastically) in family theatricals. Whilst it is generally agreed that he preferred literature to the performing arts as an art form, a recent discovery earlier this year in the BBC archives shows that shortly after the publication of The Lord of the Rings he was in fact actively involved in Terence Tiller's first radio dramatization of the Tolkien trilogy which was broadcast in 1955 and 1956. Scripts hitherto thought lost clearly show annotations and amendments in Tolkien's hand, demonstrating, as Catherine McIlwaine writes '...he was willing to work with the scriptwriters, to abridge the text and adjust the balance of narration and dialogue, so that it fitted the requirements of radio and the limited time available...' (Ed. Ovenden, R., McIlwaine, C., The Great Tales Never End: Essays in Memory of Christopher Tolkien, due June 2022).

The recipient of our letter, Rosfrith Murray (1884-1973), was the fourth daughter (and ninth child) of lexicographer and celebrated founder and editor of the Oxford English Dictionary Sir James Murray. She worked closely with her father and met Tolkien in November 1918 when he joined the staff as an assistant lexicographer, developing a close and lifelong friendship. Her mother was a Ruthven, of the Earls of Gowrie, whose story was the subject of much of her time and research. Tolkien here responds to Rosfrith's request for advice on The Tragedy of Gowrie a play performed by Shakespeare's company in 1604 concerning the eponymous Earl's plot to kill the King of Scotland. The play was withdrawn after two performances but supposedly inspired Shakespeare to write his own Scottish play of 1606. This letter is not published in The Letters of J.R.R. Tolkien: A Selection, 1981.
Estimate
£2,000 - £3,000Sold for £4,462.50 inc. premium
https://www.bonhams.com/auction/27375/ ... ege-oxford-29-april-1956/
TCG Letters Page
-
https://www.tolkienguide.com/guide/letters/245