The Hobbit LP original limited edition Numberd
(1)
2
3
---
I am wondering if anyone knows the approximate value of an original limited edition numbered copy only 100 were made, of the Hobbit LP. My father had left me this album that I remember listening to as a child, and am just curious as to the approximate value. It is in almost mint condition, all 4lp's are mint, insert book is mint, outside album sleeve has a small scratch on it. any ideas?
---
I'm assuming that it is the same LP's as this set on eBay, but not aware that there was a limited version, which would add to the value.
The problem as you are no doubt aware with audio is that you need the right equipment to play it, I wonder how many people still have a working vinyl record player?
http://cgi.ebay.co.uk/TOLKIEN-Hobbit- ... cords&hash=item1c192a0ba3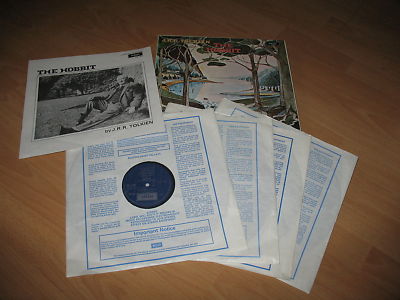 By
garm


---
Well done for finding that, Trotter.
I have a copy myself, of course- like you, I wasn't aware that there was a numbered edition. I have several old Tolkien -related LPs, and fortunately, am still able to play them on my old midi - hi-fi system.

---
I saw that one of Ebay, and it is similar except for the limited number. I have number9 of 100 issued.... can't seem to find anyone who can give me an approx value... Thanks for the post reply!

---
Can you add a picture of the limitation to this post?
(1)
2
3