1 ... 118 119 (120) 121 122 ... 320
By
Khamûl


---
Surprise surprise --it's
alan-53
!
This sellers listings are really quite funny. The items sold, in general, I don't have a problem with; the prices are a little on the high side; but the listings themselves are full of garbage.
I have been collecting books and music items for over 35 years and have amassed an enormous collection with many duplicates. I do not subscribe to "grading" as it is so subjective and most of the "graders" truly have no clue! Therefore I'll simply describe things in normal English!
Some pictures of the item would save everyone the bother. The seller then goes on to describe the book as "GOOD", as if this doesn't have any context in the grading of books. If they don't subscribe to grading, avoiding bookgrading terms would be a good place to start.
This is a vintage softcover book in extremely GOOD condition. The cover has come partially away from the spine in a few spots but there are no loose pages and the rest of the binding is solid. Other than that the book shows very minimal shelfwear from handling. As mentioned above, this is a stated First Printing from 1969. Don't pass this one up as you may never see it again!
As
garm
points out: you'll easily "see" this again. Ironically, the book does sound like a bookgrading "Good", what with the cover partially coming away from the spine. But without pictures all of this is pretty useless anyway.
For over a decade, I have sold tens of thousands of items on eBay and have only received a handful of complaints about the accuracy in my descriptions...
With descriptions like...
Not the Exact Book but Exact Same Cover for Reference
it's hard to argue one way or the other!

BH
_________________
You drive a hard bargain – you can have it for £10 all-in – one consolation (for you) is that you do not have to hear the cries of my children, for bread...
By
Trotter


---
He has taken out the old nonsense about how some dealers describe books as rare, when they are not, pots and black kettles come to mind.
---
It's not even as if this is the first publication of these poems of Tolkien's - goodness knows what the level of hype would be, if he ever got hold of a copy of 'Winter's Tales for Children'.
By
Urulöké


---
And now for something completely different.
Hobbit related cufflinks might actually be cool, done right. These, however, make me feel like zombie Hobbits are going to come out of my basement and try to eat my brains...
**AWESOME** Sterling Silver The Hobbit Book Cufflinks - FREE SHIPPING and BOX
$89.82
End Date: Friday Jul-6-2012 3:54:48 PDT
Buy It Now for only: $89.82
_________________
- Jeremy
---
Someone has an odd notion of what constitutes 'fine condition'.
http://www.ebay.com/itm/The-Fellowshi ... ks_UK&hash=item19d28878cd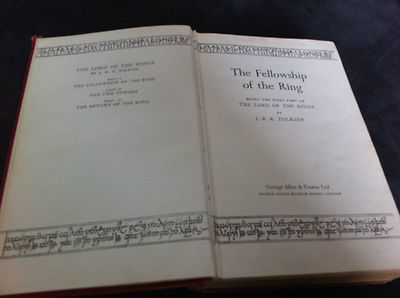 1 ... 118 119 (120) 121 122 ... 320