Looking for info on map/poster
1
2
(3)
4
5
---
_________________
- Jeremy
By
garm


---
I've got my set out, and given them the once-over. Here's what I found:

Treebeard: 53cm X 72.5cm. Signed 'Simon Garbutt '70'

Gollum 58.5cm X 66cm neither signed nor dated, but has 'No.1 of 'The Hobbit' series' and also 'Distributed in the UK by Instore Marketing Services, 217-218 Tottenham Court Road, London W1'.

'Bilbo' 56.5 X 66cm. Neither signed nor dated; has 'No.2 (or possibly 3) in the series'

Shadowfax: 57X72cm. 'No.4 in the series'. There is a full signature, which I can't make out. It's the same artist as the one who did Gandalf. See below. Dated "'70"

Gandalf:56.5 X 72cm. signed "d. de S. Pernes, '69'
---
Back on the original thread, Fangorn has posted two Barbara Remington posters on eBay now - Come To Middle-earth and the Map of Middle-earth.


_________________
- Jeremy
---
And thanks Garm for all the additional info! I have
updated the Guide page
with what you provided. Now need to find a picture of the Bilbo poster to complete the 'set'.

_________________
- Jeremy
By
Trotter


---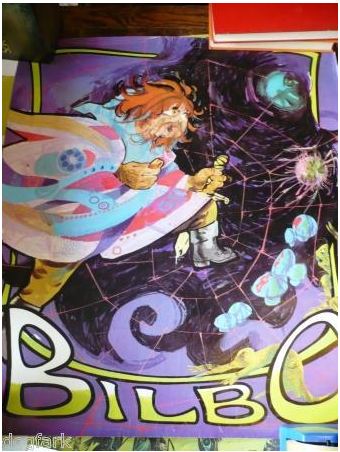 1
2
(3)
4
5