Looking for info on map/poster
1
(2)
3
---
_________________
- Jeremy
---
I've got my set out, and given them the once-over. Here's what I found:

Treebeard: 53cm X 72.5cm. Signed 'Simon Garbutt '70'

Gollum 58.5cm X 66cm neither signed nor dated, but has 'No.1 of 'The Hobbit' series' and also 'Distributed in the UK by Instore Marketing Services, 217-218 Tottenham Court Road, London W1'.

'Bilbo' 56.5 X 66cm. Neither signed nor dated; has 'No.2 (or possibly 3) in the series'

Shadowfax: 57X72cm. 'No.4 in the series'. There is a full signature, which I can't make out. It's the same artist as the one who did Gandalf. See below. Dated "'70"

Gandalf:56.5 X 72cm. signed "d. de S. Pernes, '69'
_________________

---
Back on the original thread, Fangorn has posted two Barbara Remington posters on eBay now - Come To Middle-earth and the Map of Middle-earth.


_________________
- Jeremy
---
And thanks Garm for all the additional info! I have
updated the Guide page
with what you provided. Now need to find a picture of the Bilbo poster to complete the 'set'.

_________________
- Jeremy
By
Trotter


---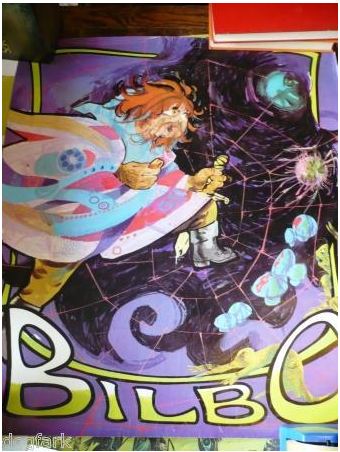 ---
Thanks Trotter!
_________________
- Jeremy
---
Just had a word with Charles (Noad). I'd asked him what might be the connection between these posters and Archie Mercer's 'Middle Earthworm'. He toddled off to look them up in his files, then got back to me.
Seems there was a letter in M.Ew no. 8, March 1970, where a correspondent asks whether anyone else has seen these Hobbit posters from the USA. Gandalf, Shadowfax etc. Her dad had bought her the Gandalf one. Cost ten shillings (50p in today's money) which she thought was a lot.
Charles also pointed me to another UK newsletter; Belladonna's Broadsheet no.3, (June 1970, p.6), in which the founder of the Tolkien Society Vera Chapman (a.k.a. Belladonna Took) mentions having seen these posters at an almost legendary London retail outlet called 'Dark They Were, and Golden-Eyed'. Bella wasn't sure she'd like to have Gollum staring at her all day. Gandalf, she felt, was a more benign presence, but the picture is let down by poor drawing skills. (paraphrase).
So, there we are - no real connection between these posters (prob. of American origin) and Archie Mercer's 'Middle Earthworm', beyond the fact that they're mentioned once or twice.
Seems to me we could just as easily refer to them as the 'Belladonna' posters.

_________________

By
FANGORN


---
HOEMM IF YOU ARE LOOKING THEM :
Posters (Lord Of The Rings and The Hobbit).
Tolkien, J.R.R.
Bookseller: Nigel Williams Rare Books, ABA, ILAB
(London, United Kingdom)

Bookseller Rating:

Quantity Available: 1
Book Description: 1969-70., 1969. Four posters depicting characters from The Lord Of The Rings and The Hobbit. The two (slightly smaller) Hobbit posters are of Bilbo (clutching the One Ring and brandishing Sting in the centre of a large spider's web) and Gollum (crouched beneath an archway of stone, gnawing on a fish). The two Lord Of The Rings posters feature Shadowfax rearing on the banks of a raging torrent, and Gandalf standing before the gates of Moria. Some very slight creasing to edges of "Gollum" poster, otherwise the set is bright, colourful and extremely attractive. All of our books are first edition (UK) unless described otherwise. Bookseller Inventory # 45637
Price: US$ 2347.46
_________________

---
Thanks Garm! I will be fixing the page references and links to tidy up a bit later today I think.
And thanks as well Fangorn - for those interested, here is a link to Nigel Williams' internet presence:
http://www.nigelwilliams.com/booksearch
They use ILAB for their online catalog, and I have not figured out how to get a static link to a single catalog item at this time - you will have to use the search box on the link above to find the posters (they have a lot of Tolkien material right now, so it is well worth a browse if you have the time).
_________________
- Jeremy
By
Audax


---
Just stumbled over this thread.

I have the whole set of these posters. They have been gathering dust in their sealed containers for decades.

I bought them at a poster shop in Coventry back in the early 70s as a young teenager. The shop was 'Head in the clouds', I doubt it is still there!
1
(2)
3