M. Blackburn 'Middle-earth Map' Poster
(1)
2
3
---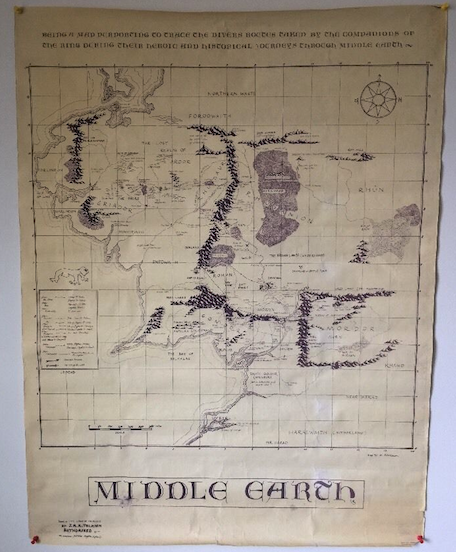 ---
From the Beyond Bree "List of Tolkienalia" (1992), page 22:

"MIDDLE EARTH": top, "BEING A MAP PURPORTING TO TRACE THE DIVERS ROUTES TAKEN BY THE COMPANIONS OF/ THE RING DURING THEIR HEROIC AND HISTORICAL JOURNEYS THROUGH MIDDLE EARTH -". Center - map. Bottom, "MIDDLE EARTH"; left corner, "Based on THE LORD OF THE RINGS/ BY J.R.R. TOLKIEN' AUTHORISED by -/ The American Publisher Houghton Miflin [sic] Co."; right corner, "Bruin Inc, Publisher/ 342 Madison Ave, N.Y., N.Y."; 3-color, no date, 30x40".

The footnote says that there is a photocopy of one in the Hunnewell collection. I can inquire if he remembers anything else about it, if you like.
_________________
- Jeremy
---
_________________
- Jeremy
---
Thanks
Urulöké
! Much appreciated!

Yeah, if it's not too much trouble, I'd be very grateful if you inquire.
---
I asked, he will try to get back to me soonish (maybe a week or so). He did have a good suggestion to dig deeper into the Yellowskin books of Tolkien fanzine history, where I found a tantalizing mention was made in "Green Dragon" issue 4 in March 1968. I checked my copy, which discussed the TSA maybe getting a map poster (very large, multi color) that shows the routes of the Fellowship. Sounds like a match, but not 100% definitive. Still, as the first mention of a map poster like this, it seems likely it did *not* exist in 1966 - late 1967 or early 1968 seem more probable.

I will hopefully have more info.
_________________
- Jeremy
(1)
2
3