By
AndyBirdUK


16 Sep
2023/9/16 9:25:04 (GMT) Greenwich Mean Time, London, Dublin, Lisbon, Casablanca, Monrovia
---
Following on from my articles about the UK Royal Mail Lord of the Rings 50th Anniversary Stamps, this is an addendum of additional details I have subsequently found. Please note that I have also updated the original articles with these details as well.
Original articles:
Introduction
Covers Part 1
Covers Part 2
Covers Part 3
First is a set of Royal Mail covers with single stamps on each cover and corresponding Myth & Magic postmarks.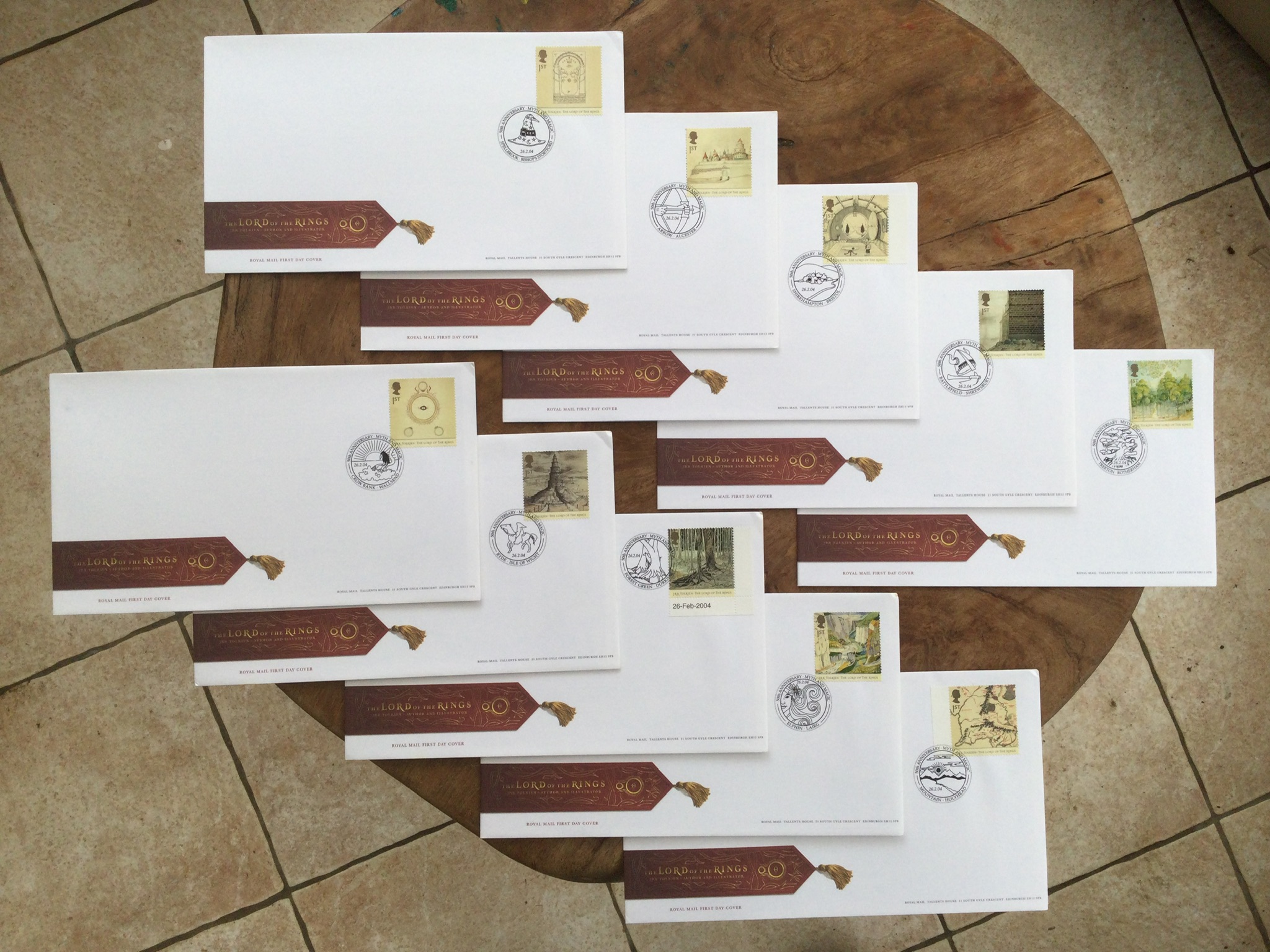 Next are some additional examples of Cotswolds covers, these are new images of all the Cotswold covers identified.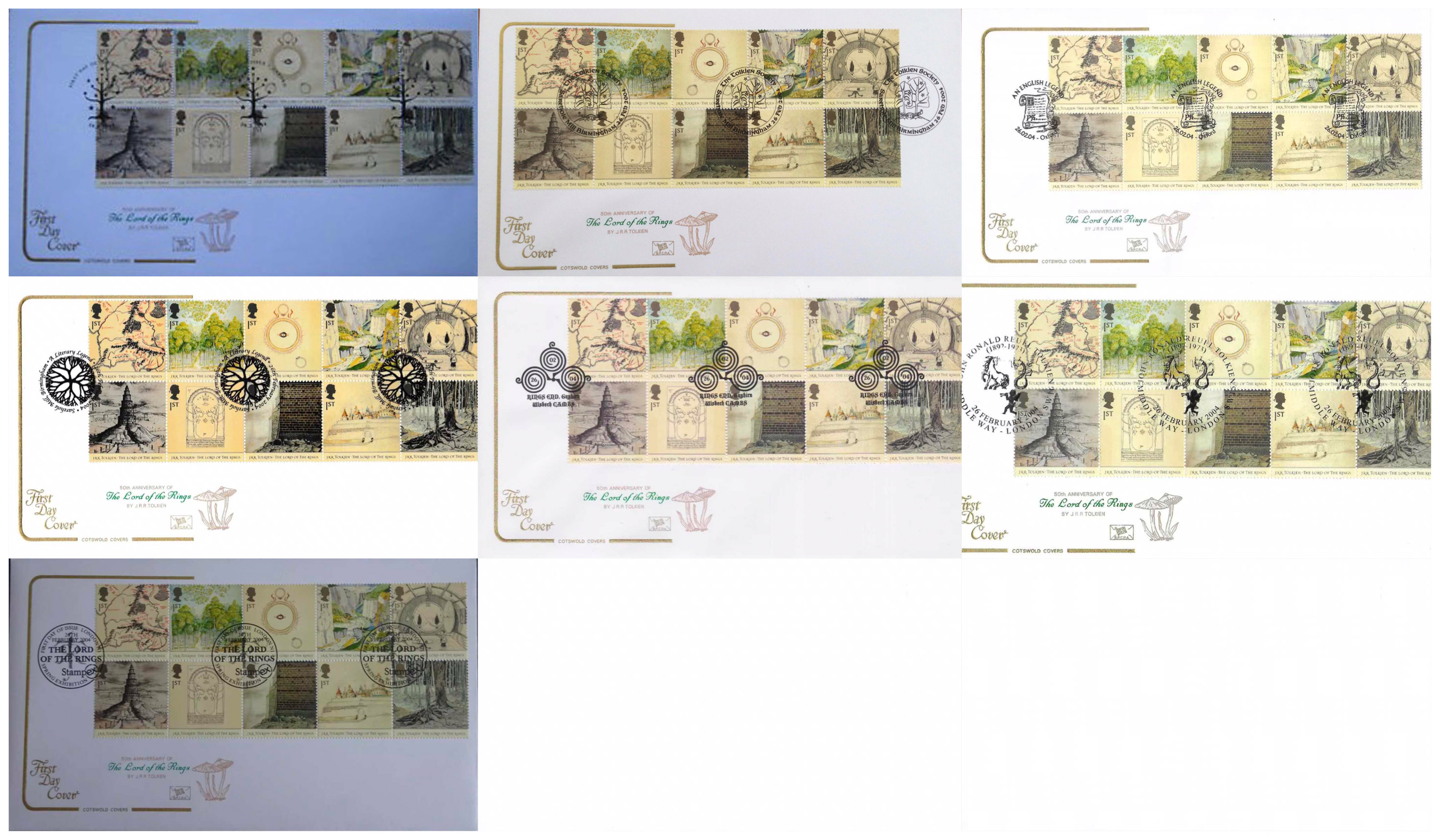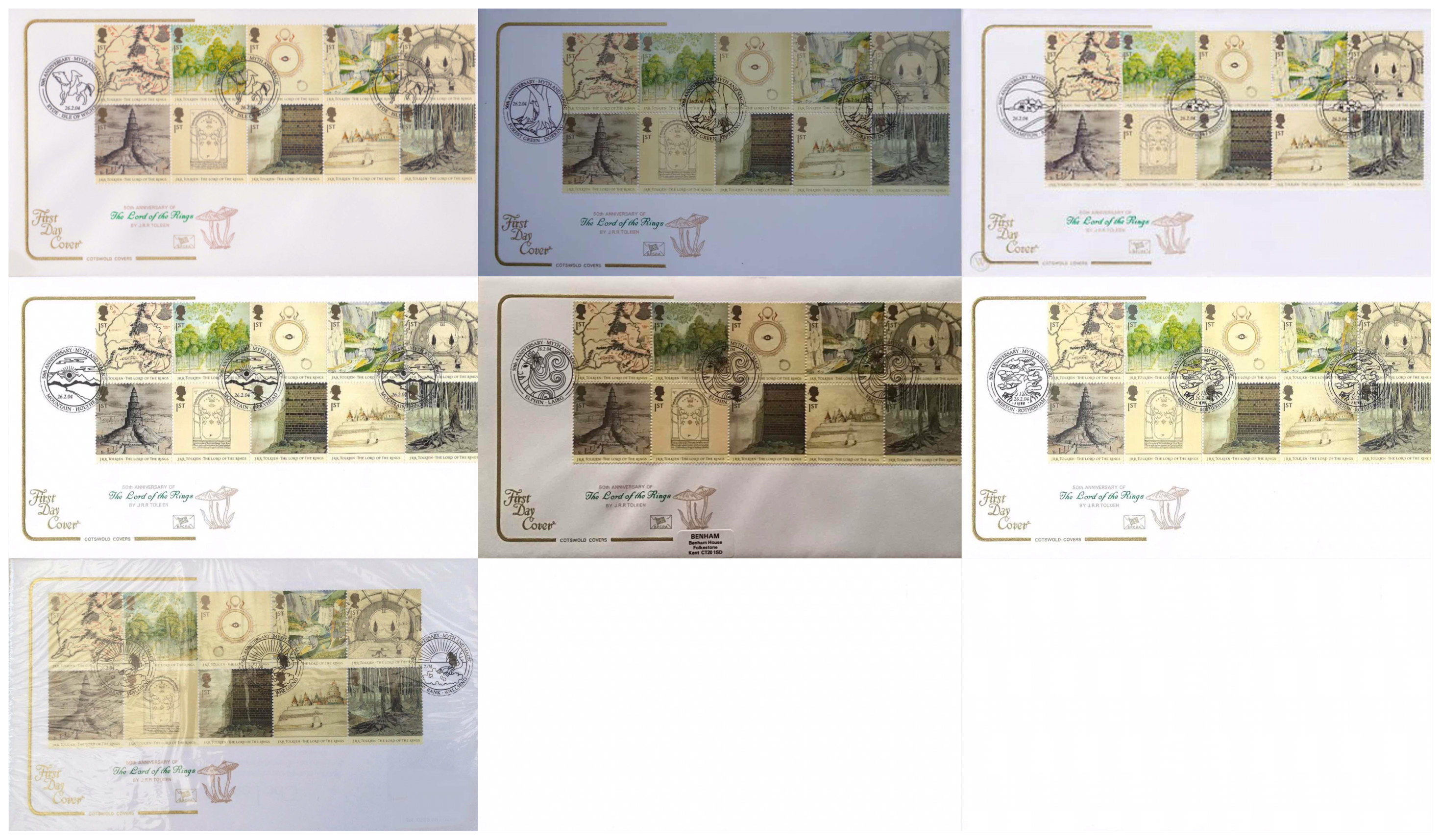 Next are some additional examples of Stuart covers, these are new images of all the Stuart covers identified.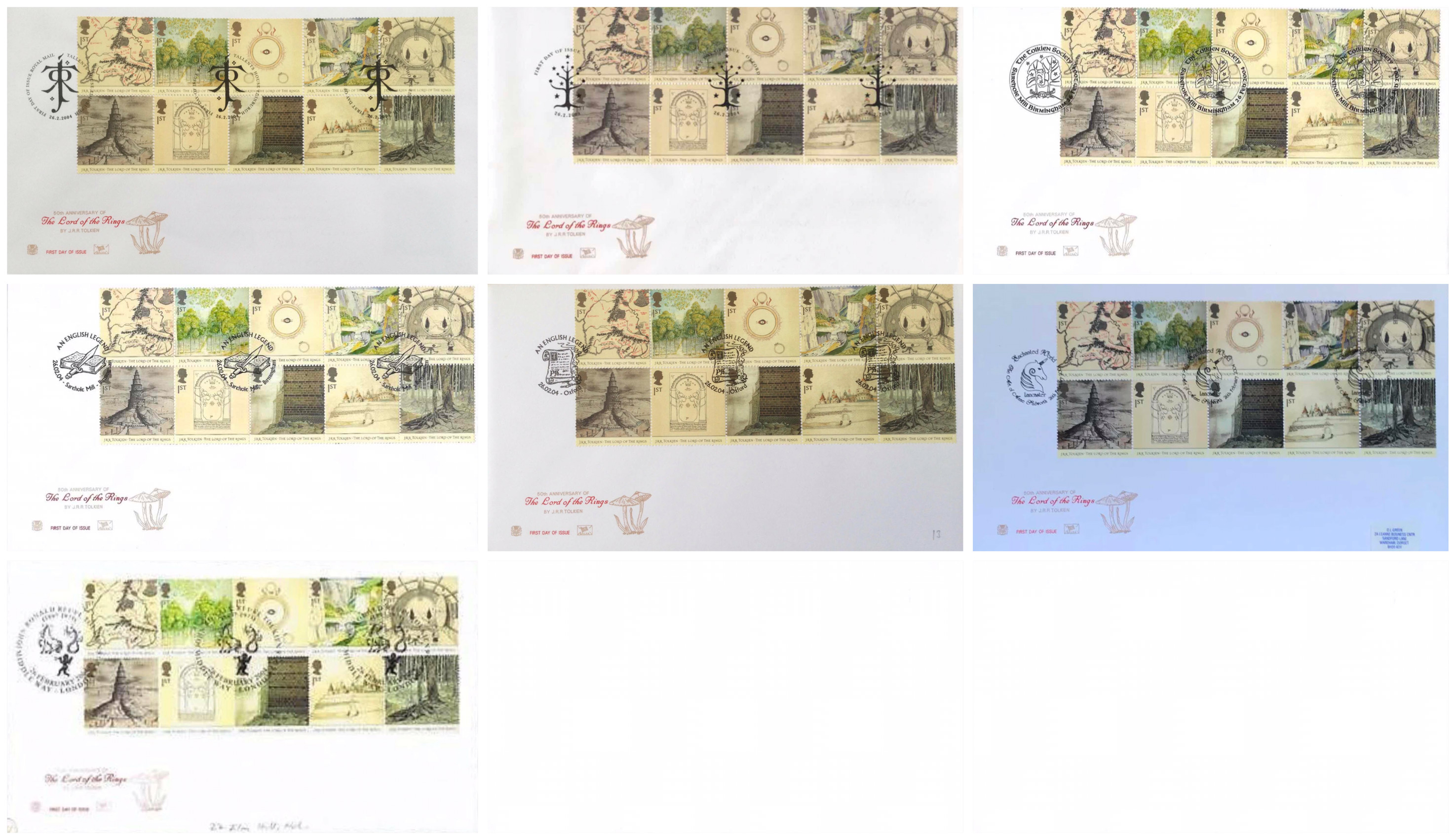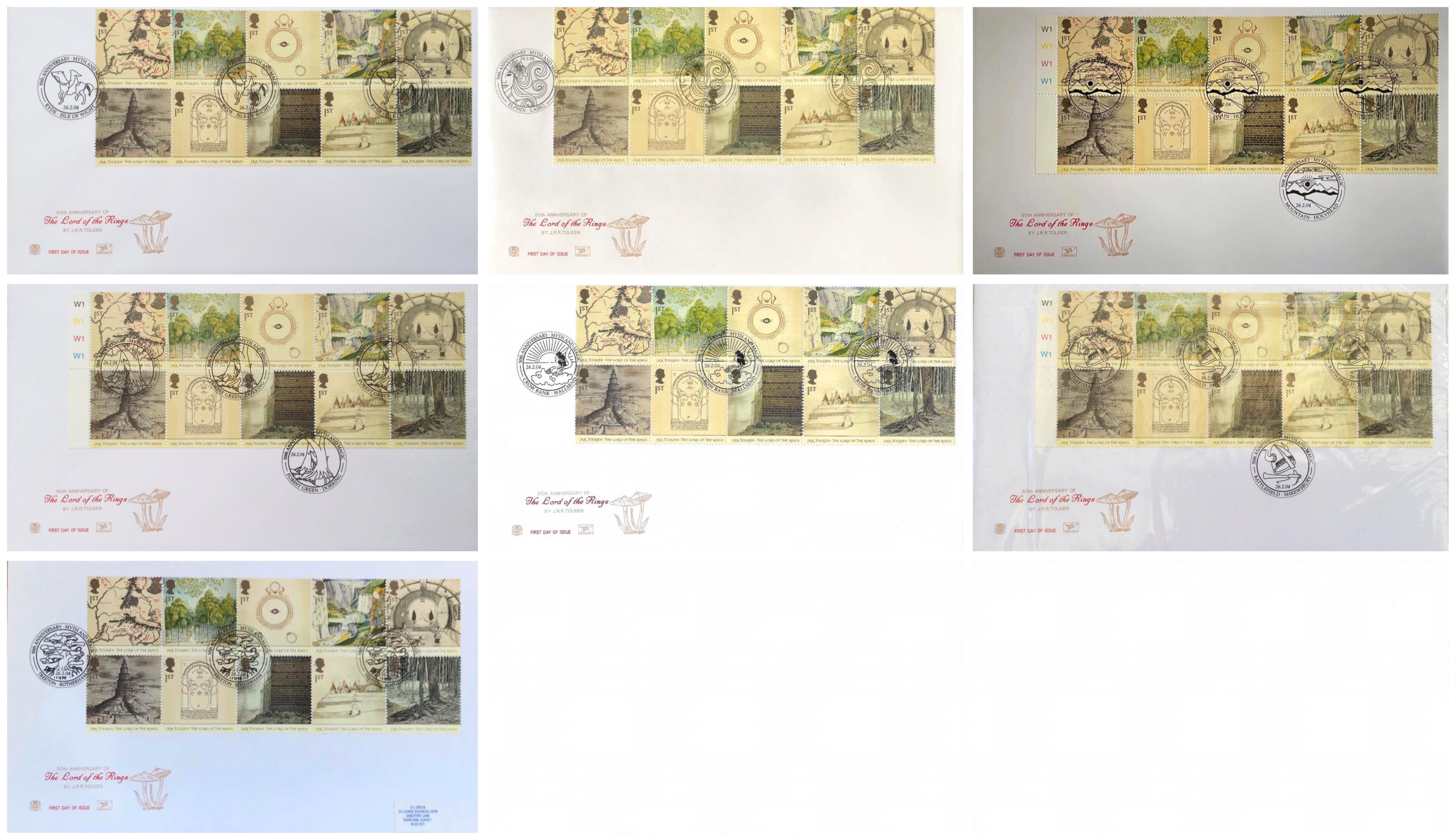 Next is the 3rd variation of the Eagle and Child covers. Here is an image of all three variations.

Next I found out that the Westminster stamp organisation produced 3 covers in their 3 Literary Legend series (I originally had 2 of these as independent covers).
The first Westminster cover is a Tolkien related cover in their Literary Legends Pallet series. It features Tolkien art by artists David Roberts with a Literary Legend Sarehole Mill Birmingham Art Pallet Postmark. It is a limited edition of 450 and signed by the artist.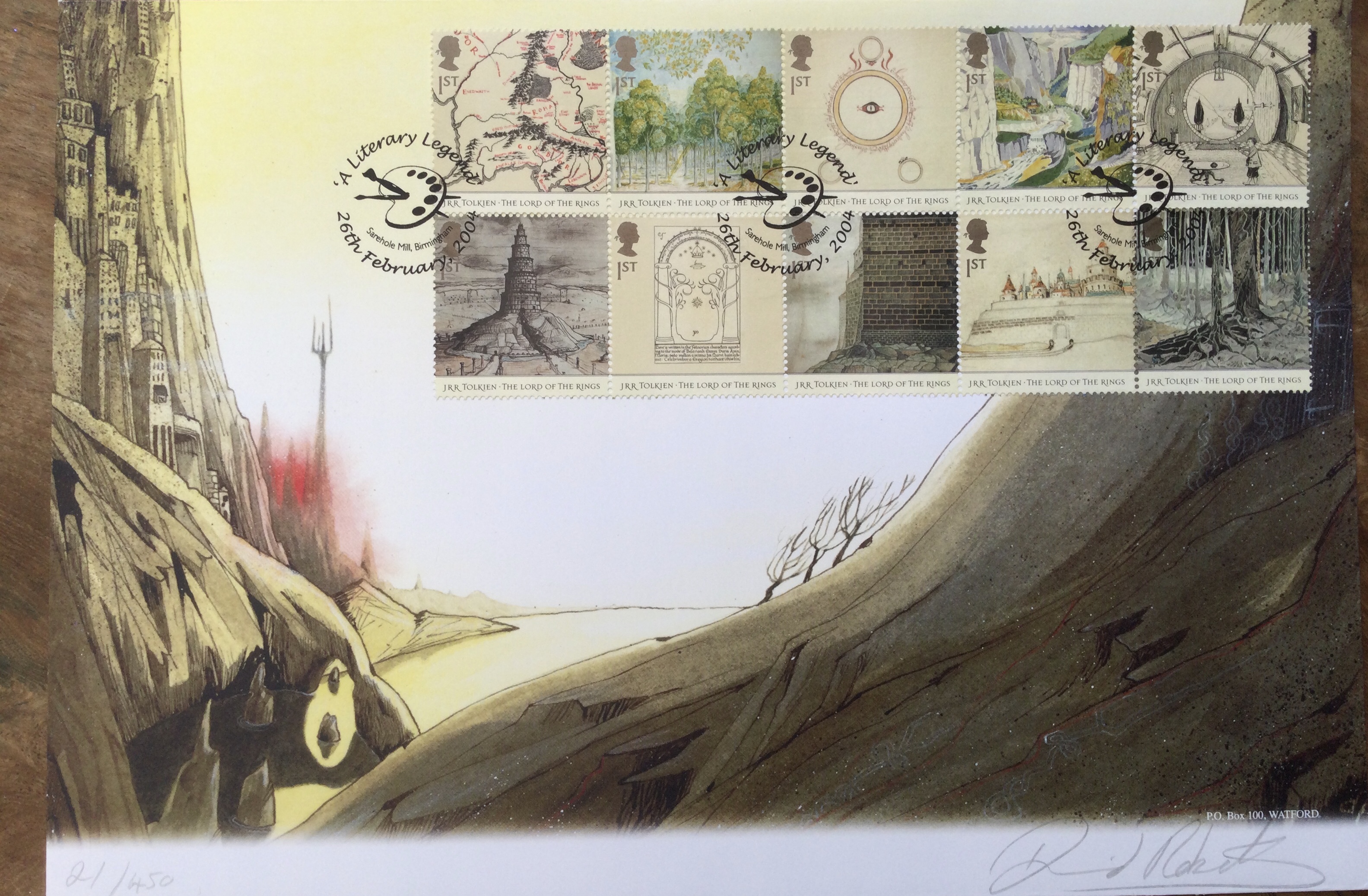 The second Westminster cover is not specifically a Tolkien related cover but has a fairly generic Forest image, it has a Literally Legend Sarehole Mill Birmingham Flower Postmark. The cover also includes a silver library UK 50p proof coin. It was limited to 500 numbered copies.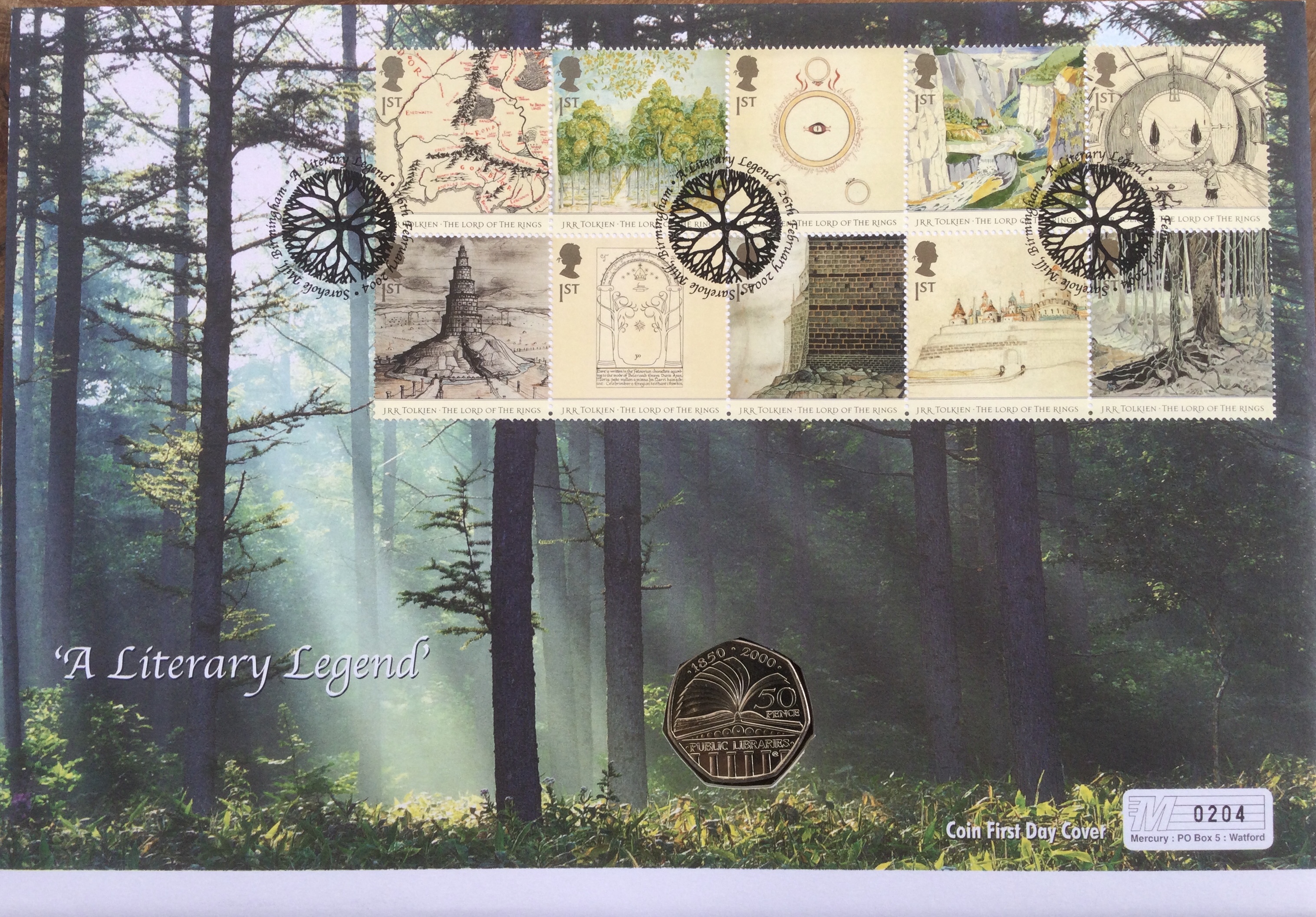 The third Westminster cover is is not a Tolkien related cover, it is a Ray Mears Autographed cover with an exclusive Literary Legend Autographed Edition Sarehole Mill Postmark.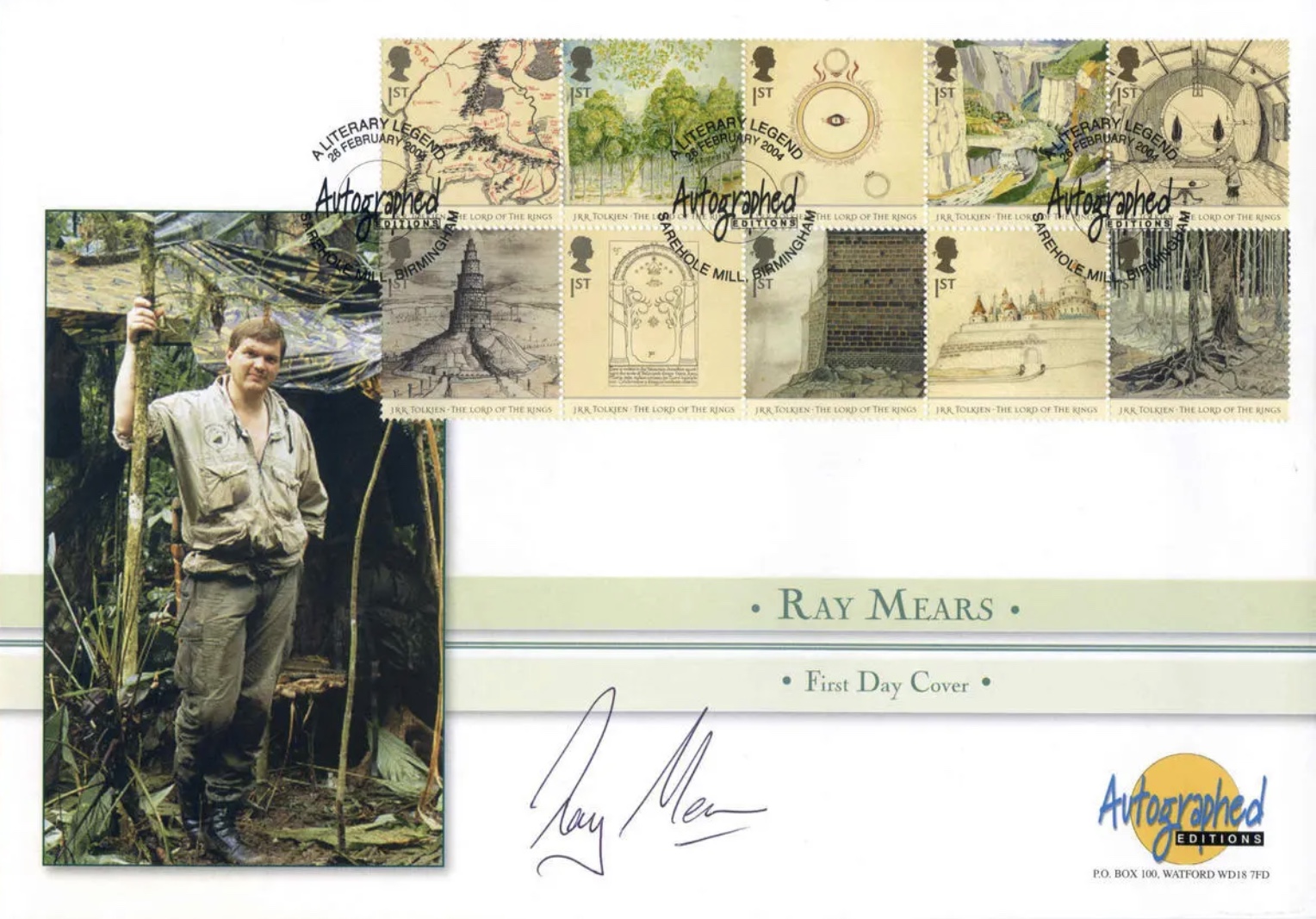 Next I found 2 additional versions of the Bradbury Enchanted Worlds covers. Additional to the originally identified Artist signed version, there is an unsigned version limited to 1000.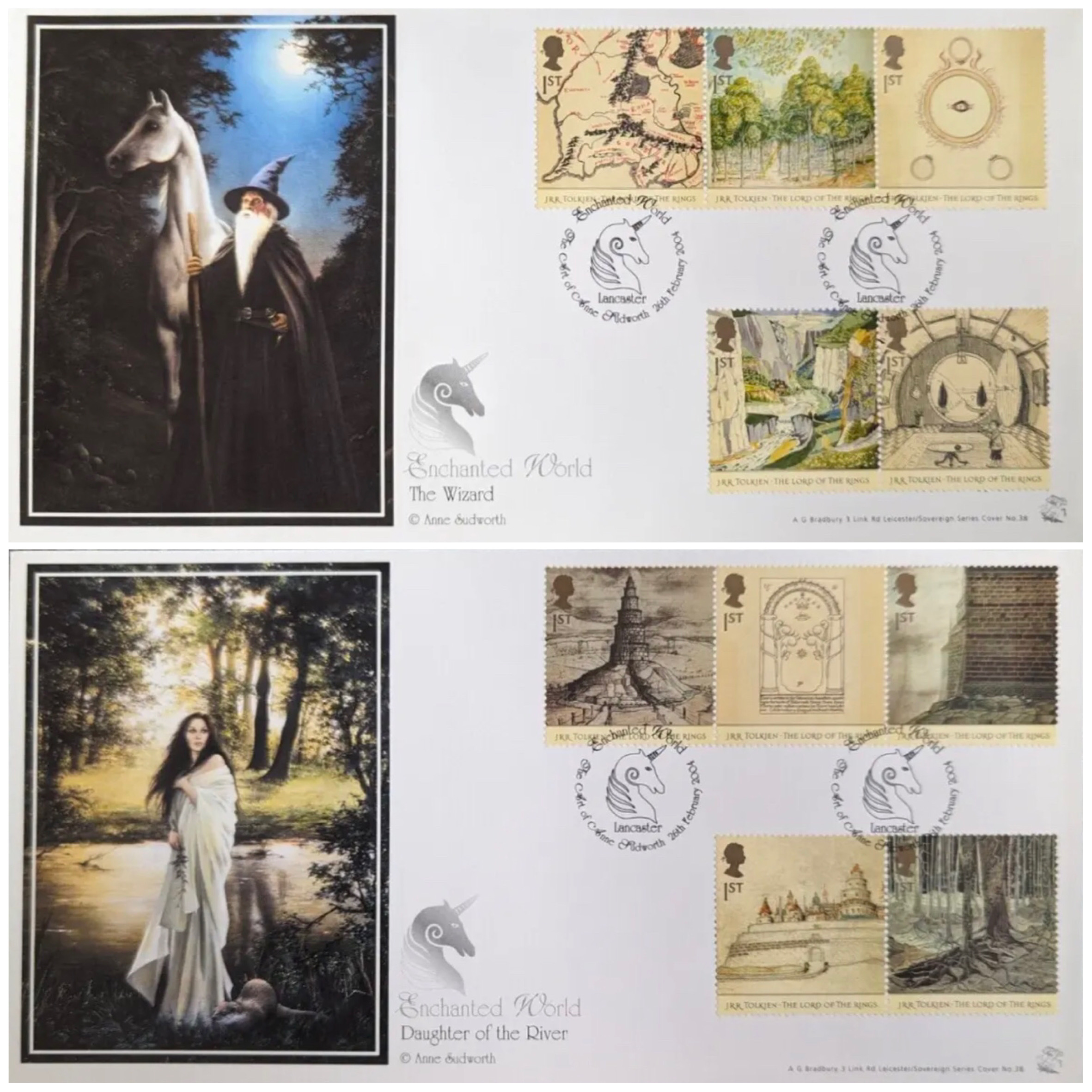 There is also a version signed by by Ian McKellen, which was limited to 175 copies. The 2 covers in this version are both featuring the wizard image.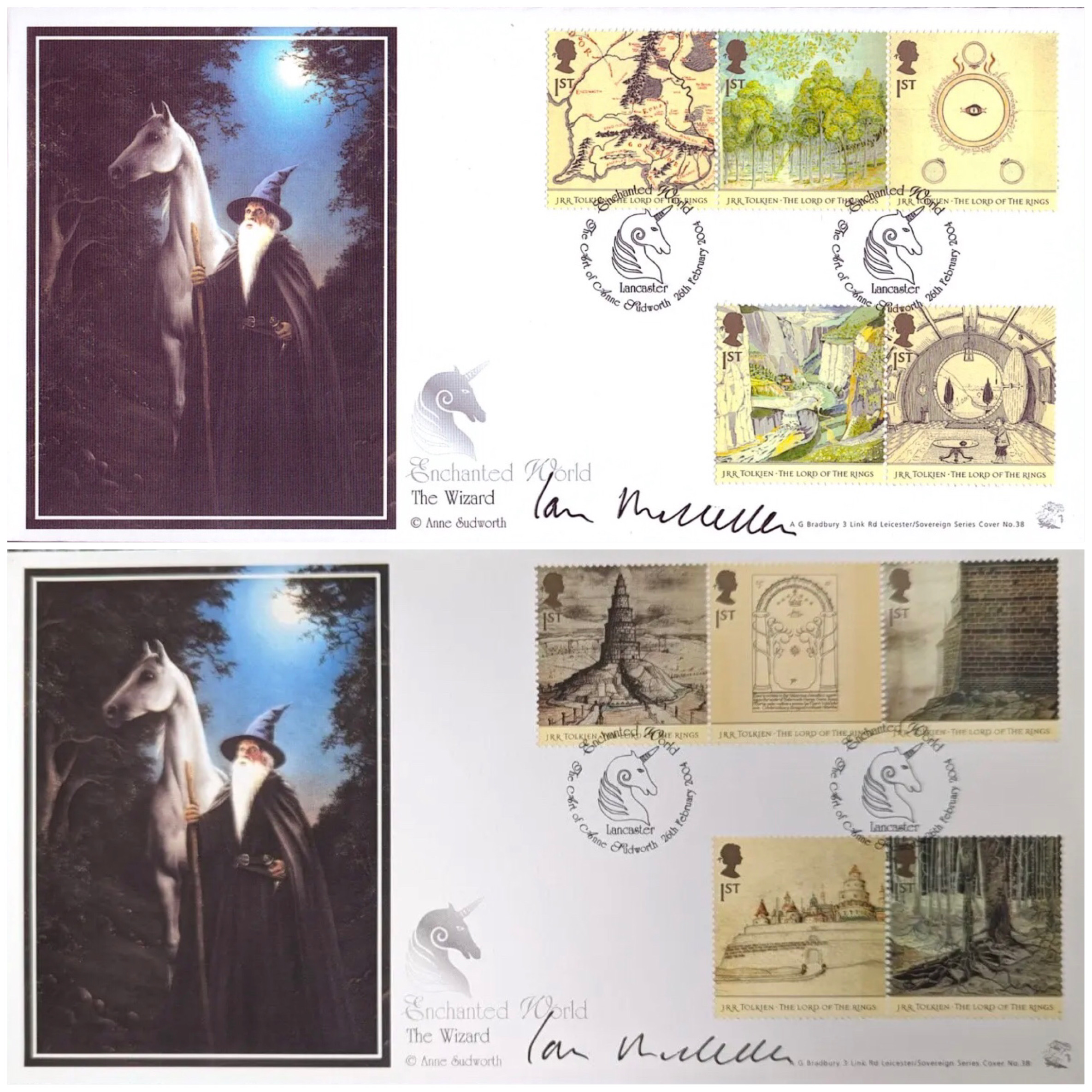 I also came across a couple of ad-hoc items.
The first is a cover sent out by a company as a company promotion to some of their clients. This Dermal cover has halve the set of stamps on it and the official Oxford postmark.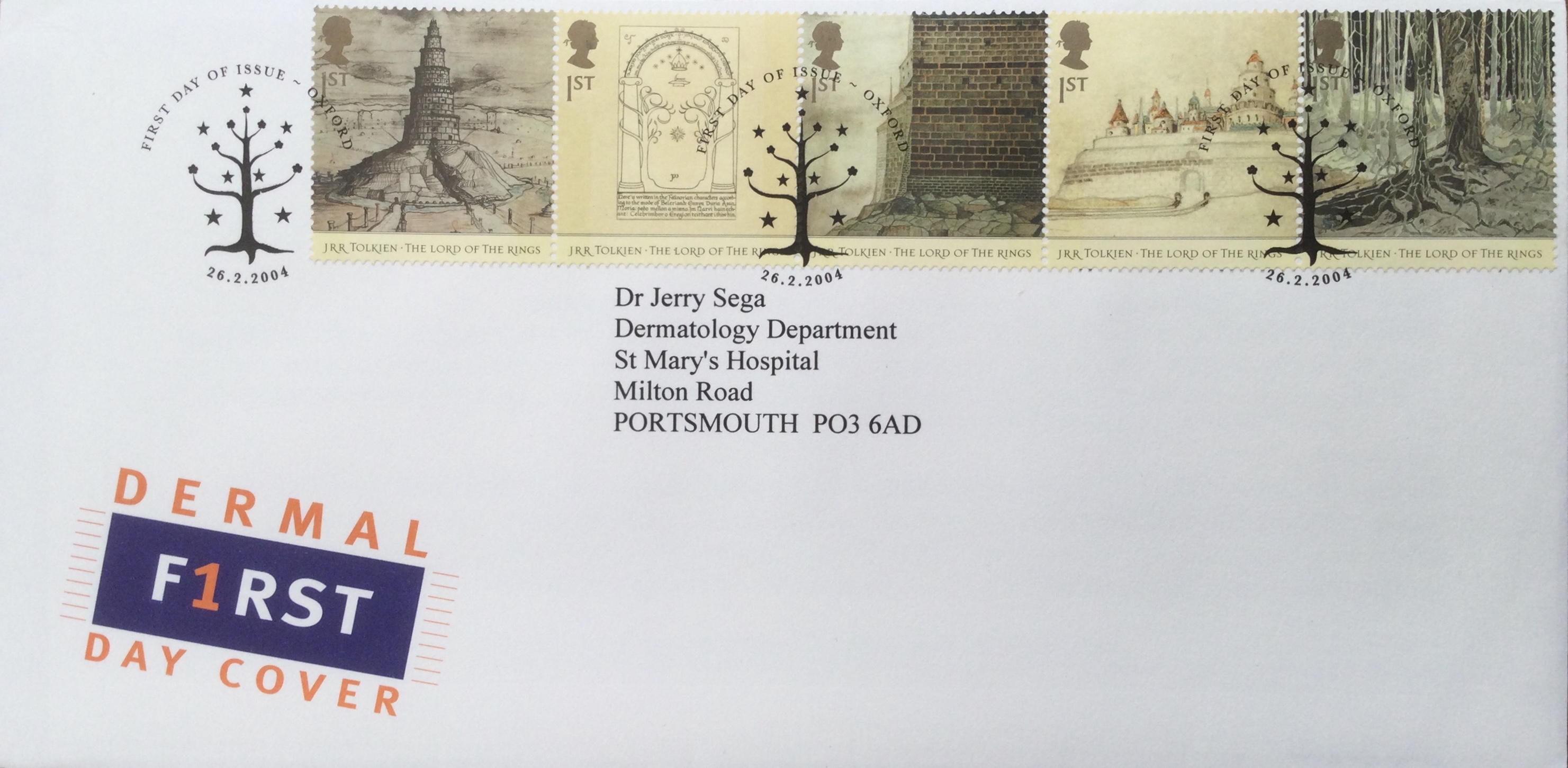 Next is a first day cover for Great Ormond Street with a set of Peter Pan stamps from 2002 but also with a single Lord of the Rings 50th stamp with Myth and Magic Treeton Postmark.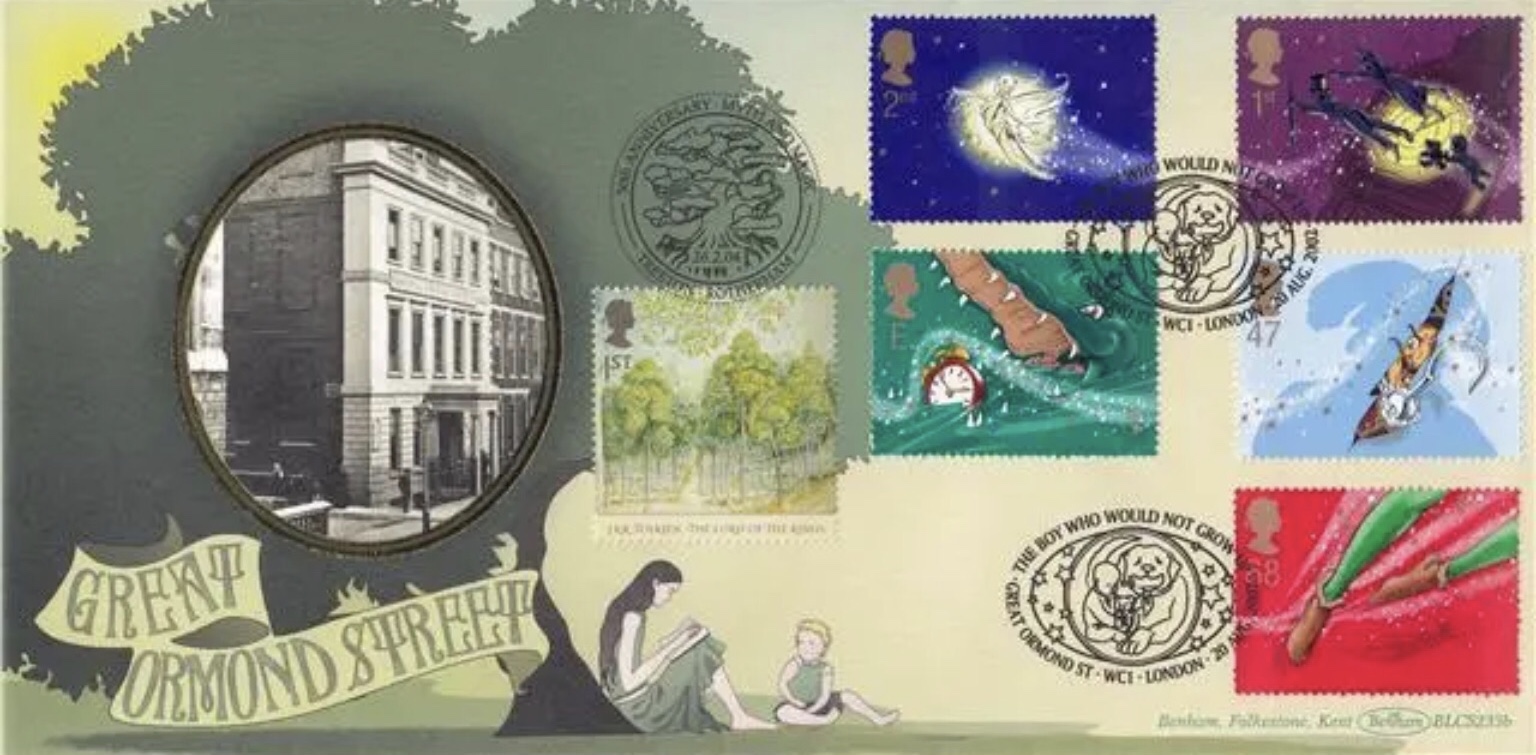 That's all for now, I will update this thread with any more finds.