Early Hobbit Edition on Ebay
---
Hello all,
First time I'm posting here as I don't really know much about Tolkien etc. Anyway, I picked up a second hand early edition in London today from a second hand seller who clearly had no idea what it was. It's not in good condition but I've put it on ebay -
eBay Item #230752989092
- As I'm so clueless about the value of these things, and particularly the effect that damage has on value, maybe people can fill me in here. I picked a starting price out of thin air, so I don't know if it's a massive over-estimate. Apologies for interrupting the normal forum happenings, but would really appreciate your help.
Jacob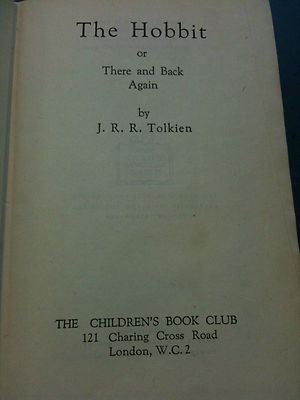 ---
Hello and welcome to the forum
This is a nice book but must admit personally not my favourite edition of the Hobbit. This being said still collectable and a handsome find indeed assuming you didnt pay a massive amount for it.

I think you will find the damage will put many hardent fans off as it looks like it really needs rebinding to me along with some work /clean to some pages. In itself rebinding is not every ones cup of tea but i would personally always see a book rebound and saved rather than otherwise.

Value? well the damage I would say will a have a big effect and for me I think your opening price is a fair bit optomistic especially as it would cost a bit to get rebound etc. But ebay being ebay you never know. Id say have a go but be prepared to reduce by quite a bit to get a sale.

Hope you get a good price.
_________________

By
garm


---
Hi, and welcome. I think you've done a good job of presenting the book - I wouldn't be too worried about the spine damage; I expect a good bookbinder would have that sorted in a jiffy, without any need for re-binding.
As to values; here's a link to abe books' current page with 1940s Hobbits.
http://www.abebooks.co.uk/servlet/Sea ... 100&y=4&yrh=1946&yrl=1942
Not many of them - only one 1942 ed, and that's the standard A&U edition. having said that, there were only 1500 copies of these, as opposed to the 3000 copies of the Foyles book Club ed. I paid £350 for my Foyles ed., back in the 90s. But then, mine is in VG condition, with a (slightly chipped) dustwrapper.
_________________

---
Thanks for the advice. Yes, I tried to photograph all the damage I could find, as I imagined most of the buyers would be interested in that rather than the good things about the book. And no, I didn't pay much for it (£5 - as I say, the seller clearly hadn't recognised that it was particularly early and it was just in a box of secondhand sale books) so I reckon I won't make a loss, even if it doesn't make the price on ebay. If the ebay auction doesn't get bids, does anyone here know of good places to sell these things?
_________________

---
At £5 you will make for sure and a good find.

Id say if it doesnt sell either lower price or maybe offer it out on this forum. There are lots of collectors and maybe someone might be interested at right price , whatever that may be ?
_________________

By
Khamûl


---
I was going to say a couple of hundred, but I just noticed that you've started it at £400. Regardless of what people might pay, I think you've pitched the start price too high. Start lower --it will generate more interest & more bidding.

BH
_________________
BH
You drive a hard bargain – you can have it for £10 all-in – one consolation (for you) is that you do not have to hear the cries of my children, for bread...
---
On all of your advice I've moved the starting price down to £250. Just wanted to say thanks once again for all of your help.

Jacob
_________________

---
Just to add, because it wasn't clear in the initial auction, that I can ship internationally and if there are people here from abroad who would be interested you can bid on the book.
_________________