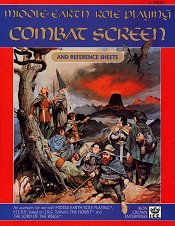 6 page screen foldout, 8 page reference sheet
In a Role Playing Game, you play the role of a character in a "living" novel. MIDDLE-EARTH ROLE PLAYING (MERP for short) provides the framework for role playing in the greatest fantasy setting of all time...... J.R.R. Tolkien's MIDDLE-EARTH.
The MIDDLE-EARTH Role Playing COMBAT SCREEN is a must for all MERP gamers! Included are all the MERP tables needed for battles, maneuvering, and action on one 34" x 11" combat screen plus two 17" x 11" reference sheets.