TREEBEARD- the Shepherd of the Trees- Ltd. Edition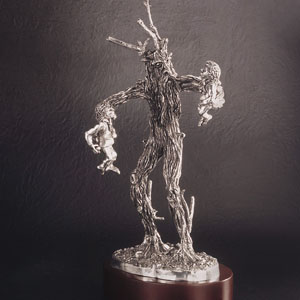 "This limited edition sculpture from Royal Selangor depicts Treebeard bearing Pippin and Merry to Entmoot at Derndingle where the course of action to be taken by the Ents will be decided. Disturbing news of war and the brutal destruction of trees have reached the ears of these gentle tree-herders and it has angered them into action.
Beautifully recreated in cast pewter upon a wooden base, this sculpture is available from Royal Selangor in a strictly limited edition of 500 pieces worldwide."
Royal Selangor Limited Edition Sculptures