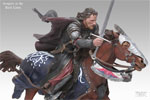 Item No. 9344
Limited Edition of 5,000
$300 Retail
Artist: Brigitte Wuest
12" x 20" x 18"
20 pounds
"The last descendant of ancient kings, Aragorn is fated to one-day claim the long empty throne of Gondor in Minas Tirith, should he prove himself worthy. It is a doom he never wanted, yet by his valor and nobility of heart Aragorn is led to fulfill this destiny and to lead the people of Gondor toward their uncertain future. Yet before being crowned under his Elf name Elessar, the King in waiting has one final test to face. Bearing the banner of the White Tree upon his chest, he rides out with at the head of the assembled forces of Gondor and Rohan to answer the threat of Mordor and confront the darkness at the very gates of the ashen land itself.
Sideshow WETA Collectibles is proud to offer the Aragorn at the Black Gates Statue, depicting Aragorn on horseback, leading the charge to the gates of Mordor."