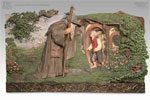 Item No. 9803
Limited Edition of 3000
$150 Retail
Artist: Virginia Lee (daughter of Alan Lee)
9.5" x 15.5" x 3"
12 pounds
"Preparations for Bilbo's One-hundred-and-eleventh birthday went on in earnest for many weeks preceding the fated day. Plagued by visitors with selfish agendas and well-wishers seeking invitations, the grumpy old Hobbit was waspish and snappy when he heard the door of Bag End rap one more time. Yet the surprise that greeted his tired eyes was quick to melt Bilbo's stern manner, as he was reunited after many long years with his old friend and mentor Gandalf the Grey.
This 15.75" w by 9.5" h wall plaque is sculpted by Virginia Lee, daughter of renowned Tolkien artist Alan Lee. The piece comes with a description of the scene on the back as well as the signature of Virginia Lee. The plaque has two keyhole wall mounts and rubber bumpers on the back for easy display."