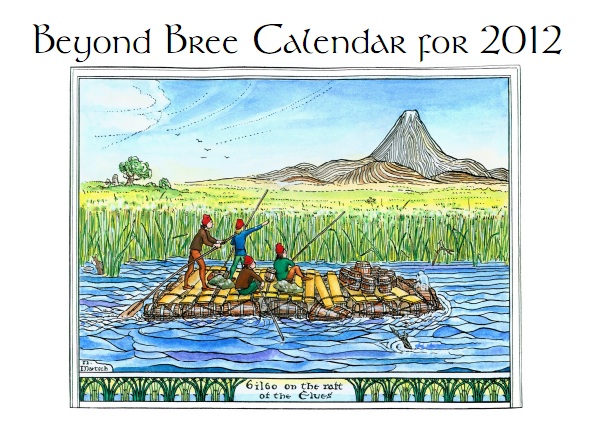 Beyond Bree is pleased to present its 2012 Calendar featuring art focused on the Elves of Tolkien's Middle-earth. The calendar features classic art from Beyond Bree's past as well as new works by a host of artists from around the globe, including:
* Paula DiSante
* Sylvia Hunnewell
* Tim Kirk
* Octo Kwan
* Nancy Martsch
* Jef Murray
* Ted Nasmith
* Margaret Purdy Dean
* Daniel Smith
* Cecile van Zon
* Maciej Wignanski
and more!
The theme is "Elves". The 2012 Calendar has both colour and black-and-white pictures, with real world and Middle-earth dates, so it's useful as well as pretty. It is 11 x 8 1/2 inches, opening to 11 x 17 inches.
Pricing: $20 plus shipping - USA $2.00, the rest of the world $5.00.
PayPal orders will also be taken with a $1.00 surcharge. Send PayPal payments (in USD) to: beyondbree@yahoo.com
Send check or money order (in USD, drawn on a US bank) to: Nancy Martsch, PO Box 55372, Sherman Oaks, CA 91413, USA; or send currency (at your own risk, in a sturdy envelope).
For more details, please e-mail beyondbree@yahoo.com