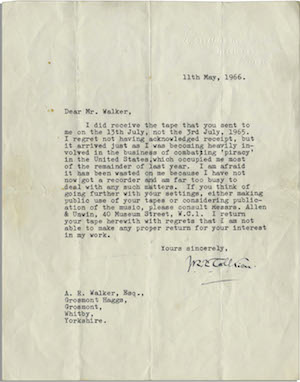 This signed letter has been on eBay a few times recently (and discussed here), and has now made it to a dealer auction house.
Nate D. Sanders Fine Autographs and Memorabilia
Auction ends May 29th, 5PM Pacific Time
J.R.R. Tolkien autograph letter signed. Dated 11 May 1966, letter referring to the piracy of his wildy successful ''The Hobbit'' and ''The Lord of the Rings'' reads, ''Dear Mr. Walker, I did receive the tape that you sent to me on 13th July, not the 3rd July, 1965. I regret not having acknowledged receipt, but it arrived just as I was becoming heavily involved in the business of combating 'piracy' in the United States, which occupied me most of the remainder of last year. I am afraid it has been wasted on me because I have not now got a recorder and am far too busy to deal with any such matters. If you think of going further with your settings, either making public use of your tapes or considering publication of the music please consult Messrs. Allen & Unwin, 40 Museum Street, W.C.1. I return your tape herewith with regrets that I am not able to make any proper return for your interest in my work. Yours sincerely, [J.R.R. Tolkien]''. Single-page letter on a sheet of Tolkien's blind-stamped personal stationery measures 7'' x 9''. Toning, creasing and minor foxing. Very good.
The starting bid is set to $2,500 with no bids at this time (May 20th).
Hat tip to Marcel for pointing this out on Twitter:

If you feel like buying a May 1966 letter signed by #Tolkien himself - start saving now. http://t.co/NFBDMWNO0t

— Marcel Aubron-Bülles (@The_Tolkienist) May 14, 2014