By
Red


---
Sometimes the fates smile upon you. Last week I was perusing the book section at one of the local thrift stores when I came upon a set of the trilogy in hardcover. It was a first impression of the Unwin Allen second edition in very good condition. The best part is I picked it up for about 5 pounds. Has anyone else ever been lucky enough to stumble on a similar situation?
Load previous replies


Mar 9, 2013


Karl

Mar 9, 2013

I'm looking to get my hands on this set too. There's a matching Hobbit, Silmarillion, and Unfinished Tales too, right? Any others?

laurel

Mar 9, 2013

For me this is one of the lucky finds of the year so far- only one problem? I didnt see it till it had sold! The description isnt great and the photo doesnt grap your eye and you could easily miss it.
Its only when you take a good look!
http://www.ebay.co.uk/itm/Lord-of-the ... nc&_trksid=p2047675.l2557
So for £200 buy now someone got all 12 doulton lotr figures £800-£1000 a full set of HOME by looks of it (if firsts which some will be) £700 -£1000 and thats not mentioning the plates, other books and figures. So subject to book impressions I reckon a potential lot worth at least £1,500 if not £2,500!
WOW - now that is worth going to collect !


Gawain

Apr 28, 2013

Just an interesting rather than a particularly lucky find. I bought a copy of Who's Who in Literature 1932 and it has an entry for JRR Tolkien (an in acurate one as it mis-spells Ronald and lists Selections from Chaucer 1925 as one of his published works - when in fact it never saw the light of day).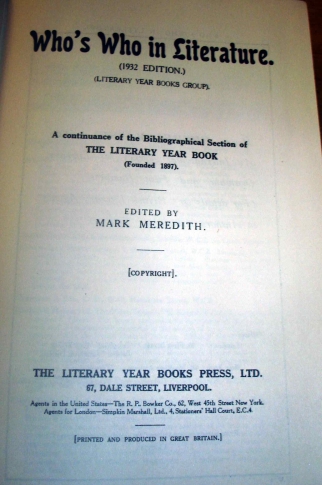 Urulókë

May 8, 2013

Recently acquired the 1969 Tim Kirk calendar - serendipity! Quite beautiful, and well made too. Anyone know what paper it was printed on? It is quite thick, almost waxy, and has a distinct texture.

Stu

Not sure if this really counts as a Lucky Find, but I just acquired a fine copy of the HC Tolkien Family Album 1st for AUD 3.05 (+ postage), and it turns out to have been an Australian distributor/ publisher's review copy with an A4 slip folded inside.

Mind you, thanks to uber-expensive Australia Post, the shipping was 12 bucks. I suppose the distance from the bit of Australia that it came from to me in Brisbane was probably larger than crossing the whole of Europe...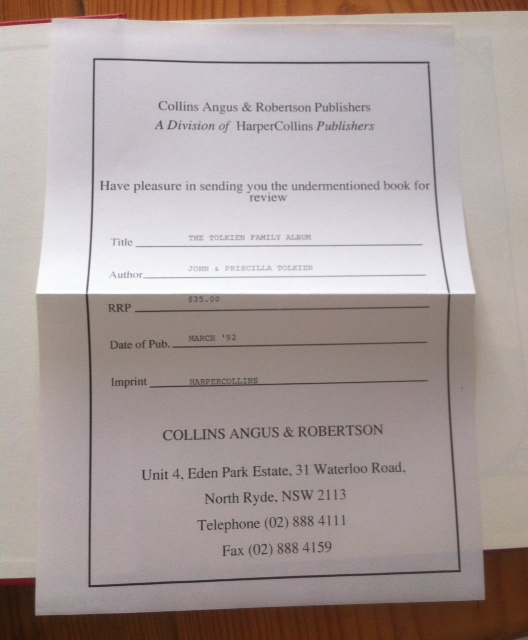 Red

Jun 10, 2013

Been looking for a 1st edition HM Fellowship with a DJ to complete the set. Didn't find that, but did pick up all three HM 1st editions (no DJ's) in fair/good condition for $20. Might look OK with some facsimile DJ's?

Jun 15, 2013

Anyone here manage to grab this amazing deal off Abebooks? I was too late. :(

Great news - we've found the book you're looking for.

Your Want: # A504615036
Title: George Allen & Unwin: A Remembrancer;
Publisher: Merlin Unwin Books;
ISBN: 1873674376;

The lowest and highest priced listings that match your want are displayed below.

1. George Allen and Unwin: A Remembrancer,
Unwin, Rayner
Merlin Unwin Books, 1999, Hardcover, 1873674376, A lovely copy, clean and crisp in a
lightly rubbed dust jacket. Daily dispatch from our warehouse in Sussex, all
international orders sent Airmail. We're happy to offer significant postage discounts for
multiple orders.
Bookseller: Dim and Distant PBFA, Heathfield, E.SX
Price: £ 15.75 (US$ 25.47)

Aelfwine

Jun 15, 2013

That is a good deal. Had I seen it, I would have bought it.
If I didn't already have one.
Signed.

Load more