---
I have a Pauline Baynes 1971 'There and Back Again' tea towel. I have attached a photo. Does anyone have any idea of value? What I know about it from looking on the site was that it was given to George Allen and Unwin Staff at the launch and JRR Tolkein was given one too. Thanks for any info.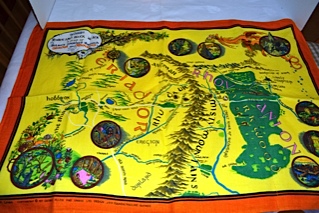 By
Trotter


---
---
Having been offered an amount for this I am going to put it up for sale on ebay so if anyone is interested you can have a look and bid!
_________________

By
Urulöké


---

Seller: jeanseddonwanadoocouk (196)
Ended Jan 27, 2015
£119.00
[2 Bids]
Thanks for letting us know! FYI you spelled Tolkien wrong in the title, I had a bit of a challenge finding the listing. If you fix that before you get bids, it will probably help more people find the listing.
eBay Item #151559632547
_________________
- Jeremy
---
Thank you! YOu can tell I'm not a fan!
_________________