John Howe's forthcoming A Middle-earth Traveller
---
A Middle-earth Traveller
is due to be published October 4, 2018 by HarperCollins in the UK. There's no word yet on whether it will also be available in the USA or elsewhere.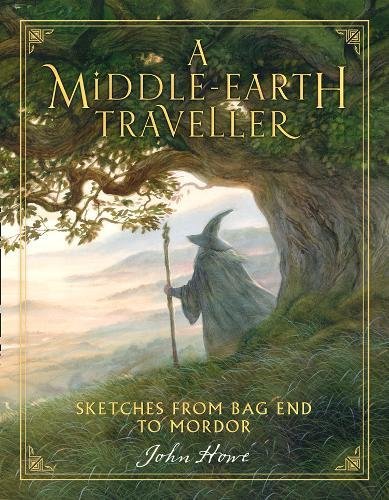 Here is the publisher's description:
Let acclaimed Tolkien artist John Howe take you on an unforgettable journey across Middle-earth, from Bag End to Mordor, in this richly illustrated sketchbook fully of previously unseen artwork, anecdotes and meditations on Middle-earth.

Middle-earth has been mapped, Bilbo's and Frodo's journeys plotted and measured, but Middle-earth remains a wilderland for all that. The roads as yet untraveled far outnumber those down which Tolkien had time to wander.

A Middle-Earth Traveller presents a walking tour of Tolkien's Middle-earth, visiting not only places central to his stories, but also those just over the hill or beyond the horizon. Events from Tolkien's books are explored – battles of the different ages that are almost part of legend by the time of The Lord of the Rings; lost kingdoms and ancient myths, as well as those places only hinted at: kingdoms of the far North and lands beyond the seas.

Sketches that have an 'on-the-spot' feel to them are interwoven with the artist's observations gleaned from Tolkien's books and recollections of his time spent in Middle-earth while working alongside Peter Jackson on the Lord of the Rings and Hobbit film trilogies. Combining concept work produced for films, existing Middle-earth art and many new paintings and sketches exclusive to this book, A Middle-earth Traveller will take the reader on a unique and unforgettable journey across Tolkien's magical landscape.
Hardcover, 192 pages
ISBN-10: 0008226776
ISBN-13: 978-0008226770
MSRP: £20.00
_________________
- Jeremy
By
Stu


---
Hopefully there is plenty of new stuff (it says 'many new paintings' in the blurb). I like John Howe's work. I think it is a class above Alan Lee's. Particularly, with regards to having a much wider colour palette.
_________________

By
onthetrail


---
I hope that publishing date does not go back further. I pre-ordered this book over a year ago (4th April 2017) for release last October.
_________________

---
Agreed, I also hope that it doesn't slip further. John Howe has recently confirmed that it is "real" this time.
_________________
- Jeremy