Chiswick Auctions May 30 2018
By
Urulókë


---
Chiswick Auctions
has two lots (one of five books, one of the
Lord of the Rings
) coming up in
their May 30th auction
. Online, absentee and phone bids are available.
As a personal aside, the blue color in the (2nd impression)
Unfinished Tales
is just stunning! Not often seen any more, as it fades so easily with exposure to light. That, and
The Silmarillion
jacket condition, are the highlights of these two lots I feel.
Lot 104 - Tolkien (J. R. R.).- [The Lord of The Rings Trilogy]
The Fellowship of The Ring
, 12th edition
[note - they mean "impression" here and futher]
;
The Two Towers
, 2nd edition,
The Return of The King
, FIRST EDITION, folding map after author's design printed in red and black at rear of each volume, publisher's red cloth, spines lettered and stamped in gilt, t.e.r., original pictorial dust jacket,
Return of the King
in the second state with reviewer blurbs for the first two titles on the rear flap, some toning to flyleaves, bindings rubbed with some occasional edgewear, dust jackets soiled, edges worn with short creased tears, jackets for
Two Towers
quite worn and torn, 8vo, George Allen & Unwin Ltd., 1962, 1955, 1955 (3)
Estimate: £400-£600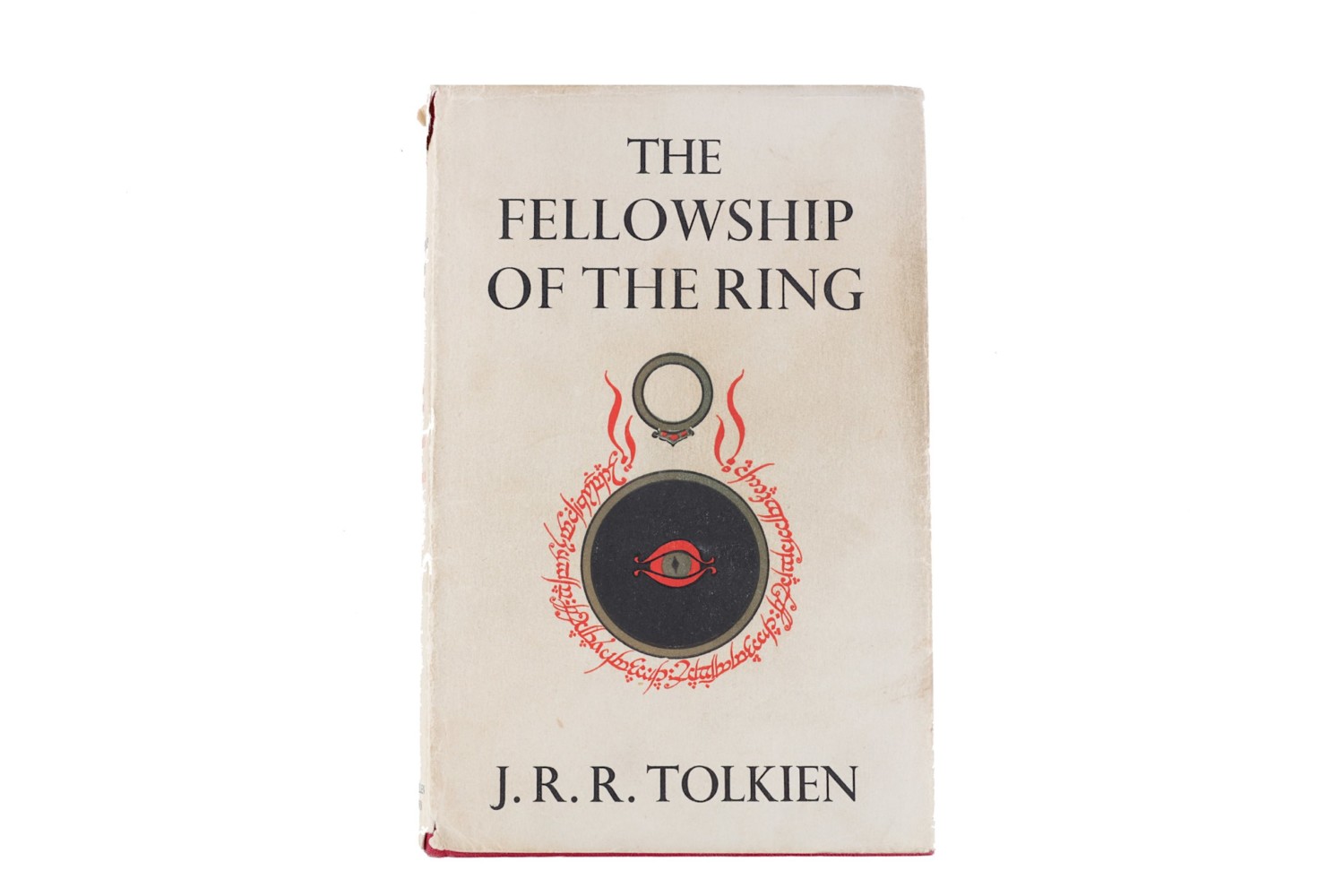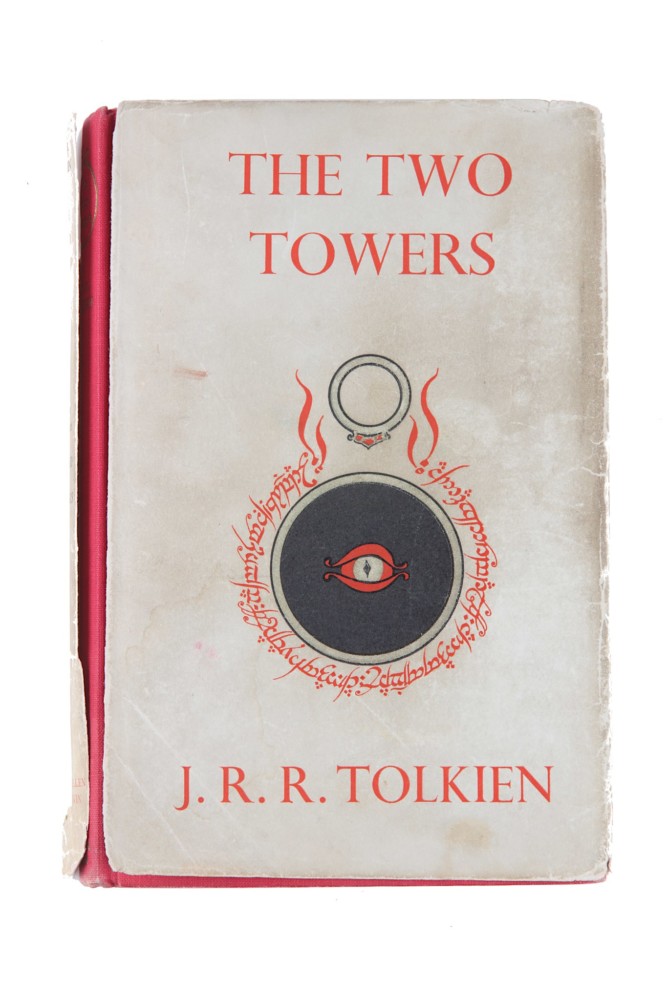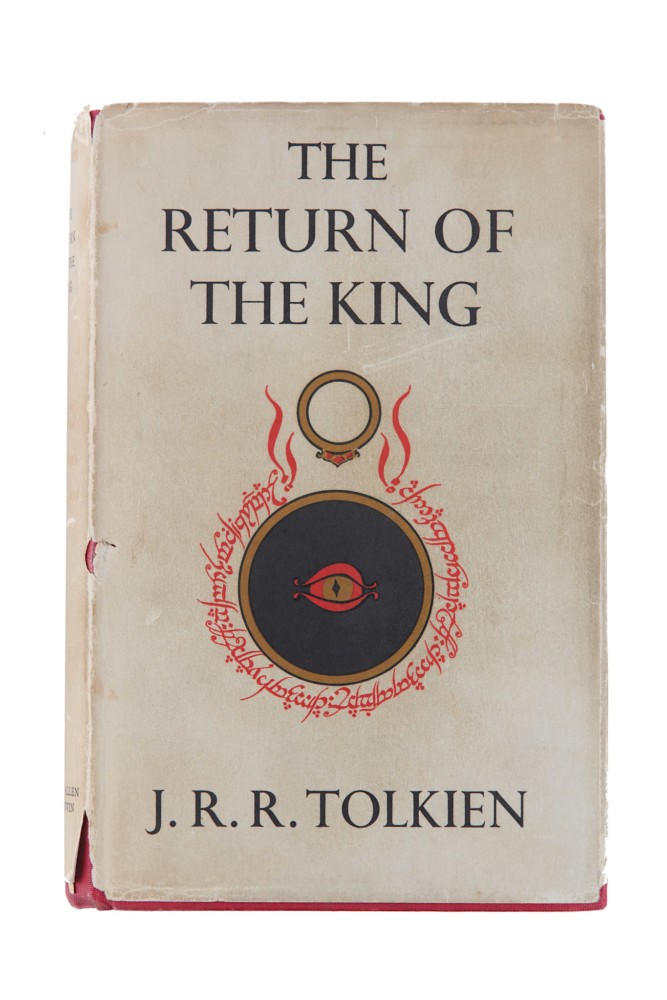 Lot 105 - Tolkien (J. R. R.)
Five titles:
Farmer Giles of Ham
, 2nd impression, colour frontispiece, plate and illustrations by Pauline Baynes, in the original yellow boards with blue decoration and lettering, price clipped dust jacket, spine slightly browned and chipped, 1957;
The Adventures of Tom Bombadil and other Verses from the Red Book
, FIRST EDITION, original pictorial boards, tail of spine slightly bumped, dust jacket slightly chipped, 1962;
Smith of Wooton Major
, FIRST EDITION, publisher's boards (without jacket as issued), rubbed, 1967;
The Silmarillion
, FIRST EDITION, FIRST ISSUE, original blue cloth, title and Tolkien's device stamped in gilt on spine, top edge blue, dust-jacket, 1977; and
Unfinished Tales
, second impression, original burgundy cloth, t.e.r., dust-jacket, 1980, 8vo, George Allen and Unwin (6)
[note - only five volumes, not six as indicated]
Estimate: £300-£400