Dominic Winter - Auction June 21 - Hobbit, Beowulf, others
By
Urulókë


---
Dominic Winter Auctioneers
Modern Literature & First Editions
21 JUNE 2018
Lot 876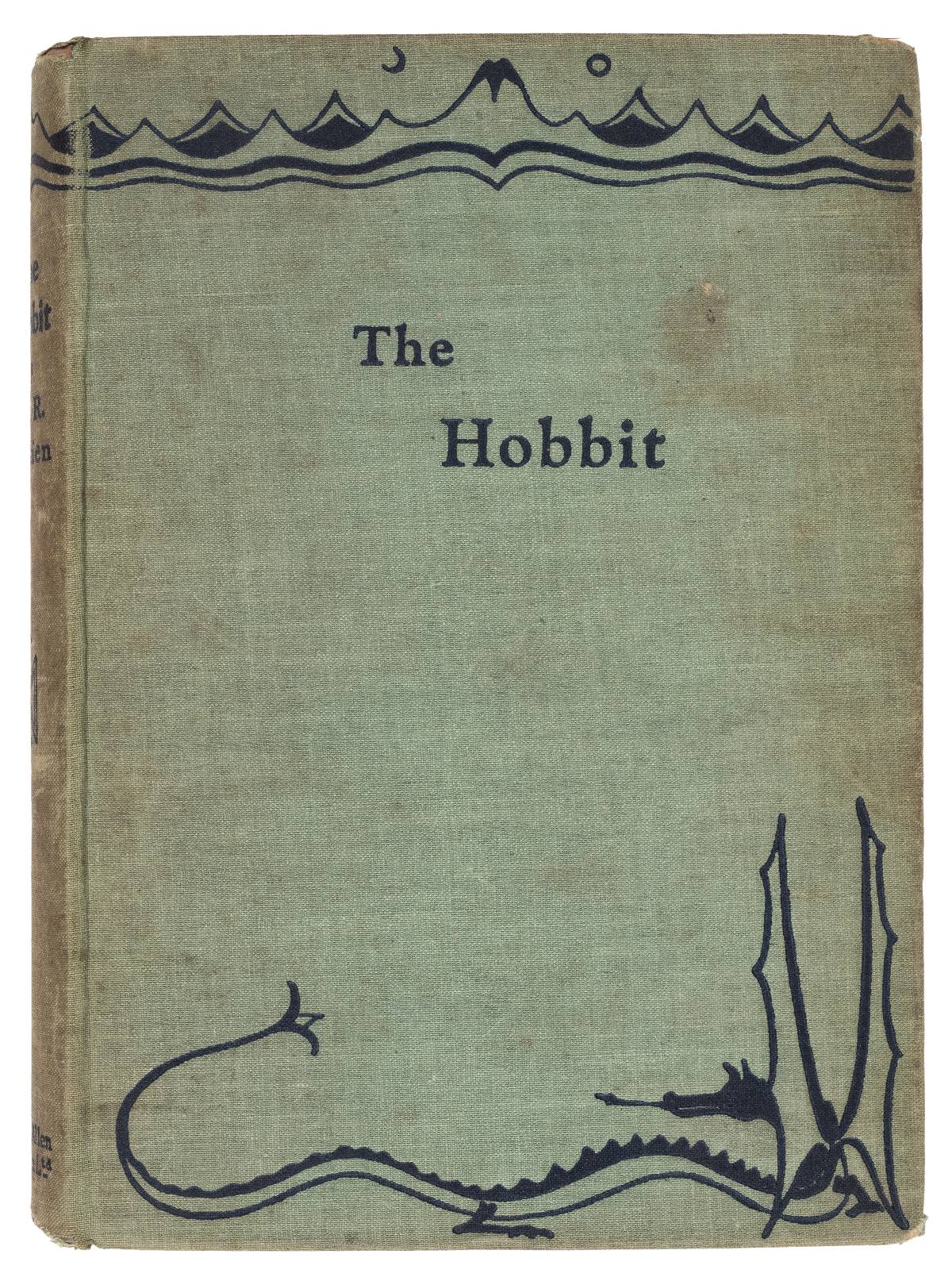 Tolkien (J.R.R.).
The Hobbit or There and Back Again
, 1st edition, 2nd impression, 1937, four colour plates by the author, illustrations, advertisement leaf at end, pages 81-88 with short closed tear at gutter, some light spotting and soiling, small presentation inscription to half title, map endpapers, original green pictorial cloth, spine a little toned and rubbed at ends, a few light stains and some wear at corners, 8vo
The second impression with the colour plates, published in the same year as the first printing.
Estimate: £400 - £600
SOLD for £1300 excl. buyers premium
Lot 877
Tolkien (J.R.R.).
Beowulf. The Monsters and the Critics
. Sir Israel Gollancz Memorial Lecture British Academy 1936, from the Proceedings of the British Academy, volume XXII, Humphrey Milford, [1937], a few light spots, original buff printed wrapper, previous owner inscription of Kenneth Brooks, Merton College, Oxford, 1939 at head of upper wrapper, spine defective, a few small chips and tears, light toning and crease mark, 8vo, together with Adrien Bonjour's Medium Aevum Monographs V. The Digressions in Beowulf, 1965 reprint and two others related, all contained in a modern foldover case, 8vo
Hammond A2.
Estimate: £100 - £200
Sold For: £170 (excluding buyers premium)
Lot 878
Tolkien (J.R.R.).
The Fellowship of the Ring
;
The Two Towers
;
The Return of the King
, 2nd US edition, revised with a new foreword by the author, Houghton Mifflin, Boston, 1965, folding map at end of each, original black cloth, upper covers with colour illustration of the ring and eye of Sauron, dust jackets, some fading to spines, a little rubbed at ends, slipcase, 8vo
Estimate: £100 - £150
Sold For: £80 (excluding buyers premium)
Lot 879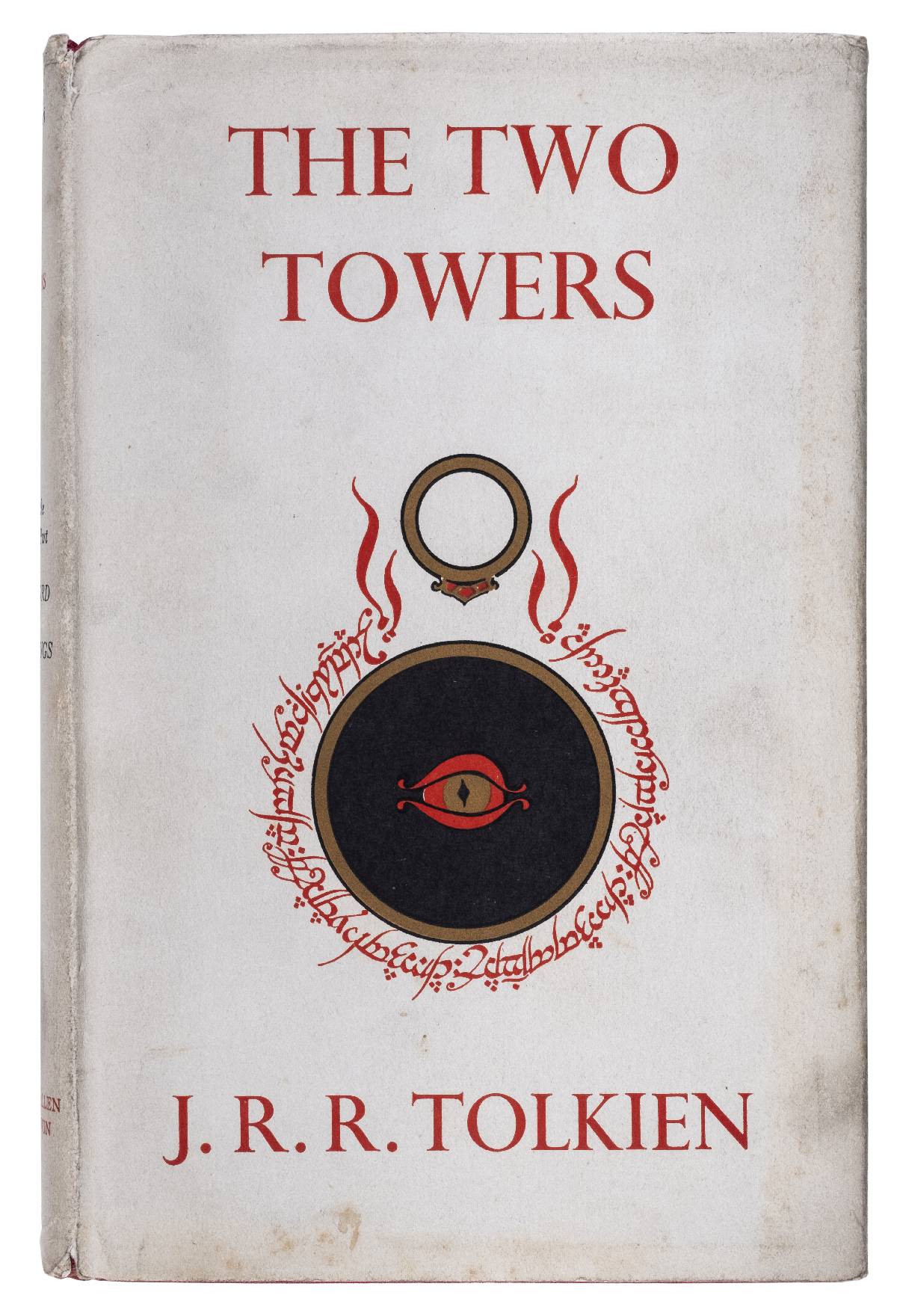 Tolkien (J.R.R.).
The Two Towers
. Being the Second Part of The Lord of the Rings, 1st edition, 1st impression, George Allen & Unwin Ltd, 1954,
folding map printed in red and black, light spotting to endpapers, half-title and edges, and occasionally to text, top edge dyed red, original red cloth, spine lettered in gilt, extremities very lightly bumped, gilt spine-lettering tarnished, dust jacket slightly soiled, with a faint mark to spine panel, minor fraying to spine-ends and to upper outer corners of front and rear panels, and small remnants of tape verso, 8vo
Hammond A5 ii. One of 3,250 copies printed.
Estimate: £500 - £800
Sold For: £2,600 (excluding buyers premium)