By
Urulókë


20 Oct, 2008
(edited)
2008/10/20 21:25:11 (GMT) Greenwich Mean Time, London, Dublin, Lisbon, Casablanca, Monrovia
---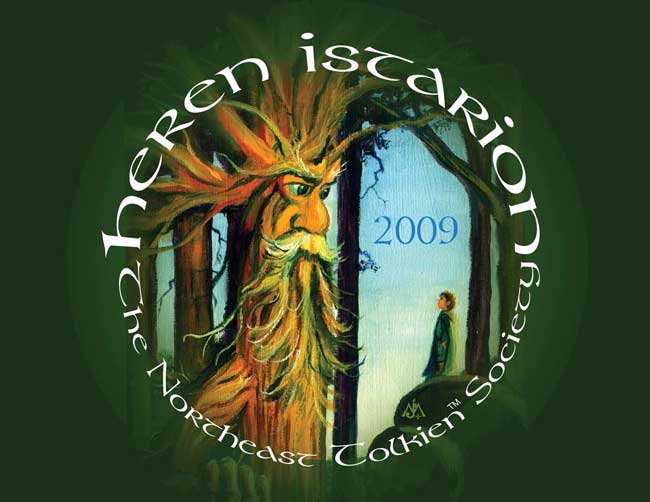 The second annual Tolkien Calendar from Heren Istarion: Northeast Tolkien Society is now available for ordering. Last year's calendar was a great success, well made, and came with stunning artwork from Jef Murray, Catherine Sparsidis and Ted Nasmith. This year looks to be continuing in the tradition of excellent vision and craftsmanship, under the able hands of Anthony, Jessica, and Phil and Megan Goss. Place your orders now for this excellent gift and collectible, before they are gone!Below is the press release from
Heren Istarion: Northeast Tolkien Society
:
Just in time for the holidays, and earlier than last year, the 2009 Heren Istarion: Northeast Tolkien Society Calendar is now available for order. We thank everyone for making the 2008 Calendar the success it was, and in following that success we are again humbly grateful to Phil Goss of the
Compleat Gyde to Tolkien Calendars
and his daughter Megan Goss of
Digital Imaging Technologies
for bringing to fruition this new contribution to collectibles.
This years calendar features a new cover by Jef Murray, and illustrations for each year within the Shire Reckoning format within by Colin "Bungo" Williams and Catherine Karina Chmiel (Kasiopea). We thank all who participated in bringing this years calendar to fruition and hope everyone will seek to add it to their collection.
Calendars are $20 + shipping and handling. All ordering information is available via the
Heren Istarion website
.
Here is more information on the contributors of the 2009 NETS Calendar:
Jef Murray
is internationally recognized for his illustrations of works by J.R.R. Tolkien and C.S. Lewis. Jef's paintings have been featured in group and solo shows in England (Moreton-in-Marsh, Oxford, and Birmingham), in Canada (Toronto), and in the U.S.A. His sketches and paintings have appeared internationally in the St. Austin Revue (StAR), Mallorn (the journal of the Tolkien Society), Amon Hen (the newsletter of the Tolkien Society), Silver Leaves, and Gilbert Magazine. In the United States, his work has appeared in Parma Nölé, Mythprint, Mythic Circle, and The Georgia Bulletin.
Jef and his wife, author and columnist Lorraine V. Murray, produced their first book together (How Shall We Celebrate? – Resurrection Press) in 2005, and Jef's latest illustrations can be found in Tolkien biographer Joseph Pearce's first book of poetry, Divining Divinity (Kaufmann Publishing, 2008). Jef's website is at
www.JefMurray.com
, and a catalog of his available paintings and prints can be found at ADC Art and Books at
www.adcbooks.co.uk
.
Catherine Karina Chmiel (Kasiopea)
lives and works in Warsaw with her family and three rabbits. She has been drawing all her life - as long as she can remember. Since 1993, she has been working as an illustrator, whichwas her childhood dream, and has illustrated over 70 books, mainly children's classics and fantasy. Her two passions are Tolkien and zoology. She is especially fond of little birds, rabbits, and horses. Tove Jansson and Ernest H. Shepard are the main influences on her art.
Ms. Chmiel discovered Tolkien when she was 12 years old and stayed faithful to his works ever since. At first, she was interested in him from the literary point of view - writing essays and her M.A. thesis was entitled "Moral problems in J.R.R. Tolkien's works". It was only at the beginning of 2002 that she decided to illustrate Tolkien. Previously, she was awed by his works and thought she wouldn't prove equal to the task. Kasia is interested in relationships between characters, private scenes, emotions, and dilemmas. Her works are her tribute to her favourite characters - Boromir, Maeglin and Feanor.
Colin "Bungo" Williams
from Annandale, Australia: Born Inverell NSW Australia, 1945. World War II forced to close down almost immediately thereafter. Am told calamitous competition too great.Son of much-relocated School Headmaster and elocution/ sewing teacher. Lived Ashford, Dorrigo and Wauchope, quaint country outposts, before hitting the Big Smoke - Sydney - age 9.Education: Brighton-le-Sands - on Botany Bay [landing place for Captain James Cook's discovery of Oz in 1770] - Sydney Boys' High and Sydney University [Architecture degree 1968]. Would-be try-hard swimmer and athlete [backstroke and hurdles], to junior State Representative level. Thereafter the effort became too great. Into the theatre as stage and costume designer, would-be singer, ham actor, scenic artist, costume painter, draftsman, illustrator, opera enthusiast, jack-of-all-trades - master-of-none.
Introduced to JRR Tolkien at age of 26. Furious to have lived so long ignorant. Loved Smith of Wootton Major then became immediately besotted by The Hobbit. Loved The Lord of the Rings, but have remained mesmerised by Bilbo's There-and-Back-Again saga ever since.Considered Tolkien's delightful, anaemic water-colours did no justice to the magic of his own writings. Egoistically resolved to redress the imbalance with black-and-white interpretations. First efforts [1974] halting and gawky. Marriage and raising four sons followed in a manic blur. Later, lack of imagination for birthday and Christmas presents prompted Hobbit sketches and eventually annual JRRT Calendars, with originals doubling as gifts. Poor benighted family have endured these efforts twice annually since 1999. 2008 sees the twelfth Hobbit Calendar and my first TLotR Calendar [in colour] - Book I. Remain JRRT-besotted. Never fail to find new details and revelations in TH each annual reading. Ditto TLotR. Cannot live without them. Serendipitously "discovered" by Parmastahir on an e-bay auction in 2006 and inspired to greater feats by the enthusiasm of North America's shared adoration of The Master.