By
Urulókë


Oct 7, 2018
2018/10/7 18:21:14 (GMT) Greenwich Mean Time, London, Dublin, Lisbon, Casablanca, Monrovia
---
Issue 56 of
Illustration
magazine (Summer 2018) has a wonderful five page article written by Catherine McIlwaine on the Bodleian exhibition "Tolkien: Maker of Middle-earth".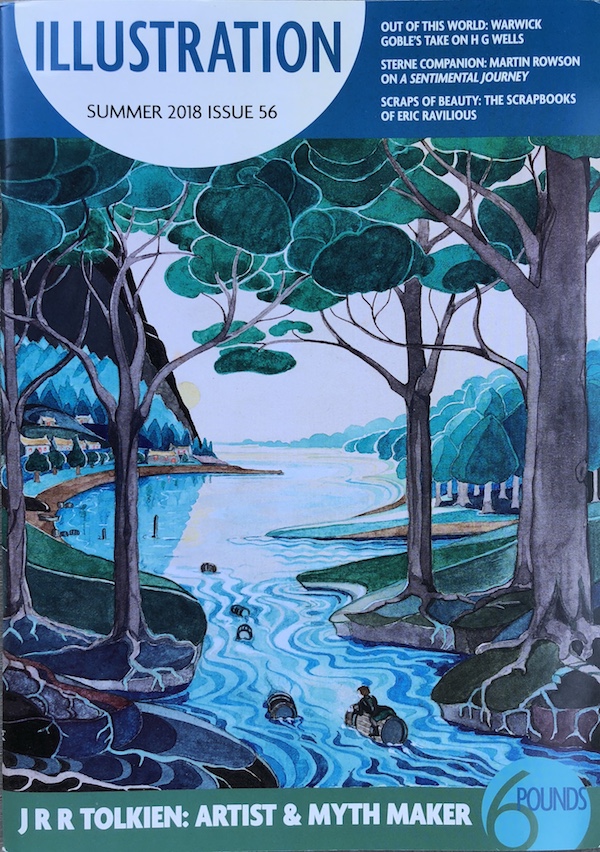 Wayne and Christina first mentioned this article
on their blog
last month, but it took me this long to order and get shipped from the UK.
Besides the beautiful reproduction of 'Bilbo Comes to the Huts of the Raft-elves' on the cover of the issue, also reproduces are 'The Shores of Faery', the Annotated map of Middle-earth (across the page gutter, so some detail is lost), 'The gardens of the Merking's palace', 'The Aurora Borealis',
The Hobbit
dustjacket design, 'Conversation with Smaug', a leaf from
The Book of Mazarbul
, the dustjacket design from
The Two Towers
, and again 'Bilbo Comes to the Huts of the Raft-elves'.
The article itself is well written, with Catherine discussing mainly the illustrator side of Tolkien and how drawing and painting were a major part of his process for writing. I enjoyed that a few of her comments spurred me to get the exhibition catalogue back out and look up a few additional pieces for further study.
The back issue is available for order from
the publisher's website
.