By
Urulókë


Nov 17, 2018
2018/11/17 19:16:43 (GMT) Greenwich Mean Time, London, Dublin, Lisbon, Casablanca, Monrovia
---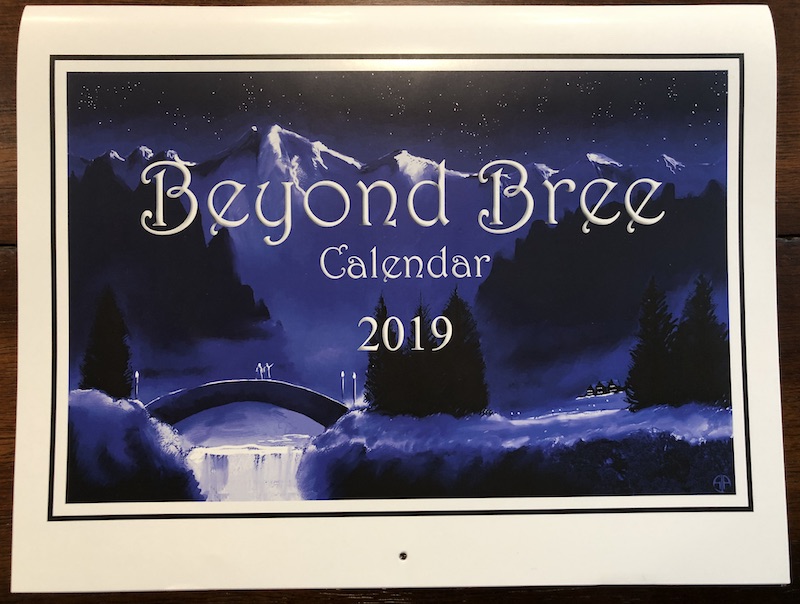 [Cover -
Rivendell Under the Stars
by Gordon Palmer]
This year marks 10 years' editing work for the Beyond Bree calendars by Daniel Smith. Each of the past ten calendars has been beautiful and of high quality, and I am quite happy to have all of his editions in my collection. Thanks Daniel and Nancy!
In celebration of the tenth calendar, and his retirement, Daniel and Nancy decided to produce a limited collector's edition of the 2019 calendar. It has replaced the July and August art pieces with new ones that were made especially for this calendar edition, and will not be reprinted by Beyond Bree ever again.
Both editions have art by Anke Eißmann, Joe Gilronan, Sylvia Hunnewell, Tim Kirk, Octo Kwan, Ruth Lacon, Nancy Martsch, Jef Murray, Ted Nasmith, Gordon Palmer, David Wenzel, Colin Williams, Kay Wollard, Maciej Wygnański, George Dunn, Jakob Ryngen, Cecile van Zon, and Patrick Wynne.
For July: In the Standard edition, Gordon Palmer's
Out of the Frying Pan
is featured. In the Collector's edition,
The Eagles
appears instead (a daytime rendering of the same scene as the Standard edition).
For August: In the Standard edition, Anke Eißmann's
Éowyn
is featured. In the Collector's edition, her
Ioreth of Gondor
appears instead.
The Collector's edition is signed by both Daniel Smith and Nancy Martsch, and is limited to only 20 copies.
For more information about either edition, you can ask here or contact Nancy Martsch,
beyondbree@yahoo.com