By
Urulókë


May 23
2020/5/23 22:13:05 (GMT) Greenwich Mean Time, London, Dublin, Lisbon, Casablanca, Monrovia
---
In 1977 George Allen & Unwin released three sets of eight cards, each featuring an illustration by Tolkien. The three sets were "Hobbit Series 1", "Hobbit Series 2", and "The Lord of the Rings". Hammond's
J.R.R. Tolkien A Descriptive Bibliography
documents these as Eii17 (p. 379).
In going through my ephemera today, I found an advertisement for these sets that I had forgotten I had. Of note, it states
"The first collection of Tolkien cards was a great success. Now there is a choice of three sets"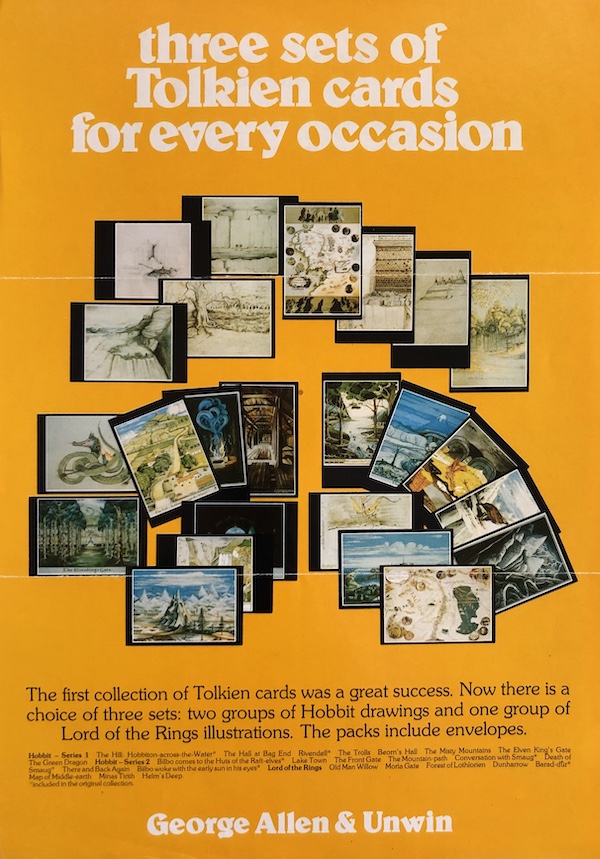 In the fine print at the bottom, it indicates which seven cards were included in the "first collection":
The Hill: Hobbiton-across-the-Water

Rivendell

Bilbo comes to the Huts of the Raft-elves

Conversation with Smaug

Death of Smaug

Bilbo woke with the early sun in his eyes

Barad-dûr

Has anyone ever run across a set of this "first collection"?