By
Urulókë


6 Jun, 2020
2020/6/6 16:49:51 (GMT) Greenwich Mean Time, London, Dublin, Lisbon, Casablanca, Monrovia
---

Tomás Hijo has written and illustrated ten books and provided illustrations for more than sixty more, mostly focused on folklore and legends. He also is a talented illustrator of Tolkien's works, having received the
2016 Best Artwork Award from the Tolkien Society
in honor of his illustration 'The Prancing Pony'.
Please enjoy my conversation with Tómas, and be sure to follow the links at the bottom if you would like more information, or to get some of his art for yourself.
How old were you when you first read Tolkien's books?
My first contact with the Professor was through the awesome poster by Jim Cauty (which still hangs in my studio). I was 14, perhaps 15. A friend brought a catalogue of stuff (mostly music) that you could order by mail. I saw there that wonderful image of a splendent magician surrounded by strange creatures. I only realized the lettering ("Lord of the Rings") when I received it. Then, I asked my English teacher and she told me that it was a book and, surprise!, days later I saw it on a friend's shelf. It still had the protective plastic film on. I borrowed, devoured and never returned it.

Often your art seems to be lean towards monsters, demons and the macabre. On the other hand, many of your Hobbit and Lord of the Rings illustrations are filled with wonderful, cute hobbits and dwarves. What drew to you illustrating Tolkien's books in particular?
I like monsters a lot but I want to think that even when I get involved in the "dark side" I sometimes sprinkle some humor and tenderness in my images. I don't like gore, blunt horror and that kind of thing, but I love to design with extravagant shapes. On the other hand, I'm very proud of the cuteness of my characters, and I try to convey every work with an optimistic and fun point of view. Tolkien's book left an enormous mark in my life and I always got them in my head since I read them. In addition, I have been an avid RPG player, so I'm in love with fantasy characters, situations and landscapes. It was natural for me to choose Tolkien when I decided to start illustrating what I wanted to (after years of drawing what customers wanted only).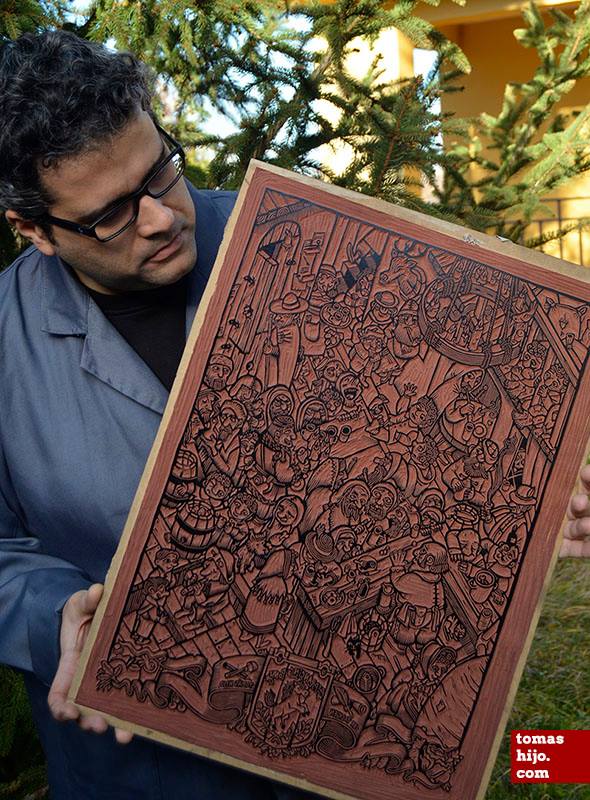 Most (all?) of your art uses a wonderful linoleum block printing technique. Can you tell me a bit more about what attracted you to this process, and what it entails for those that aren't familiar with it?
I still work some pieces in digital, but almost all my lately works are linocut prints, yes. The choice of this technique has a lot to do with Tolkien, in fact. I looked for a technique for portraying Middle-earth "from inside". I love (and that word can't express how it fascinates me) the work that Howe and Lee did for the Jackson films, but I wanted to try a different approach. I didn't want to "photograph" Middle-earth, I wanted to recreate it like a Hobbit from the Shire or a Dwarf from Erebor would do. I wanted to do "art from Middle-earth", not "art about Middle-earth". I think Cor Blok and Tolkien himself adopted this point of view. The best compliment I have received is: "I'm sure that Tolkien would like your work".

There is always a lot of detail in your art, especially in works like "The Battle of the Pelennor Fields" and "The Prancing Pony". What is your process to select what scenes you illustrate, and what details to put in?
I love to do big detailed pieces and try to display several critical moments of the story. I feel I can create "impact images" (like my "Theoden" or my "Frodo at Weathertop", focusing in a character and drama) and "scenes". When I'm creating a scene, I think on the person who hangs it on the wall, looking for a long time at the piece, being entertained and (hopefully) telling bits of the story to other people with the help of the image. There is a sense of discovery, too. I love when, at an exhibition, a group of Tolkien aficionados gather around a piece and start pointing here and there: "Look, there is a Nazgûl peeking through the window! Hey, these two must be Bob and Nob!".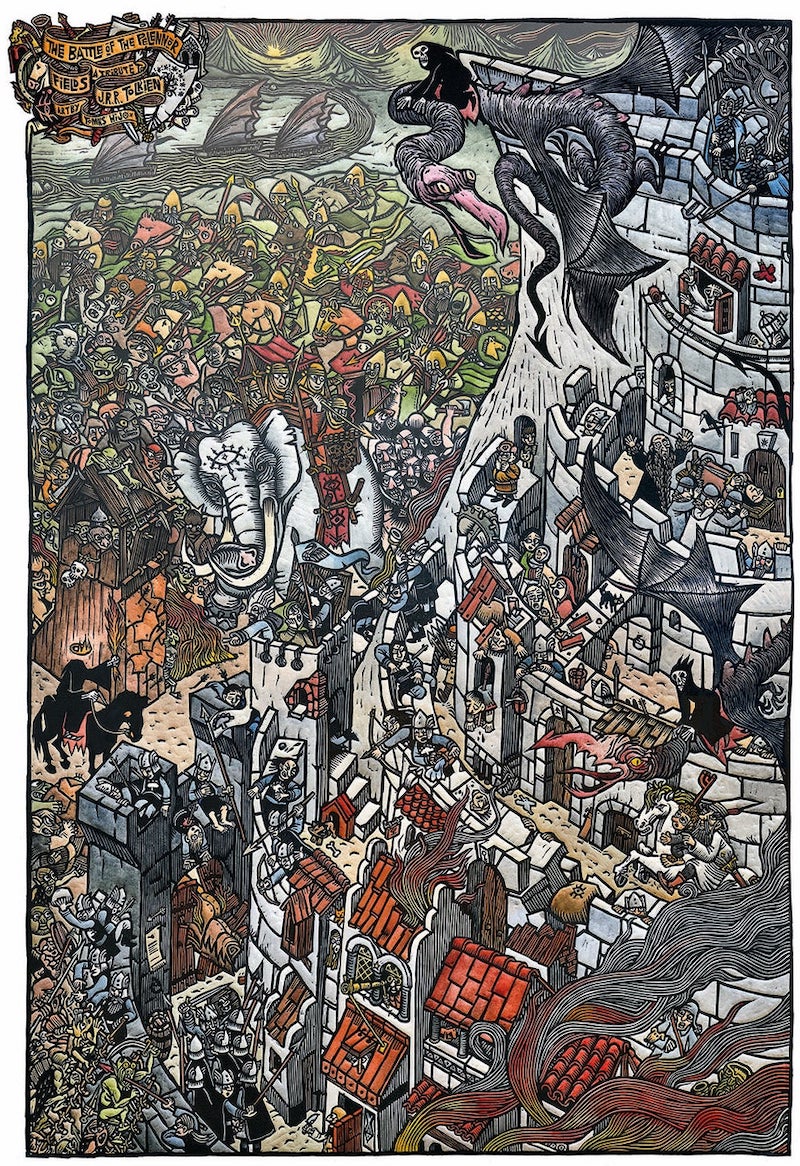 Do you ever take requests/commission orders?
Yes, I usually take commissions. Mostly bookplates and book covers. And my prints are available always through my online store www.tomashijo.com

What's a scene from Tolkien that you would love to illustrate, but haven't attempted yet?
Council of Elrond. I have thought it as a twin piece for my "Prancing Pony" (same perspective and scale), but it seems that I have not a clear idea of how "my" Rivendell looks like.

You have a long and varied work history published online, mentioning journalism and film work and studying Communications. Other than making art, what are you doing these days?
I teach Illustration and Design in the Fine Arts Faculty of the University of Salamanca (Spain).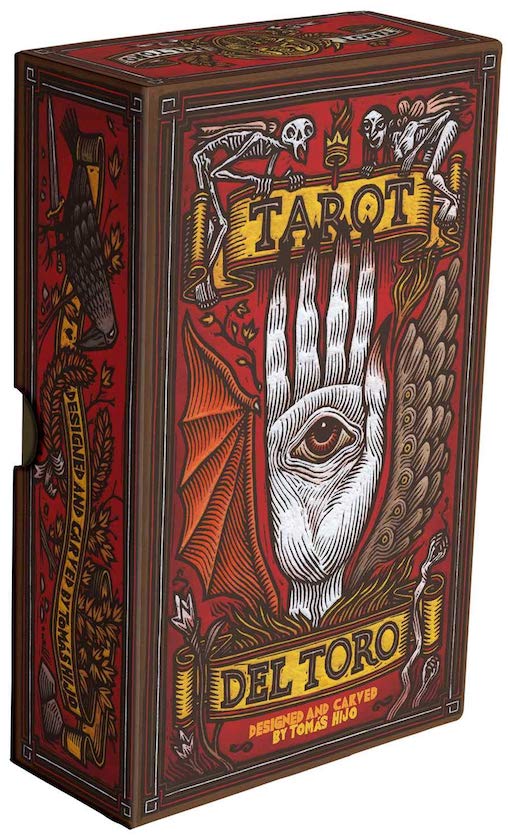 Anything else you would like to talk about?
I just made a tarot with Guillermo del Toro! It releases Sept. 15th. 2020. Fly and preorder it. It's gorgeous!

This deck features sumptuous original artwork inspired by the themes, imagery, and characters of some of Guillermo del Toro's most popular films, including
Pan's Labyrinth, Crimson Peak,
and
The Shape of Water.
Featuring both major and minor arcana, the set also comes with a helpful guidebook explaining each card's meaning, as well as a simple introduction to creating and reading spreads. Packaged in a collectible gift box, this imaginative set is the perfect gift for del Toro collectors and tarot enthusiasts alike.
You can pre-order
Tarot del Toro
from many places including the following retailers:
Blackwell's
-
Amazon.co.uk
-
Amazon.com
To see more of Tómas Hijo's work and buy prints, posters, bookplates and more, he can be found at
tomashijo.com
Tómas Hijo on Facebook
Tómas Hijo on Twitter