By
Trotter


Feb 28
(edited)
2021/2/28 6:56:30 (GMT) Greenwich Mean Time, London, Dublin, Lisbon, Casablanca, Monrovia
---
11-12am EST Saturday May 15th
(Subject to change) will include a panel with
Trotter
,
Urulókë
and
Mr. Underhill
Collector's Corner
.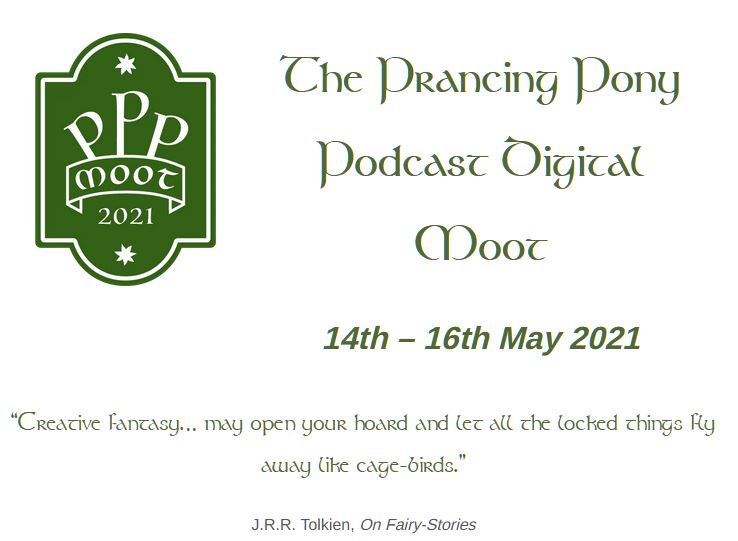 The Prancing Pony Podcast Digital Moot
14th – 16th May 2021
On The Prancing Pony Podcast, you've heard us discuss Tolkien's observations about how fantasy stories offer recovery, escape, and consolation from the "rawness and ugliness" of modern life. With the challenges we've all faced in 2020, we've seen the truth of this proven in our online communities more than ever before. In a world where in-person gathering has become impossible for many, fans have flocked to online spaces to engage with the stories that inspire them, leading to an explosion of digital moots and social media discussions about Tolkien and Middle-earth. So it seems fitting that for our first-ever digital moot, the PPP is focusing on the theme of Digital Recovery!

We have over twenty talks, roundtables, and discussions centered around the theme of Digital Recovery: the many ways we find Faërie online and regain a clear view from virtual communities and online fandom. From a pub quiz and poetry reading to a live PPP episode recording and two keynote speakers, you'll enjoy a full weekend from Friday evening to Sunday afternoon!

We are proud to announce that the keynote speakers for the 2021 PPP Moot are Dr. Amy Sturgis and Dr. Michael Drout. You're sure to enjoy your time with them, but we've got other speakers lined up as well, including several of our PPP listeners. So register now and take advantage of Early Bird pricing at only $25 for the whole weekend!
https://theprancingponypodcast.com/ppp-moot-2021/