Tolkien Signatures on eBay???
(1) 2 3 ... 10
---
I found these on eBay:
http://cgi.ebay.com/A-TOLKIEN-AND-C-S ... tible?hash=item439b157213
http://cgi.ebay.com/A-TOLKIEN-SIGNED- ... tible?hash=item439b156322
Personally, I am REALLY skeptical about the Lewis book signed by Tolkien. It is a well known fact that Tolkien hated The Chronicles of Narnia. Why would he sign a book he didn't like? And the fact that Lewis signed it makes it even more suspicious in my mind. At this time (1958 or later), Tolkien and Lewis were not close at all. If these signatures are authentic, which I highly doubt, this book is indeed one of the rarest items I've ever seen. I've never seen a Lewis book signed by Tolkien, and I think I've seen only one item signed by both Lewis and Tolkien, but it was also signed by a number of the other Inklings as well. Moreover, this book is also an ex-library copy, which also seems odd to me given the signatures.
The Higgins letter is the 4th I've seen so far; I think all of them originally appeared on eBay at different times but are now being sold as a collection for a lot more money:
http://www.biblio.com/details.php?dcx=249424090&aid=aa&t=1#
I am skeptical about these "Higgins" letters because they are all very similar in look, none of them have dates, and their content is extremely vague. Not to mention the fact that if this person was really as close to the Tolkiens as the other letters seem to suggest, someone should have heard of him before. He is not mentioned in the C & G Reader's Guide.
I would like to hear what Pieter, Wayne, Christina, or anyone else thinks about these rather strange eBay items.
By
Mithrennaith


---
Before the real experts come in, just a few thoughts on the Lewis book ...

1) If the book was in Tolkien's possession, he might well have signed it just there - top of title page. But if so, why would Lewis have signed it? Surely because he gave it to Tollers. But then, he would probably have added a few words to his signature, and he would hardly have used the same pen and ink.

2) Also, how would the book then have got into a school library? Does anyone know what Priscilla's job in Bristol was, and whether she still worked there in 1958 or later?

3) That (sickly blue colour of) ink looks awfully familiar ...
_________________
Then in the name of the king, go and find some old man of less lore and more wisdom who keeps some in his house! - Gandalf in Minas Tirith [LR 5 VIII:70]
---
>I've never seen a Lewis book signed by Tolkien, and I think I've seen only one item signed by both Lewis and Tolkien, but it was also signed by a number of the other Inklings as well.<

Which book is that?

>2) Also, how would the book then have got into a school library? Does anyone know what Priscilla's job in Bristol was, and whether she still worked there in 1958 or later?<

*why Bristol? As far as I can recall, Priscilla worked as a secretary in Bristol, but then later became interested in social work. She worked as a probation officer for some years, and later taught at Wycombe Technical College.
_________________

By
Beren


---
As for the TLS - I have bougth 3 similar in the past and have examined them up close. Firstly they all have the same origin - an old couple who was close to Tolkien and especially friends with Christopher Wiseman; and have a large collection of TLS from both Tolkien and Lewis and multiple interesting signed books as well (most will probably never see the open market); most of the TLS were written to Dr. Higgins (who was also Tolkien's doctor and friend) or his relatives.

They have a correct letterhead and show the correct watermark, when held up against the light. The signatures also looks good, but the content is never very interesting. And also, for one or another reason, all the TLS are quit dirty and were not stored in a clean manner.

As for items signed by both Tolkien & Lewis, I hold in my collection a photograph of the youngsters of Magdalen College which was signed by Tolkien & Lewis. Have not been able to find out yet why they would have signed the picture and who are all the people in the picture. But it came out of the house of Christopher Wiseman and in a short while I'll be contacting Wayne & Christina to aid me in the investigation of this item.

This Lewis book seems to be coming from the same collection and might have been Dr Higgins or Wiseman's copy. If my guessing is right... since many of both there personal items where kept in one collection since there death and because of the financial crisis the current owners are letting some of the lesser items go...
---
Hello all
I am a keen Tolkien fan and have read with interest previously topics. This is my first posting on a subject which i feel very strongly about. A little while ago i was offered this letter along with another in a private sale. You may also recall a previous posting in which a signed Hobbit was for sale by the same seller.

In a nutshell the providence given didnt make sense- ie an old couple (would not name) who cleaned for Tolkien and Wiseman found the hobbit book and letters and other items in the loft !!?!?! at Cobblestones before it was demolished. When i really started to ask why the friends/cleaners would have letters addressed to different people in their possession the story quickly stopped.

This contradicted an earlier explanation that the Hobbit was brought in an auction and found in amongst a load of other books!!
Incidentally the other letter alledgedly to Hooper !! (not yet on ebay ) was in the same looking blue ink !! and aspects of it just didnt make sense gramatically, an error I am sure Tolkien would not have made. omething

This seller is very lucky to have so many signed items !!!!

Enough said - but rest assured I will not be bidding on these items.
_________________

---
Well, someone bought The Last Battle; I hope it was a good deal, but I wouldn't have bought it. I still remain extremely skeptical. From Laurel's comments, this supposed provenance seems really fishy to me.

Garm, to answer your question:
"Which book is that?"

I wasn't thinking of a book but the note on the wall of the Bird and Baby signed by all the Inklings. (See attached photo)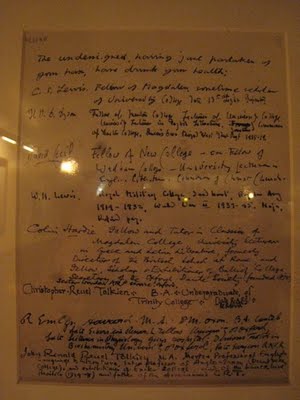 ---
Thanks for that. It's what I thought you meant; though I expect you know that this is a photocopy - probably taken from Carpenter's book 'The Inklings', and not (as the B&B would have us believe) a note from the inklings to the pub's landlord!

The note is from a letter of Lewis to Dr. Firor (12th march 1948). It's reprinted in the Collected Letters of CS Lewis Vol.II (1939-1949). The actual note is in the Bodleain Library. The book's editor, Walter Hooper, helpfully gives the shelf number.

I know of one example of a book signed by both Lewis and Tolkien and some of their friends in a group called the 'cave'. Carpenter mentions this group on p.56 of 'The Inklings'. It's a book of anti-war essays by Oxford undergraduates, published in 1938. The title is 'Would I Fight?'. It was given to Leonard Rice-Oxley of Keble College as a prize for the best reading at one of the Cave's meetings. it's signed by all eleven members present that night, inc. Elaine Griffiths. The page containing the prize inscription and the signatures was reproduced in a 1999 catalogue of the Oxford book-dealer Waterfields. See Scull and Hammond vol.2 p.959.
_________________

By
Findegil


---
Jlong and Mithrennaith's comments about the signed copy of The Last Battle are well taken. It is indeed very unlikely that Tolkien would sign one of the Narnia books, that the same copy would also be signed by Lewis, etc. Priscilla Tolkien took up a job in Bristol in 1952, but by 1958 had left there and was attending the London School of Economics, so it's no use bringing her into the question. And yes, there's that blue ink again.

We too have significant doubts about the "Higgins" letters. We've seen no evidence of Higgins, as Tolkien's doctor, friend, or otherwise, outside of the letters offered on eBay. The particular embossed Sandfield Road letterhead appears in none of the letters we've seen from that address -- that is, the address is correct, but the stamp is wholly different in its typeface and arrangement of lines -- or in any letters other than the "Higgins" letters seen online. The fact that the same stamp is used on a "Higgins" letter which refers to Edith Tolkien's death, long after Tolkien had moved from Sandfield Road, is curious, to say the least, and not convincingly explained away as leftover stationery since Tolkien typically struck through addresses when writing from another location, and at the time of Edith's death he had printed letterheads available. The style of typewriting (position, spacing, arrangement and breaks of lines) isn't characteristic of Tolkien, and in general nothing about the "Higgins" items reflects the sense of style and balance Tolkien typically brought to his typed letters. Nor did he tend to leave off dates. The signatures may look good -- with these too, though, we have our doubts -- but the rest doesn't hold together.

Laurel's comments about the provenance badly explained by the seller, and about the supposed letter to Walter Hooper, inspired us to look at the seller's other items being offered on eBay, and a very interesting selection it is. An "abstract watercolour . . . signed Francis Bacon": yes, it's signed "Francis Bacon", but is it by the well-known painter by that name, for whom an original watercolour priced at $295 for Buy It Now would be a serious bargain? The description doesn't say so in definite terms. What about a "double sided oil on canvas . . . signed Roger Fry"? An "abstract oil . . . signed Pollock"? Two ink and watercolour works "signed Aubrey Beardsley" (that is, the legend AUBREY BEARDSLEY is written in ink on a label on the back of the frame)? A letter from the King of Samoa (which could well be genuine in itself) "owned by Robert Louis Stevenson" (the only evidence for which seems to be a separate typewritten note reading FROM THE PRIVATE COLLECTION OF ROBERT LOUIS STEVENSON)? And it goes on.

Wayne and Christina
---
This item sold for over £500 to someone with more money than sense. I will give it three weeks before we see another 'exciting' item from this seller.

By
collector


---
Jlong, if you are skeptical about these "Higgins" you have not too much idea about Tolkiens life. These letters are original. Dr. Higgings was his family doctor and they gone several times on holidays to Milford.
In order to know if a Toliken signature is original you must do a very deep study on it, any other opinion are very frivolous....
(1) 2 3 ... 10