By
Elwë


---
I've always loved that '98 Deluxe Silmarillion!
---
hah yes it's probably my favourite. It was one of the first things I bought when I originally started collecting. I foolishly stopped for a bit and missed a few nice things, but now I've started again with a vengence :)
By
Khamûl


---
Yeh, here's a photograph of part of my collection!

[Image courtsey of H & Sc:
Too Many Books and Never Enough
]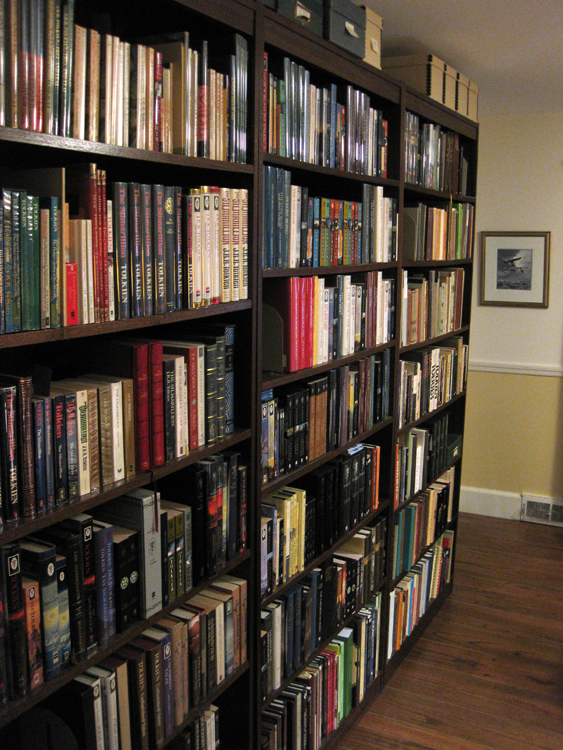 _________________
You drive a hard bargain – you can have it for £10 all-in – one consolation (for you) is that you do not have to hear the cries of my children, for bread...
---
Wow, I have some way to go!
By
Onónion


---
_________________
'Love not too well the work of thy hands and the devices of thy heart; and remember that the true hope of the Noldor lieth in the West, and cometh from the Sea'
By
Trotter


---
If you don't have enough shelf-space, you can always try this US dealer's innovative approach.
I found some more pictures of this bookstore (The Derby Square Bookstore, Salem MA) and an interesting quote
Last place you would want to be in an Earthquake

http://www.flickr.com/photos/reallyst ... 99652917/with/1097283976/
(last half of the pictures)
---
"I want that one, third from the bottom"
"what...."
By
Urulöké


---
That's the "Occult" section - ghost shelves I guess.

_________________
- Jeremy