Tolkien Signature on ebay
---

Seller: bobkat530115 (230)
Ended Jan 14, 2015
£301.00
[49 Bids]
I would recommend that anyone does some due diligence on this item if they are thinking of bidding on it.
eBay Item #281555591274
The seller states "
Comes with a certificate of authenticity for peace of mind
", I must say it does not give me any peace of mind. I can't read the signature, Tolkien's name is spelt wrong and the company that has supposedly authenticated this (
Unique Autographs inc
.) has no presence on the Internet.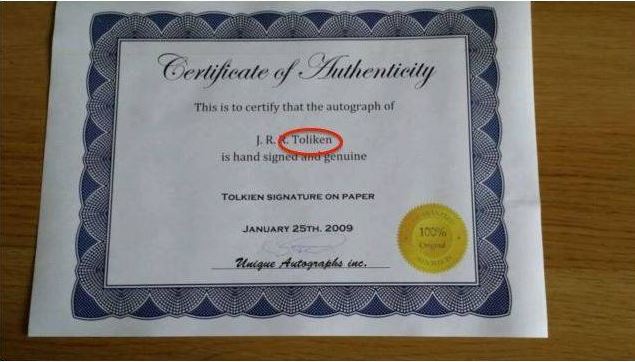 ---

Seller: bound4u0 (800)
Ended Sep 25, 2015
Buy-It-Now:
£700.00
Please also be very careful with this item.
eBay Item #191699678493
I have serious doubts about the signature which may be printed. The seller is offering a Certificate of Authenticity (COA) with the item, which is no guarantee that the autograph is genuine. As always,
Caveat Emptor
.