By
Urulókë


Nov 26, 2011
2011/11/26 6:31:11 (GMT) Greenwich Mean Time, London, Dublin, Lisbon, Casablanca, Monrovia
---
These three lots are being auctioned by Bay East Auctions in Sydney, Australia. These items have been secured in a bank vault since the 1970s, and have remained in the hands of the original family these were given to originally so this is the first time these particular items are hitting the marketplace.
Bay East Auctions
The Art & Book Sale
27 Nov 2011
7 Anderson Street, Double Bay, Sydney, NSW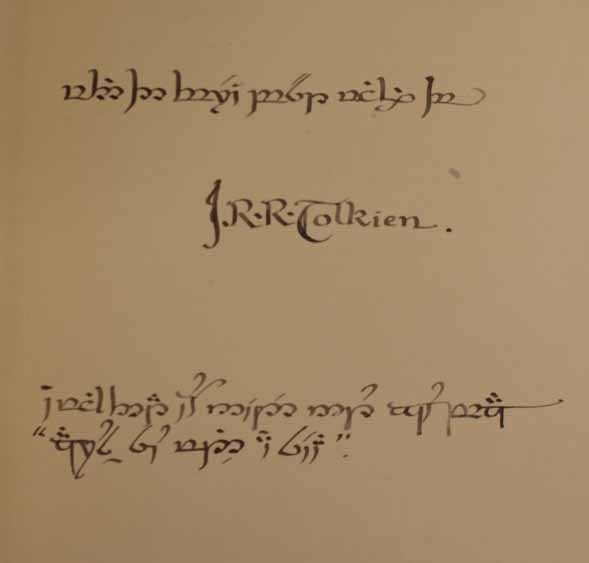 Lot 389:
Tolkien. J. R. R.
The Lord of the Rings
. octavo. 3 vols.
The Fellowship of the Ring
.
The Two Towers
.
The Return of the King.
folding map at the end of each volume. all with uncut dustwrappers. red cloth spines bumped but internally good. all signed by Tolkien. vol. 1 signed on free endpaper. inscription in Elvish which translated becomes 'With the very best wishes of JRR Tolkien. I wish that you need not go back "across so wide a sea."' also tipped in on inside front cover manuscript letter initialled on Merton College writing paper. vol. 2 signed on free end paper and dated November 1954. vol. 3 signed on free end paper. tipped in key to language. Allen & Unwin. 1954-1955. Provenance: Gift of the author to Muriel Margaret (Mollie) Cowling, 1955 Thence by Descent Private Collection, Sydney. Estimate AUD$18,000 - 25,000
Hammer Price: AUD$31,000
Price including buyer premium: AUD$37,200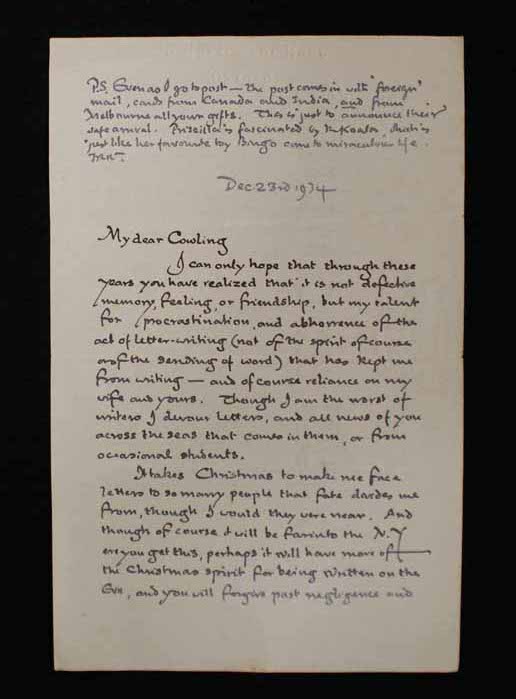 Lot 390:
Tolkien. J. R. R. Two Page Manuscript Letter to G. H. Cowling. explaining his procrastination and horror of letter writing. Thanking him for a copy of Chaucer and wishing him Happy Christmas. dated December 23 1934 from 20 Northmoor Road Oxford. Provenance: G. H. Cowling Thence by Descent Private Collection, Sydney Estimate: AUD$1,500 - 2,500
Hammer Price: AUD$2,900
Price including buyer premium: AUD$3,480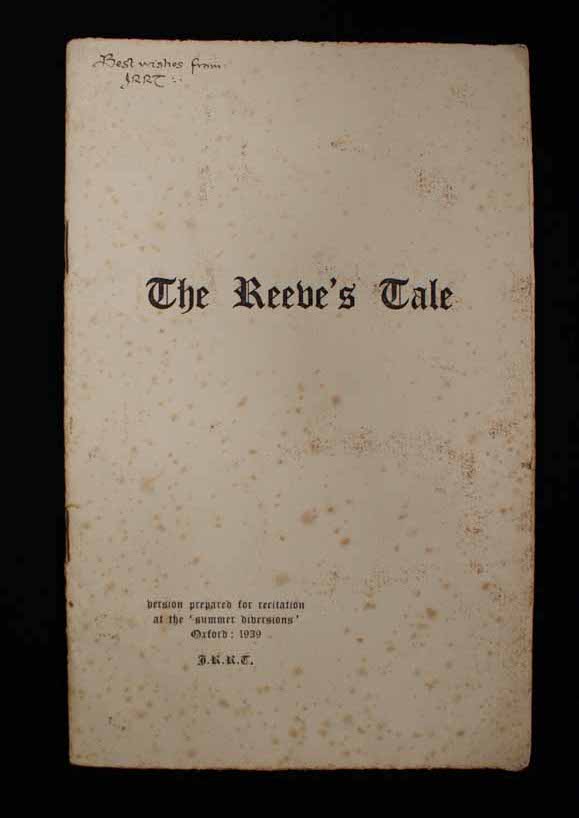 Lot 391:
Tolkien. J. R. R. Chaucer as a Philologist. reprint from the Philological Society's Transactions 1934. original wrappers initialed. spine weak with some marking. presentation copy from J.R.R.T. with The Reeve's Tale. a version prepared for recitation at the 'summer diversions', Oxford 1939. original wrapper spotted. initialed presentation copy. tipped in note from the author regarding where to locate the full discussion. with a letter from Priscilla Tolkien on the death of her mother dated 1971 and two aerogrammes and a letter to Mollie Cowling from Edith Tolkien discussing family matters dated 1967 and 1970 respectively. Provenance: G. H. and Muriel Margaret (Mollie) Cowling, 1955 Thence by Descent Private Collection, Sydney. Estimate: AUD$400 - 600
Hammer Price: AUD$2,800
Price including buyer premium: AUD$3,360